10 Must-Follow Instagram Accounts That Will Fuel Your Passion for Design
Courtesy of Nordstrom's resident tastemaker and Instagram It girl Olivia Kim.
---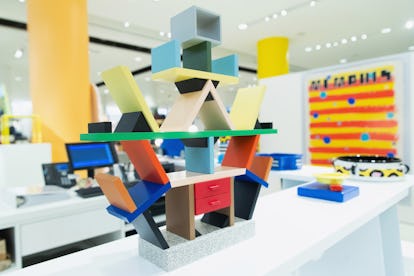 Mat Hayward
Olivia Kim has been introducing Nordstrom's shoppers to her favorite things since she joined the company in 2014. First, she brought her favorite up-and-coming fashion labels like Simone Rocha, -Vetements, and Koché to Space, a permanent store within a store that launched in 2015. Now, as the vice president of Creative Projects, Kim is paying tribute to one of her favorite design movements, Memphis Milano, with a Memphis-inspired pop-up shop and exhibition to Nordstrom's flagship Seattle store,and on the store's website.
Her love for the design movement dates back to her formative years, as a kid growing up in 1980s San Francisco. "I began collecting pieces as soon as I was able to afford furniture and décor," she explained.
Naturally, Kim slowly introduced the playful, colorful aesthetic into Nordstrom throughout her years with the company—iconic pieces like the Peter Shire Bel Air chair and the Ultra Fragola mirror by Ettore Sottsass found their way into Space—but the new pop-up offers much more, from original Memphis furniture to Memphis-inspired décor pieces. "Our hope is that our customers can come in, explore the exhibit and learn something new," Kim said. "For someone who can't afford to take home an original Memphis chair or bookcase, they can still find something to take away if they choose."
Shire, who was a founding member of Memphis Milano, collaborated with Kim and Nordstrom on the pop up. For Kim, that led to one of the best moments of the whole process. "After our launch party the other night, he flipped over my personal Brazil desk and signed and did an illustration on it," she added. "It was so surreal!"
Of course, we can't all have a Shire-signed Memphis desk, but we can know where Kim discovers new inspiration. Like many of us, it's on Instagram. Here, Kim reveals her 10 favorite Instagram accounts that she looks to for design inspiration.
@randcompanynyc
R and Co champions a roster of incredibly inventive designers like the Haas Brothers, Katie Stout, and Pierre Yovanovitch. Their Instagram showcases the beautiful work of their designers, both contemporary and historical, and their amazing exhibitions around the world.
@patrick_parrish_gallery
Patrick Parrish has incredible taste, and his gallery is an eclectic curation of both incredible vintage finds by the likes of Carl Aubock alongside contemporary design.
@apartamentomagazine
Apartamento is one of my favorite interior design magazines. It has a great voyeuristic quality and feels like an authentic peek into how artists, designers and other interesting people live.
@metafloranyc
Marisa from Meta Flora makes the most amazing, sculptural flower arrangements – they are like collectible design pieces unto themselves. My mom is a flower arranger and even she is blown away!
@demischdanant
Demish Danant has the coolest and chicest collection of furniture, mostly French designers. Their showroom is around the corner from our apartment in New York City so I used to walk my dog there all the time and get inspired.
@ettoresottsass
You can't call yourself a lover of Memphis and not follow this account curated by Raquel Cayre. We haven't had the pleasure of meeting in real life yet, but from what I know she is a cool girl and loves Memphis just as much as I do.
@neontalk
Neontalk houses the most amazing collection of '80s and '90s visuals. Going through the feed just brings back so much nostalgia for those good times.
@sophiebuhai
Sophie Buhai is a friend and one of my favorite jewelry designers, we carry her pieces in SPACE at Nordstrom. Her aesthetic is clean and modern with a feminine touch.
@creativegrowth
The Creative Growth Art Center is a really amazing studio and gallery that supports artists with disabilities. They have a wide range of unique works, from paintings to sculptures – it is a great source for one-of-a-kind art finds.
@_sightunseen_
Sight Unseen was one of the first design magazines to tap into the resurgence of Memphis a few years back. I love the interiors they post, and often discover cool new designers through them.
Related: Olivia Kim Is Bringing Some of the Coolest Up-and-Coming Fashion Brands to a Store Near You