The Fashion Designer Behind Young Thug's "No My Name Is Jeffery" Album Cover Hopes to Redefine Masculinity
Meet Alessandro Trincone, Italian designer and VFiles favorite.
---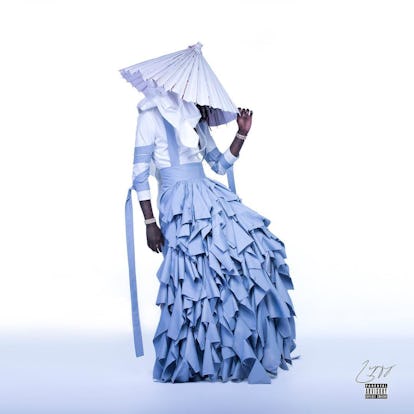 Young Thug / Instagram
Alessandro Trincone, the Italian designer behind the outfit the rapper Young Thug wore on his new "No My Name Is Jeffery" album cover, was just as stunned as the rest of the world when he saw the final result, if not more. "When I saw the cover image, here in Italy it was around 2:30 a.m., and I was completely shocked," said Trincone from his very-much-interrupted summer vacation on a remote island. "I couldn't sleep because of the feelings that I felt," he continued. "The next day, my mobile went out because of notifications, emails, and more than 200 new followers on Instagram. My first question was: 'Why is he going to wear my outfit? Why my outfit? Why me?'"
Young Thug, a.k.a. Jeffery, was recently introduced to Trincone's work through VFiles founder Julie Anne-Quay. For New York Fashion Week Spring 2017, Young Thug agreed to be one of the VFiles mentors for the brand's bi-annual crowdsourced designer showcase, which will include Trincone's "Annodami" collection — one he says touches upon the challenges he's faced expressing himself.
When Young Thug saw a photo of Trincone's baby blue, Japanese-inspired ensemble, he felt an immediate connection to it and had it shipped straight from Trincone's home in Italy to Atlanta, Georgia, where the cover shoot was taking place with photographer Garfield Larmond.
"I think his cover image exactly centered my point, which is that everyone can wear whatever they want to," said Trincone. "Everyone can be themselves. Ignore what people are saying and thinking."
Young Thug has always projected a strong sense of personal style. He can often be found wearing Uggs, skin-tight skinny jeans, and diamonds of every color layered on top of one another. "I don't know anyone in the whole wide world who dress better than me," he declared at his album listening party on Thursday. And it was this self-confidence mixed with sartorial gender-fluidity that brought him and Trincone together.
"The androgynous identity of my garments reinforces my belief of no-gender binaries between men and women," says Trincone in a statement about his Spring 2017 collection, which was inspired by Japanese kimonos and "Kosode" trousers so wide that they give off the appearance of being a skirt. "The feminine side of every male is explicitly shown through the whole collection, hoping to introduce a new meaning of masculinity, far from the traditional imagery society has carried through time."
Of course, Trincone had heard of Young Thug before he wore his garment, but he always thought the rapper was "too fashion" for them to ever cross paths. "His style is totally different from mine, for sure," he said. "But I love it."
Watch W's most popular videos here: