ABT ballerina Nina Ananiashvili on her final bow
Despite the ethereal swans and sylphs she's played on stage, superstar ballerina Nina Ananiashvili has regularly shown her iron will off of it. Among the first Soviet-era ballerinas to dance freely in the West without...
---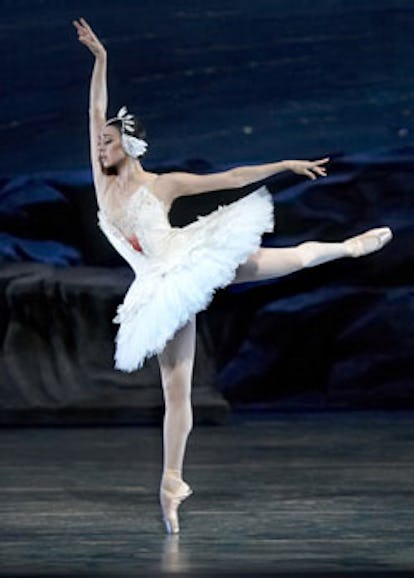 This is your last week with ABT. How do you feel about leaving after 16 years? I'm trying not to think about it too much. It's so sad for me. I really love this company.
What led you to retire? I'm really busy in Tbilisi with my home company and I have a little girl and my husband is so busy with his work. He helped me when we started—20 years we are together—and now I want to help him. These reasons—and also, I'm the oldest ballerina in the company. I was always the young ballerina and now I'm the oldest!
What is particularly difficult for a ballerina once you start to get older? Are certain things more difficult than they were? Your mind is different. With my head and my brain, I know how to control the situation on stage. I can fix everything and I'm not worried and nervous as I was when I was young. So in this way it's easier. But at the same time, there are a lot of problems. I need to be more careful about everything.
Last summer, when fighting erupted between Georgia and Russia, you were at the Edinburgh Festival with the State Ballet of Georgia. You spoke out against Russia's military action. Why? I had to say what I feel. It was a really difficult situation. My daughter was at our dacha near where there was bombing—and my husband was in Tbilisi and I was in Edinburgh with my company. All 80 of them would cry everyday. They didn't want to go onstage because their nerves were terrible. There was bombing everday and they were afraid. I needed to calm them down and I needed to dance myself. It was really a nightmare and I don't want to remember it.
Is it true that you're godmother to Georgian president Mikheil Saakashvili's son, Nikolai? Yes. When he invited me to come to Georgia, to head the company, I didn't know him. After two years we became friends and when little Nikoali was born, I was asked to be his godmother.
You were among the glasnost generation who first came to the West in the 1980s. Does it surprise you to see how much things have changed for dancers from the former Soviet Union? I think I'm the last one who made a career before and has kept going. I'm really the last. A few days ago, I was thinking about how sad I used to feel because my family could never see me dance in the United States. The young generation who are dancing now around the world don't know what it was like during the Soviet period—when you could not go any place you wanted. Now, if you have an invitation, you go. To feel freedom, this is something you can't forget.
What are the challenges in dancing the role of Odette/Odile in Swan Lake? Swan Lake is the hardest ballet in the classical repertoire. In Russia people say, if you dance this ballet, you are a ballerina.
What are you doing after your final performance on Saturday? Crying.
To see a video of her dancing, CLICK HERE.
Photos by Hidemi Seto, top, and Gene Schiavone