Is Destiny's Child reuniting at Coachella?
Dissecting the clues behind the news.
---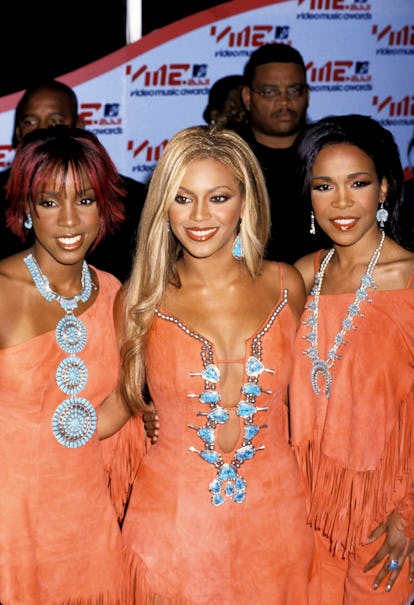 Getty.
As if the '90s aren't "back" enough, Destiny's Child may be reuniting during Beyoncé's upcoming Coachella performance—or at least that's what fans across the Internet are hoping. Turns out that Beyoncé having to reschedule the gig last year after announcing her pregnancy may have been worth the wait. Of course, that is assuming that the speculation turns out to be true.
Beyoncé has been known to leave subtle clues here and there on Instagram about upcoming news. In September of 2015, months before the Lemonade drop, which was in April of the following year, she posted a photo of herself savoring the scent of a lemon—gasp. There's also the few times she was snapped holding up two fingers, way before she had announced her pregnancy with twins, clearly yet another clue, according to stans who follow her every move.
As broken down by Buzzfeed, clue number 1 is a photograph that Beyoncé posted of herself on Instagram donning an AC/DC tee—except only the letters "DC" are showing. Then, clue 2 (which may be more of a stretch) comes from one of the four original Destiny's Child members (circa The Writing's on the Wall), LaTavia Roberson, who has recently been posting a series of throwback photos and Tweeted: "I have so much to tell you guys! All I'm allowed to say right now is.. never mind." Lastly, while including the bee emoji—synonymous with Beyoncé of course—Michelle Williams shared an image in her Instagram story of a leather ensemble with the caption: "Y'all remember this performance outfit from Super Bowl…"
It's easy to see that every little thing Queen Bey does, even when it comes to the images she posts on social media, is methodically thought through. So while it's all speculation for now, and we have yet to get dropped a hit from Kelly Rowland, it's not a stretch to imagine such a surprise taking place. After all, Beyoncé does love a good statement moment. For now, we'll have to wait until Coachella weekend, in April of next year. And in the meantime, watch out for more clues.
Related: Beyoncé Wore a Balenciaga T-Shirt, Hot Pants, and $10,000 Saint Laurent Boots on a Private Plane
TRL Is Back! Revisit Some of the Show's Most Iconic, Early 2000s Fashion Moments
Rihanna poses for a photo backstage during MTV's Total Request Live at the MTV Times Square Studios on May 8, 2007 in New York City.

Getty
Britney Spears backstage at a taping of MTV's "TRL" in Times Square.

Getty
Kanye West during MTV's "TRL" announcing the nominations for the 2007 MTV Video Music Awards at MTV Studios in Times Square on August 7, 2007 in New York City.

Getty
Shakira and Carson Daly during MTV's Spankin' New Music Week on TRL at the MTV studios in New York City.

Getty
Christina Aguilera during "Spankin' New Music Week" on TRL at the MTV studios in New York City.

Getty
Jessica Simpson and Damien Fahey during a taping of MTV's "TRL" in Times Square.

Getty
Gwyneth Paltrow poses for a photo backstage during MTV's Total Request Live at the MTV Times Square Studios September 16, 2004 in New York City.

Getty
Daniel Radcliffe and Emma Watson appear on stage during MTV's Total Request Live at the MTV Times Square Studios May 24, 2004 in New York City.

Getty
NEAlicia Keys poses for a photo backstage during MTV's Total Request Live at the MTV Times Square Studios December 21, 2005 in New York City.

Getty
Beyonce Knowles makes an appearance on MTV's Total Request Live on February 28, 2007 in New York City.

Getty
Paris Hilton at the MTV Studios Times Square in New York City, New York.

Getty
Charlize Theron attends a taping of MTV's "TRL" in Times Square.

Getty
Avril Lavigne attends a taping of MTV's "TRL" in Times Square.

Getty
Amy Adams appears onstage during MTV's Total Request Live at the MTV Times Square Studios November 19, 2007 in New York City.

Getty
Solange Knowles visits MTV's "TRL" at the MTV studios in Times Square August 26, 2008 in New York City.

Getty
Taylor Swift poses for a photo backstage during MTV's Total Request Live on June 16, 2008 at the MTV Times Square Studios in New York City.

Getty
Jennifer Lopez and Carson Daly at a taping of MTV's "TRL" in Times Square.

Getty
Kris Jenner and Kim Kardashian arrive at the "TRL" taping at the MTV Studios in Manhattan on August 25, 2008 in New York City.

Getty
Ashley Olsen and Mary Kate Olsen during visit MTV's "TRL" – May 5, 2004 at MTV Studios, Time Square in New York City, New York, United States.

Getty
Keira Knightley during Keira Knightley Visits MTV's "TRL" – June 28, 2004 at MTV Studios in New York City, New York, United States.

Getty
Gwen Stefani with the Harajuku Girls during "TRL" – March 22, 2005 at MTV Studios, Times Square in New York City, New York, United States.

Getty
Lauren Conrad visits MTV's "TRL" – September 14, 2005 at MTV Studios in New York City, New York, United States.

Getty
Michelle Williams, Kelly Rowland and Beyonce Knowles of Destiny's Child visit MTV's "TRL" in Times Square.

Getty
Lindsay Lohan visits MTV's "TRL" – December 7, 2004 at MTV Studios in New York City, NY, United States.

Getty
Anne Hathaway visits MTV "TRL" – June 29, 2006 at MTV Studios in New York City, New York, United States.

Getty
Ashlee Simpson visits MTV's "TRL" – September 20, 2004 at MTV Studios – Times Square in New York City, New York, United States.

Getty
Miley Cyrus appears on MTV's "TRL" at the MTV studios in Times Square on July 18, 2008 in New York City.

Getty
Rachel Bilson visits MTV's "TRL" – February 23, 2005 at MTV Studios in New York City, NY, United States.

Getty
Cameron Diaz, Lucy Liu and Drew Barrymore visit MTV's "TRL" – June 26, 2003 at MTV Studios Times Square in New York City, New York, United States.

Getty
Carson Daly and Angelina Jolie during a taping of MTV's "TRL" at MTV Studios- Times Square in New York City, New York, United States.

Getty