Diamond Horseshoe
Once a shining gem of the New York scene, the nightclub was abandoned for 62 years. Now the developer Aby Rosen is resurrecting the Diamond Horseshoe with a mind-blowing spectacle.
---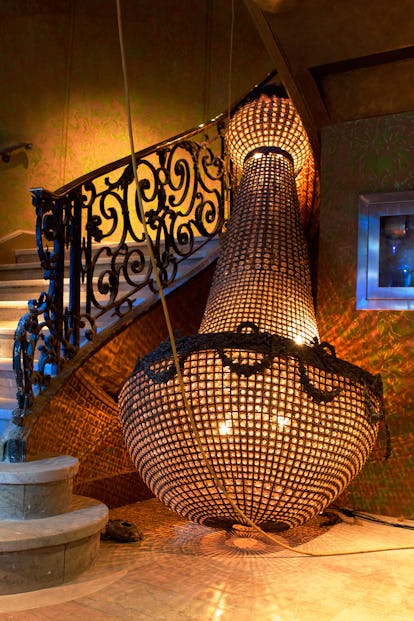 Whether you were a tourist from Iowa or a head of state, if you passed through Times Square between 1938 and 1951, chances are you ventured into the Diamond Horseshoe, a glittering dinner theater and club in the basement of the Paramount Hotel. The brainchild of Billy Rose, a groundbreaking Broadway lyricist and producer known for his work with the Ziegfeld Follies and Oscar Hammerstein II, the West 46th Street venue featured themed shows that mixed wholesome vaudevillian acts like barbershop quartets with leggy showgirls dressed in little more than flower bras and filmy skirts. Gene Kelly got his start choreographing one such performance, Betty Grable and W.C. Handy were among the star entertainers, and the house was filled with guests like Orson Welles and Sugar Ray Robinson. The club even inspired the 1945 film Diamond Horseshoe, starring Grable.
Just six years later, however, the Horseshoe went belly-up, and other than serving as the venue for some parties in the late '80s, it's been unoccupied ever since. Now, those 6,000 subterranean square feet have finally found a new patron in Aby Rosen, a real estate developer with an instinct for nocturnal scenes (see the Rose Bar at Gramercy Park Hotel) and a love of art (he is both a major collector and chairman of the New York State Council on the Arts). It makes sense, then, that he'd want to do something creative there. "Sitting down and watching a floor show and eating a steak is nice, but we've seen that before," said Rosen, who bought the Paramount Hotel in 2011 and has poured about $20 million into the Diamond Horseshoe's reinvention. "How do you do something different?"
He started by hiring the producer and nightlife impresario Randy Weiner, a coproprietor of the raunchy Lower East Side cabaret the Box and the mastermind behind the interactive-theater fantasia Sleep No More. When I met Weiner, he was preparing the Horseshoe's New Year's Eve debut of Queen of the Night, an "opera moderne" inspired by the Marchesa Luisa Casati (the early-20th-century eccentric Italian heiress renowned for hosting lavish parties) and Mozart's opera The Magic Flute. He envisioned a twisted debutante ball populated by actors, dancers, and members of the Montreal circus troupe Les 7 Doigts de la Main (think Cirque du Soleil on acid). Throughout the performance, audience members would be led into private rooms for one-on-one experiences. "I'm interested in the limits of rational behavior," Weiner said elusively when asked for specifics. "By breaking down people's normal context for things, you're opening up experiences that can really touch them."
And, certainly, the context for Queen of the Night is far from normal. "The space is like a cross between a church, an opera house, and a bordello," added Giovanna Battaglia, the creative director of the project and a W contributing fashion editor. In conjunction with Douglas Little, who has designed window displays for Bergdorf Goodman, Battaglia transformed the dilapidated location into a gilded lily of surrealism, with hammered-gold floors, green velvet stage curtains held back by four-foot-long hands, and a bejeweled ceiling inspired by Catholic monstrances. She enlisted the designer Thom Browne to dream up fetishistic costumes like butler suits accessorized with phalluses.
The fare is just as unusual. Conceptualized by the artist Jennifer Rubell, known for her food-based installations, dinner features baby pigs on spits, fried chicken in bird cages, and fish presented whole on a chandelier. "There is no line between the food, the art, the theater, the circus, and the audience experience," Rubell explained. "Food is part of the scenery; it furthers the narrative. It's a metaphor for the entirety of it."
If it all sounds a little high-minded, well, that's the point—this is not Marquee or Avenue. "The nightclubs are all about bang-bang music," Rosen said. "I think this brings back a certain kind of grand entertainment. It's supposed to make you think, to make you say, 'Oh, my God, this is outrageous.' "
Outrageous, indeed, and, unlike those velvet-roped establishments, the Horseshoe is open to anyone who buys a ticket. "Clubs put a red rope out to create some kind of value for what's inside," Weiner said. "We're doing something so awesome, we don't need a rope to give it value."
Photos: Diamond Horseshoe
Staff after a New Year's Eve party, 1940. Photo by Getty.
Diamond Horseshoe poster, 1945.
Diamond Horseshoe. Courtesy of the Paramount Hotel.
Renovated Diamond Horseshoe. Courtesy of the Paramount Hotel.
Detail of renovated Diamond Horseshoe. Courtesy of the Paramount Hotel.
Entry of the Diamond Horseshoe. Courtesy of the Paramount Hotel.
Booth at Diamond Horseshoe. Courtesy of the Paramount Hotel.