Normani Updates the Marilyn Moment With "Diamonds"
After mining the TRL era, Normani comes for Marilyn and Madonna.
---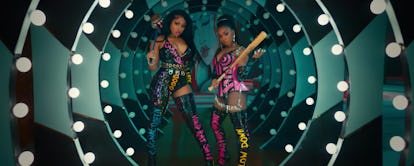 Photo courtesy of YouTube/Warner Bros.
After teasing their imminent collaboration, Megan Thee Stallion and Normani have teamed up for "Diamonds," a track from the Birds of Prey soundtrack.
Mining from source material that includes Marilyn Monroe's performance of "Diamonds Are a Girl's Best Friend" in Howard Hawks's 1953 comedy Gentlemen Prefer Blondes and as well as Madonna's "Material Girl" video (directed by Mary Lambert)—which also directly references the Monroe's iconic scene—Normani is updating the Marilyn moment.
The pop star's music video for "Motivation" took inspiration from classic early 2000s R&B videos like Jennifer Lopez's "I'm Real" and Beyoncé's "Crazy In Love." It's no surprise, then, that, for "Diamonds", she would riff off a scene that has been hyper-analyzed by scholars of Hollywood (and music video) history. And it works, because rather than present herself as a simple Marilyn Monroe simulacrum, Normani samples and remixes the original source material with the robust choreography that made her a star in the first place. And, of course, she's reinforced by the fierceness and fearlessness of Megan Thee Stallion.
In both the music video and the trailer for Birds of Prey—which follows the story of Harley Quinn after she splits from the Joker and embarks on a journey to find a missing diamond—there is a short sequence of the film's antiheroine as Monroe, complete with the platinum blonde bob and bright pink gown, surrounded by men in tuxedos, tophats, and white gloves on a descending staircase.
"Diamonds Are a Girl's Best Friend" is often considered to be a song that sends a message of enjoying the pleasures of unmitigated materialism. "Material Girl" is a callback to that particular Gentlemen Prefer Blondes scene and Monroe's moment in Hollywood, but also an ode to the capitalist tendencies that were (and still are) running the world. Who needs men when you can have…money?
"Diamonds," which samples the lyrics and interpolates a minor portion of the melody of "Diamonds Are a Girl's Best Friend" clearly follows in the footsteps of the song by which it is inspired. But rather than rely on as the "you-go-girl, lean-in, badass" brand of feminist tropes that plagued the Charlie's Angels reboot that dropped last year (to tepid, if not totally bleak, reviews), Birds of Prey's "Diamonds" is a more effective ode to showing up, taking what's yours, and knocking some very bad men down a few pegs on the way there.
Related: From Ariana to Madonna: A History of Pop Stars Recreating Iconic Movies in Their Music Videos