Picasso Baby
In a new show in Paris and an upcoming novel, Pablo Picasso's granddaughter is exploring his legacy from all angles.
---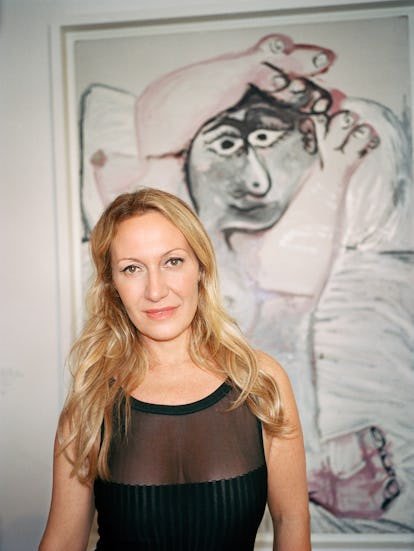 Photographer: François Halard
In 2007, Diana Widmaier-Picasso was asleep at home in Paris when she and her then-boyfriend, the fashion photographer Gilles Bensimon, were awakened by strange noises. Bensimon went downstairs to investigate and found nothing out of place, so the couple went back to bed. The next morning, they discovered that thieves had made off with several works by Diana's grandfather, Pablo Picasso. Among the missing pieces were Maya With Doll, an iconic childhood portrait from 1938 of Diana's mother, who is the daughter of Picasso and his mistress and muse Marie-Thérèse Walter. The burglars were apprehended six months later, by which time Widmaier-Picasso had learned that she'd been robbed by the best art thief known to the French authorities. "The one in charge was called Goldfinger," she told me recently in Paris, laughing at the absurdity of the moniker. When she relayed the drama to Woody Allen this past spring at Larry Gagosian's birthday party in New York, she recalls, Allen was so amused by the anecdote "that afterward people were asking me, 'How did you get Woody Allen to laugh like that?'"
Allen knows a great story when he hears one—the burglary and its aftermath are, in fact, the subject of Widmaier-Picasso's first novel, to be published by Simon & Schuster next year. "It's a thriller about the recovery of works by a major artist who happens to be my grandfather," she says. "So it's personal." That's not surprising: Perhaps inevitably, the personal and professional have long been inextricably linked in Widmaier-Picasso's life. A Sorbonne-educated art historian who specialized in Old Master drawings at the start of her career, she has spent the past 12 years compiling the first complete scholarly inventory of her grandfather's 2,000 sculptures. She never met him—the modern master died in 1973, the year before she was born—but to understand his process, she's been trying to get inside his head. She expects to publish the first of a projected four volumes in the next two years.
At the moment, however, Widmaier-Picasso is focused on "Picasso.mania," a sweeping survey of her grandfather's impact on contemporary artists that she's co-curating with Didier Ottinger, the chief curator and assistant director of the Pompidou Center, and the Picasso Museum's Emilie Bouvard. Opening this month at the Grand Palais in Paris, it will be the most wide-ranging museum exhibition to present works by Picasso in tandem with sculptures, films, paintings, and installations made by contemporary artists he inspired. Widmaier-Picasso helped secure many of the key loans, which include pieces belonging to her mother and other family members, as well as others from private collections and the holdings of the Pompidou and the Picasso Museum in Paris. Of the 414 works, 101 are by Picasso; the rest are by Jasper Johns, Georg Baselitz, Thomas Houseago, and Frank Stella, and many others, a number of whom Widmaier-Picasso interviewed for a series of films that will open the show.
It is highly unusual in France for a family member to help curate a major show of an artist's oeuvre, Ottinger notes, and it's a testament to Widmaier-Picasso's hard-won scholarly chops. "She could ride on the name in her passport, but she doesn't," he says. "She's a real art historian. She does the work."
"In our family, you cannot escape Pablo Picasso," notes Widmaier-Picasso's brother, Olivier, a TV producer whose Picasso, Birth of the Icon, about his grandfather's popular image, will air on French TV on October 25, the artist's birthday. "But Diana has learned to live with him in an interesting way. She's found her niche. This exhibition was not gifted to her; she had to prove she was able to do it."»
Finding that niche was perhaps easier for her because she is not freighted with the dramas that afflicted her mother's generation; Picasso had four children (three out of wedlock) by three different women who famously competed for his affection. "For any family that has to deal with patrimony, it's complicated," says Widmaier-Picasso, who is one of seven grandchildren. "But when works of art reflect the history of the family, it's particularly difficult. I'm another generation. I never met him. I didn't suffer from the trauma, so I like to focus on research and on the future of these works."
Despite her academic focus, Widmaier-Picasso, 41, hardly leads a hermetic life. On a sultry day in July, we're sitting in her sprawling light-filled apartment in Paris's 7th arrondissement with its panoramic views of Les Invalides and the Grand Palais. Though she bought the place three years ago, she is only just getting around to furnishing it with midcentury and modern classics by Pierre Paulin and Maria Pergay, and her collections of art books, prehistoric stones, and antiquities. For now, the walls are bare, save for a drawing given to her by her friend George Condo that is set on the floor. Two nights before she'd hosted a Bastille Day fete so friends like the jewelry designer Aurélie Bidermann could watch the fireworks exploding over the Eiffel Tower from her living room. Settled on a chic mocha wool and silk sofa, a nude pleated Azzedine Alaïa dress hugging her buxom curves, Widmaier-Picasso is a study in monochrome, save for the pop of blood orange polish on her nails. The famously shy Alaïa is one of her closest friends, and she's just back from the opening of his "Couture/Sculpture" exhibition at Rome's Villa Borghese. "He's one of the few designers who does everything with his own hands," she says admiringly. "He's an artist originally, you know."
Soon, she would be heading to Li Galli, the trio of islands off Positano once owned by Rudolf Nureyev, and to Ibiza and Mallorca. She has a beach house in the Hamptons, near her friend the artist Cindy Sherman's. In New York, where she spends most of her time, she's renovating a townhouse in Gramercy Park and is a fixture on the art world circuit, frequently hosting informal opening soirees. "She has a terrific sense of humor," says Gagosian, who sees her regularly and financed her filmed interviews for "Picasso.mania." "But when she's working or trying to get me to do something, she's extremely serious and relentless. It's like she has two personalities." The two met in 2003, when Widmaier-Picasso co-curated a show of Picasso's sculptures at Gagosian's uptown New York gallery, which represents the collections of several members of the Picasso family. In 2011, together with the Picasso biographer John Richardson, Widmaier-Picasso followed up with "Picasso and Marie-Thérèse: L'Amour Fou," a revelatory exhibition she conceived about her grandparents' relationship. Another close friend, the powerhouse Creative Artists Agency partner and art collector Beth Swofford, with whom Widmaier-Picasso serves on the board of MoMA PS1, describes her as "an intellectual who can dance."
Those meeting Widmaier-Picasso for the first time are struck by her resemblance to her grandfather. Picasso's former intimates, however, tell her she looks like her grandmother, the fleshy catalyst for many of his groundbreaking sculptures and "juiciest paintings," as the critic Jerry Saltz put it. Picasso was 45 and unhappily married to the former Ballets Russes dancer Olga Khokhlova when he spotted 17-year-old Marie-Thérèse Walter outside a Paris department store in 1927. She had no idea who he was. For the next 14 years, they carried on a passionate liaison in secret because Picasso's wife refused him a divorce, even after Marie-Thérèse gave birth to Maya in 1935.
As it happens, Maya is the topic of conversation when I arrive at her daughter's apartment. Earlier in the day, the family had formally announced the launch of the Maya Picasso Foundation for Arts Education at 7 Rue des Grands-Augustins, where the Andalusian-born Picasso made his antiwar masterpiece Guernica, in 1937. The building is owned by the city, which has agreed to let the foundation re-create Picasso's studio in its original top-floor space. It will be accessible to art historians and artists, as will Maya's rich archive of notebooks, sketches, and documents relating to her father's output, along with her parents' love letters and photographs. "It's very charged for me," Widmaier-Picasso says of the announcement. "My mother is so full of stories about seeing her father work there. He made a lot of drawings and paintings of her as a child. In the portraits, you can't really tell if it's her or her mother or her father; sometimes it's all of them at the same time."
Unlike her mother, Widmaier-Picasso grew up in a home with siblings and two parents. They lived in Marseille and moved to Paris when Diana was 7. Her father, Pierre Widmaier, a former officer in the French navy, worked as a cruise ship captain and spent his free time sailing. Her mother was preoccupied with the settling of Picasso's estate (he left no will) and with organizing exhibitions of her own collection. "There was a lot of confusion," Widmaier-Picasso says. "I needed to find my own world." She studied music, theater, and then drawing, after a Sunday painter she was observing at the Louvre agreed to teach her how to copy Old Masters. Eventually she got master's degrees in law and art history and went on to work in the Old Master drawings department of New York's Metropolitan Museum of Art and at Sotheby's in London and Paris. Over the years, she had watched her mother authenticate thousands of Picassos. Hearing Maya lament one day about the lack of reliable documentation for the Vollard casts—those ordered by Picasso's dealer Ambroise Vollard, who never numbered or stamped the bronze sculptures—Widmaier-Picasso recognized that more thorough research needed to be done. Soon she was tracking down Picasso's former models and unlocking the workings of his French foundries and the craftsmen who had aided him. Her resulting catalogue raisonné will represent an official and comprehensive history of his sculptures. As with any such document, it can help drive the artist's market once it's established precisely how many casts were made from an edition, and who owns them.
Widmaier-Picasso's love affair with contemporary art was precipitated by her move to New York in late 2007 to live with Bensimon. When they broke up after two years, she resumed a relationship with an earlier paramour, David Thomson, the eccentric scion of Canada's wealthiest family. "He was very important in my life, an intense person and remarkable collector," she recalls of Thomson, who owns one of the finest troves of Old Master drawings and works by the British painter John Constable. But there were complications the second time around. He lived in Toronto and had four children by three different women. "His life was busy," she adds with a laugh. In New York, her association with MoMA PS1 and its director, Klaus Biesenbach, gave her the kind of exposure to living artists she hadn't known in Paris—and the opportunity to discover startling connections between modern and contemporary art. Biesenbach points to what he calls her "encyclopedic curiosity" about artists. "Diana wants to meet them all—and she gets answers out of people." She soon began to add pieces by the likes of David Ostrowski, Sherman, and Condo to a personal collection that includes rare Old Master drawings and a few Picassos, purchased from dealers. She owns a bust and a drawing of her grandmother, a surreal plaster sculpture of an eye, and—her favorite—a bronze cast of Picasso's left hand that belonged to her grandmother, who committed suicide four years after Picasso died, in 1973. "His hand is so much smaller than I expected," Widmaier-Picasso tells me.
Its reach, however, continues to be gargantuan. Picasso is currently enjoying yet another moment: His 1955 painting Women of Algiers (Version 0) set an auction record when it sold for $179.4 million at Christie's in May. On September 14, the Museum of Modern Art opened the first U.S. exhibition in 50 years devoted to Picasso's sculpture, for which Widmaier-Picasso secured major loans and helped establish a precise chronology of Picasso's work. She hopes her own "Picasso.mania" show will permit viewers to hit the refresh button on their ideas about Picasso, allowing them to see his contributions through the eyes of contemporary artists. Of those included, some—like Maurizio Cattelan and Jean-Michel Basquiat—were inspired by images of Picasso himself. Others, such as Johns, Frank Stella, and David Hockney, were informed by specific bodies of work: Hockney's Polaroid montages riff on Cubism, and Johns's 1985 series "The Seasons" alludes to two Picasso paintings: The Shadow, 1953, and Minotaur Moving His House, 1936. Visitors will exit through a wall crammed with "hystericized erotic paintings," as Condo calls a series of works he made in the past 20 years, drawing on Picasso's late period when, according to Condo, Picasso became obsessive on the subject of sex. Notes Widmaier-Picasso, "We thought it was the perfect finale."
Eroticism pulses in the room largely devoted to Pablo's women at the Picasso Museum, where Widmaier-Picasso and I meet one afternoon. Standing next to Picasso's phallus-nosed, monumental head of her grandmother, she describes the way the self-taught sculptor modeled the face of his lover in plaster and pushed the medium in new directions. "Everything is intertwined. The feelings, the touch and desire all gathered in a simple material—plaster," she said. "It's a new phase of his life, where he's reinventing Cubism with round shapes, following the curves of Marie-Thérèse."
That day she had forgotten to arrange for a pass to the "family" museum—she usually visits when it's closed—so she queued up to buy tickets. "And where are you from?" the woman at the register asked Diana. "Paris," Diana answered in French, adding hastily, "and New York." Then, turning to me, she said quietly, with a conspiratorial grin, "Also, Andalucía."
Diana Widmaier-Picasso, at the Picasso Museum in Paris. Behind her is Pablo Picasso's Reclining Nude, 1967. "Right now it's my favorite of all of his works," she says. "The scale is just so overwhelming, and you don't really know if it's a man, a woman, an animal or a human form. It's so erotic. The presence is so strong that it just makes me feel like Picasso's still alive."

Photographer: François Halard
Widmaier-Picasso, at home in Paris.

Photographer: François Halard
George Condo's The Orgy, 2004. Courtesy of Galerie Andrea Caratsch, Zurich, Suisse/Adagp, Paris 2015.
Picasso and Maya, in Paris, 1944. Courtesy of Maya Widmaier-Picasso Archive.
poster for Martin Kippenberger's exhibition "Podría Prestarte Algo, Pero en Eso No Te Haría Ningún Favor," in Santa Cruz de Tenerife, Spain, 1985. Courtesy of Galerie Gisela Capitain/Estate of Martin Kippenberger, Galerie Gisela Capitain, Cologne.
Thomas Houseago's Baby, 2009–2010. Courtesy of Collection Francois Pinault/Adagp, Paris 2015.
Picasso's Bust of a Woman (Marie-Thérèse), 1931.
David Hockney's Harlequin, 1980. Courtesy of Collection of David Hockney © David Hockney.
Pablo Picasso and his daughter Maya, on the Côte d'Azur, 1952. Courtesy of Maya Widmaier-Picasso Archive.
Maurizio Cattelan's Untitled (Picasso), 1998. Courtesy of Collection Particuliere/Courtesy Maurizio Cattelan's Archive and Galerie Perrotin.
Picasso's Maya With Doll, 1938. Courtesy of 2015 Estate of Pablo Picasso/Artists Rights Society (ARS)/Courtesy of Maya Picasso.
Diana Widmaier-Picasso's grandmother, Marie-Thérèse Walter, photographed by Pablo Picasso, 1930. Courtesy of Maya Widmaier-Picasso Archive.
Photography assistants: Clement Vayssieres, Victor Picon.