Diane Arbus Captures the Circus That Is Fashion
This season, fashion truly is the greatest show on earth.
---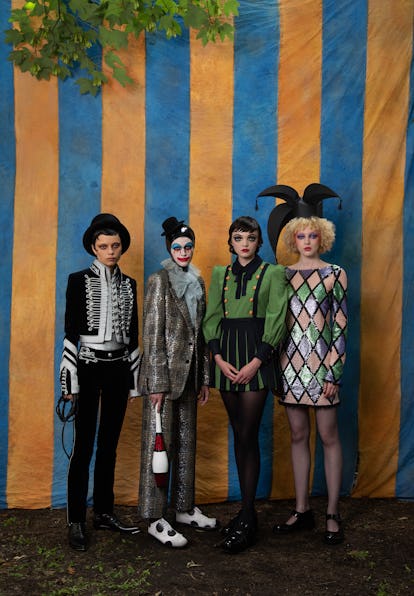 Photograph by Amy Arbus; Styled by Nora Milch.
At times, the fashion world can seem rather silly—like when it declares that the latest thing is dressing like Bozo the Clown. Surely you jest! But in all seriousness, the circus has long been a source of inspiration for designers, its showstopping costumes and over-the-top performances providing a wealth of kooky and colorful ideas. Take Elsa Schiaparelli, who presented jackets with embroidered plumed horses in 1938; or John Galliano, who brought out the big top for his spring 1997 show. More recently, Maria Grazia Chiuri enlisted Mimbre, a troupe of female acrobats, for Dior's dazzling spring 2019 couture show. For fall, Paco Rabanne, Gucci, Marc Jacobs, Louis Vuitton, and Fendi, among others, offered playful riffs on ruff collars, oversize bow ties, harlequin prints, and ringmaster suiting. The results were weird, yes, but also whimsical and wonderful. We'd be remiss if we didn't invite you to step right up.