Did Thakoon's set feel womblike to you? Thank this guy.
Designers, hairstylists and makeup artists aren't the only folks working on overdrive during New York Fashion Week. Ever since we saw the documentary The Last Emperor—in particular, the scene where Valentino and Giancarlo Giammati are...
---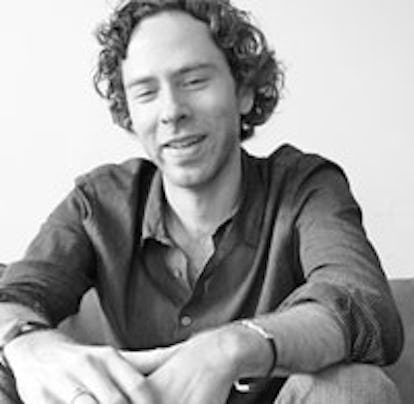 From top: Thakoon's runway presentation; Brown's rendering of the set.
One thing we've always wondered—how do you physically put together these elaborate sets in a space where there could be multiple shows in a day? Yeah, in the tents they do three shows a day in each space and you essentially have two hours to load your set in—three hours if you're lucky. Part of your challenge is you want to design this really great, crazy, fabulous thing but you also have to manage it technically so that it can be physically loaded in on time. You learn to be clever.
Tell us about the set for Thakoon at at Eyebeam in Chelsea; we hear it's the first time he worked with a set designer. Thakoon has been doing a show at EyeBeam for at least four seasons and it's one of these vast warehouse spaces in the gallery district, very cold, square and empty feeling. He said he wanted to find a way to make the space feel warmer, more inviting, maybe more organic and curved. Almost womb-like.
What were some of the ideas he proposed? Interestingly enough he presented a lot of video of ballet and dance performances. Some Kabuki theater dance, all of which spoke very directly to a sense of lighting. Spaces that felt very round because the lighting was very intense in the middle then faded to black in the periphery. Thakoon and Isaac Mizrahi both have a theatrical mindset and they understand that physical space can really create an atmosphere and tell a story.
I come out of the theater world, where there's never any money. You have to learn to design something off of five cents and there's always a creative solution to be had. I just look at it as the sandbox I'm playing in. I'm just as thrilled about the [lower budget] designs for Thakoon, Milly or Adam as I am about the Arise show (above left) which is this epic thing, with a budget I didn't think existed in the economy we are living in right now.
Tell us about one of the favorite sets you've created. A few years ago, when I did the Miss Sixty F/W 2008 collection, they said they were looking for a set that speaks to Janis Joplin 1969 in Woodstock. Immediately I said, "Well we need to do a wall of VW buses. Stack 10 on top of themselves and drive the bottom ones out of the way and the girls will come on stage." And that's what we did. We found about a half dozen of these 1969 and 1970 VW Bus shells on Ebay.
Any last thoughts you'd like to share? Right now I feel this week I'm the luckiest guy on the planet. I'm having the time of my life doing this.
Follow W magazine on Facebook.