Dimes' New Cookbook Teaches You to Be Fluid in the Kitchen
The Chinatown restaurant's co-owners, Alissa Wagner and Sabrina De Sousa, discuss their philosophies about cooking and food in Dimes Times: Emotional Eating.
---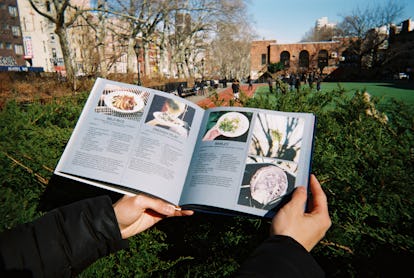 Courtesy of Erin Knutson Studio
Dimes, the Manhattan restaurant that has helped define a certain kind of light, healthy—but occasionally indulgent—style of eating, opened in December 2013. Founded by the co-owners Alissa Wagner and Sabrina De Sousa, the restaurant was an immediate hit with the downtown New York crowd, attracting creative types and beautiful people to its small Canal Street space. Within a few years, Dimes had expanded, moving its restaurant to an airy new location, and opening Dimes Deli, a more casual sit-in and takeout spot, and a market carrying fresh produce and prepared foods, as well as eclectic ingredients and even design and lifestyle items.
On Thursday, March 12, Wagner and De Sousa are expanding into a new arena with the launch of Dimes Times: Emotional Eating (Karma). Wagner and De Sousa made Dimes Times in collaboration with their cowriter Toniann Fernandez, who manages the restaurant; the designer Erin Knutson; the photographers Mary Manning and Yudi Ela; and Cynthia Leung, who wrote the introduction and helped come up with the idea for the book. This is their first cookbook, and it collects Dimes' most popular recipes—plus, in a playful way, it offers the restaurateurs' philosophies about cooking and eating. Here, Wagner and De Sousa discuss what went into the process of creating a cookbook their way.
Dimes has been around for almost seven years. What inspired you to make the book now?
Alissa Wagner: We always wanted to do a cookbook, but the timing didn't feel right for a while—we were still growing the business for the first three or four years. Once we got settled into three spaces, it made sense to start working on the cookbook.
Sabrina De Sousa: Also, we didn't feel like we had a story to tell then. It took a while for us to figure out what the narrative would be.
Why did you choose time of day and state of mind as a way to organize the book?
S.D.S.: The issue was, how do we make these two concepts work? One was: a day in the life of Dimes, in the voice of Dimes. You come in and hear the glassware hitting the table, or a breakup happening next to you—because we see those things over and over again—so there's that rhythm in the book. And how do we have fun with something like that? And then we had this aha moment: "Oh, why don't we add these emotional qualities, so the time isn't dead?" It was funny to figure out how that would even make sense. Like, why is Homesick at 6?
Is there a logic to how the emotions were organized throughout the day?
S.D.S.: That was the hard part. Because there were some easy ones, like Determined as soon as you wake up, or Commiserate, with the wheatgrass Margarita…
A.W.: Yeah, but the other ones, we just went for it. It was a real puzzle.
Did you have a list of times and another list of emotions, and you were mixing and matching them?
A.W.: Yes. And also figuring out…like, the salad chapter: What does that mean? Sensitive, and what time? So 12—what's happening at 12 in the restaurant? The person just took a yoga class. They're here to meet their friend, and it comes back into that: What's going on in the community?
S.D.S.: And we were talking with our staff about it: "All right, you work in the daytime, what do you see? Tell me more." So they had a lot of input too.
What opening did you see for a Dimes cookbook that other books weren't filling?
A.W.: Other cookbooks all follow the exact same format, time and time again. And with the Internet, people can just google anything they need. So what can we put in that makes it really different, that it can still function as a cookbook but it's more than that? That it can slot into being an art book, or a children's book? We wanted something interactive that people could really sink into, and more than just have recipes—really give our philosophies and how we create a dish, and how to work with food in the way that we do, so it's less of one single recipe and more of teaching people to be fluid with the way they cook.
The influences of the Italian art-book creator Bruno Munari and Nest magazine are definitely there, with the perforated pages, cutouts, and vellum spreads. How did you settle on that design?
S.D.S.: Bruno Munari was a huge influence when we first started talking about a book. Anyone can read his books and appreciate them—they're pretty timeless. But the perforated pages just came to us as we were making it. Erin Knutson, who designed it, was like, "I think we should do this." Also, there are these subtle things in the book—the gradient of the light blue to dark blue is actually the time of day.
There is a playfulness to it. Is that something that informs the restaurants and the market as well?
A.W.: Yeah. We've always come from a place where we're really serious about what we do, but we want to have fun doing it.
S.D.S.: Yeah, and the staff emanate that as well. You can see that they're having fun while they're here. Sometimes too much fun, but…
A.W.: We like to see their personalities. We never wanted something rigid where we have staff in uniforms, and they're giving you a spiel. We want them as individual people to come through.
There's a real sense of community in the book, with the photos of the staff, the contributors to the book, and Yeung, the older Chinatown resident who plays music outside. How'd you decide to highlight everyone involved?
S.D.S.: One idea was to have the staff as a yearbook-type thing, but we didn't know how we could do it without making it feel cool kid. So we kept thinking about it, and the dialogue at the end is just at 11, when we're closing up shop—the chairs are on top of the tables: Can you come in? No, but you can come sing a song with us. And it's actually a thing that they do every Sunday—they go and have karaoke. So we had everyone pick their karaoke song.
You said it's children's book–like, and it has that sense in the design, the colors, and the size. What was the idea behind that?
S.D.S.: We want it to be a series. So that adds to the idea of it being like a children's book—you can have books one through 10, and it's easy to hold.
A.W.: New York kitchens are small, and it can sit on your kitchen counter, your kitchenette. And you can interact with it more than if it were this big thing.
Tell me a more about how you want it to be a series.
S.D.S.: When we asked Karma if they would publish the book, we were like, "Maybe we'll do a series," and they were into it. And their whole thing was, "Make it weird. It doesn't have to be just the formulaic recipe with pictures," so we were like, "Where can this go?" They're down for anything, and that's what's really special about working with them, because they do art books, so there isn't this climate of, "The book has to stay in the cookbook section of the store." It's kind of limitless. So we don't know yet, and I don't think we want to say.
A.W.: But each one will be different.
S.D.S.: Yeah. And very fun. [Laughs]
And still follow this format?
S.D.S.: Yeah. "Dimes Times" is the series. And this one is Emotional Eating.
How did you decide to work with the people that you did, like the photographers Mary Manning and Yudi Ela, and Toniann Fernandez, who cowrote it?
A.W.: Mary's a super old friend of ours, and we just love her photographs. We didn't want that look that's the really crispy shot-from-above image. We trusted her too, because she's so good. We know her, she knows us—she gets it.
S.D.S.: Yeah. And Toniann is the manager at the restaurant. She's hilarious, and she's a writer, so it made perfect sense to have her contribute.
The five collaborators listed in the back of the book are all women. Was that intentional?
A.W.: Yeah.
S.D.S.: That was something that we thought of—we're trying to keep to it.
How did you link up with the designer Erin Knutson to work on the book?
S.D.S.: It was through Cynthia [Leung, who wrote the book's introduction]. Cynthia helped us realize the concept for the book in the beginning.
A.W.: Yeah, she's definitely a big part of it.
Do you have anything special planned for the launch on Thursday?
S.D.S.: Nooo…I don't think so.
No karaoke?
A.W.: We'll be there.
S.D.S.: The staff will be there.
A.W.: Yeah, it'll be a fun party.