In Studio
Unconventionally chic interiors have made Dimore Studio the design firm of the moment.
---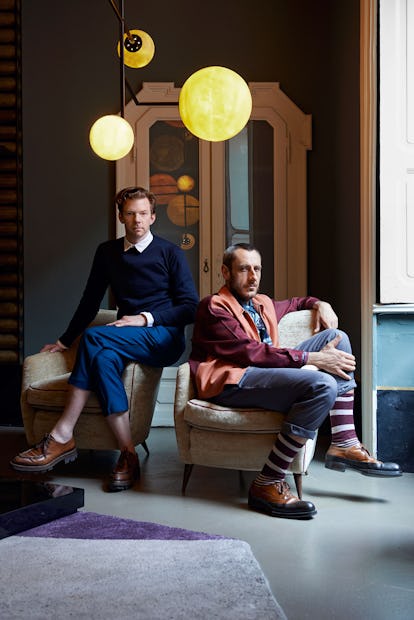 Photographer: Danilo Scarpati
In Italian, the word "dimore" means abodes or dwellings, but it also evokes nostalgia. "I think of a patrician villa, of grand old houses that have this abandoned feel about them," says Britt Moran, who together with his partner, Emiliano Salci, runs Dimore Studio, an interiors company in Milan that specializes in harmonizing distinct, even contradictory, influences. See a few of their rooms and you will begin to think that an 18th-century French sofa and a 1970s Castiglioni Arco lamp were made for each other. "We take elements of things from the past and try to give them a contemporary life," Moran says.
He and Salci are on the patio of the beautifully decaying 18th-century palazzo that houses their office and new gallery space. Until recently, this gallery was their apartment. Now it showcases Dimore Studio's aesthetic, with its mix of rare vintage Italian furniture, massive cabinets that belonged to a 19th-century pawnbroker, Chinese lanterns from an old bar in Berlin, and big flowering branches suspended by wire. One room has a 15-foot ceiling bearing the ghostly outline of an original fresco. "Oftentimes, people refurbish and restore so much that they lose the character," Moran says. "We tell our clients to leave some of the nicks and scratches and wrinkles."
Founded in 2003, Dimore Studio has emerged as one of Europe's most in-demand interiors firms, collaborating with fashion houses like Hermès and Bottega Veneta, as well as the hoteliers Ian Schrager and Thierry Costes. It's practically impossible to get a table at Ceresio 7, the poolside restaurant the company designed recently above the Dsquared2 showroom in Milan, on the roof of a Fascist-era office building. The rich space is appointed with peacock-blue chairs, funky Stilnovo chandeliers, glass tables, and a sweeping Deco-style brass bar. The concept grew from eclectic inspirations: 1950s American modernism, the sunny bonhomie of Capri, and the work of the French designer Charlotte Perriand. "I think that's what's in the air right now," Moran says. "People want something more decorative, less minimalist."
As Dimore Studio's stock rises, its projects are becoming more ambitious. There's a hotel in Guadalajara, Mexico, in the spirit of the architect and local hero Luis Barragán; a 16th-century château for a winemaker in Cognac; and a store for Sonia Rykiel in Monte Carlo. The duo will also decorate the iconic house on the Avenue Junot in Paris that the Austrian architect Adolf Loos built for Tristan Tzara, the poet and Dada founder, in 1924.
Moran, 41, and Salci, 42, have lived together for 15 years but are not romantically involved. They liken their relationship to the one Yves Saint Laurent had with Pierre Bergé, or Valentino Garavani has with Giancarlo Giammetti—which is to say, hard to explain. "We have separate rooms and kind of separate lives," Moran says. "But we cook together, and we have our chats in the morning. Maybe to get everything done, we need to spend as much time together as possible." They've tried living apart, but, says Salci, "we're too fond of each other."
Moran, who first visited Italy as a college student, grew up in North Carolina and has the air of a courtly Southern gentleman. He speaks perfect Italian but has retained a twangy drawl in English, pronouncing Milan as meh-LAAN. "I fell in love with Italy and didn't want to go back," he says. "So I never did." He was a graphic designer when friends introduced him to Salci, who had left his job as a furniture designer for Cappellini and was working in fashion. Salci grew up in Tuscany and studied drawing and painting in school. "I've always been attracted to beautiful things," he says. He dresses in loud printed pants and colorfully striped high socks, gestures emphatically, and speaks very little English.
The two clicked immediately, though practically the only common point in their biographies is that both of their families own small furniture businesses; so it was something of a double homecoming when Moran and Salci decided in 2005 to launch a furniture line. On display in their gallery are their blocky raw-silk armchairs and vaguely lunar light installations—large resin orbs connected by iron tubes that look like something you'd see in an Art Deco planetarium. Some of their offerings channel the design world's greatest hits: stripped-down versions of the Catilina Bassa chair by Azucena and wall lamps with rotating arms that could have been made by Serge Mouille. But they insist their work is as much about innovation as appropriation. "We are inspired by older periods, but we will give it a new feel—maybe with a color or the way it's constructed," Moran says.
"It's not just decoration—they're creating a story," says the French hotelier Thierry Costes, who in 2011 hired Dimore Studio to design Caffè Burlot, his Italian restaurant off the Champs-Elysées. With its 1960s-era Sergio Mazza lamps, Gio Ponti furniture, and oxidized brass shelves stacked with old books and ceramic curios, the restaurant is a lighthearted tribute to Italian good living, without falling into caricature. "They have a great sense of color, atmosphere, and ambience. They bring an Italian style that, at the same time, feels very international," Costes says.
And, as Moran points out, achieving such a look requires patience: poring over books and vintage-art catalogs, and persuading fabric-makers to return to their archives. "Clients who come to us want something that not everyone else can give them, and that takes a little longer," Moran says. "But maybe that's what luxury is? Having the time to create something unique."
Dimore Studio's Britt Moran and Emiliano Salci in their studio, Milan.

Photographer: Danilo Scarpati
The Ceresio 7 restaurant in Milan. Photograph by Silvia Rivoltella.
A residence in Paris designed by the duo. Photograph by Mai-Linh.