Dior's Latest Take on Its "We Should All Be Feminists" T-Shirt Doubles as an Art History Lesson
Maria Grazia Chiuri's latest slogan directly references Linda Nochlin's 1971 landmark feminist essay "Why Have There Been No Great Women Artists?"
---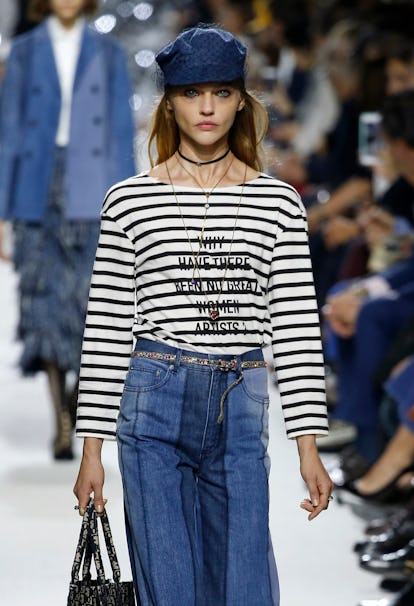 Estrop/Getty Images
Maria Grazia Chiuri may only be settling in at the helm of Dior, but given the success of her "We Should All Be Feminists" t-shirt, which has been omnipresent for months and months now, we've already come to expect slogan tees to be a central part of the designer's offerings. Indeed, seconds into her Spring 2018 show earlier today during Paris Fashion Week, Chiuri didn't disappoint: Sasha Pivovarova was the first to walk down the catwalk, wearing a striped long-sleeved shirt that read "Why Have There Been No Great Women Artists?"
That may seem like a bold statement, especially worn by a model who also happens to be an artist, and coming from a designer who chose to show inside a giant monument to the late French-American artist Niki de Saint Phalle, a pioneer in the field of large, ambitious sculptures for women. But, like with her previous tee, which replicated Chimamanda Ngozi Adichie's mantra, the phrase wasn't Chiuri's own invention: It was a direct reference to the art historian Linda Nochlin's landmark essay of the same title, which Chiuri handed out free of charge. (Perhaps in lieu of the "Feminists" tee, which carries a $700 price tag.)
Like Chiuri, Nochlin was not actually agreeing with the idea that there are "no great women artists"—indeed, she was taking issue with the fact that the question—which she calls "simply the top tenth of an iceberg of misinterpretation and misconception"—was being asked, and particularly that people seemed to have decided its answer was "because women are incapable of greatness." Over a series of arguments covering biases inside and outside the art world that have affected education and opportunities—"What if Picasso had been born a girl?" Lochlin asks of Picasso's supportive art-professor father—Nochlin makes the case that the "so-called woman problem" is much, much larger than women artists themselves, but on an institutional level, complete with centuries of inherent sexism to contend with.
Her point was groundbreaking for 1971, a time when feminists's (understandable) response to claims of women's lack of talent was to"dig up examples of worthy or insufficiently appreciated women artists throughout history"—and therefore "tacitly reinforce" the question's negative implications. Thankfully, though, these days, we can see the bigger picture—and Chiuri can harmlessly shine a light on those like de Saint Phalle, who was omnipresent throughout Dior's show, starting with a giant quote by the artist emblazoned across its towering entrance. Inside, there was clear homage paid to de Saint Phalle, too, and particuarly to her Tarot Garden, an expansive sculpture garden that she built atop of Etruscan ruins decades ago in Tuscany to precisely demonstrate that women, too, could work on a monumental scale.
Some of de Saint Phalle's sculptures, which each represented figures from tarot cards, were indeed as large as a house, and so while working on the garden, de Saint Phalle actually lived in one of them: a blue-haired sphinx with two enormous breasts, which de Saint Phalle covered in a mosaic of mirror shards and turned into her bedroom and her kitchen.
Little to their knowledge, then, show-goers that made it to Dior actually took in the show from inside a sphinx's breast, given that Chiuri chose to recreate one of these mirrored caverns. The collection, as it turned out, also referenced de Saint Phalle's signature "Nanas," or depictions of curvy women with small heads that were nonetheless often immensely large-scale. In fact, given that the artist's most famous Nana, which she collaborated on with Jean Tinguely, was large enough to feature a milk bar, a fish pond, and a 12-seat theater—at least to visitors brave enough to enter the opening that represented its vagina—Chiuri played it relatively safe.
Related: Jessica Chastain Wears Dior's "We Should All Be Feminists" T-Shirt at Cannes
See Kendall Jenner, Performance Artist, Channels Icons Like Marina Abramovic and Yoko Ono: