Blowin' in the Wind
With natural hair all the rage, one blow-out addict dares to ditch the dryer.
---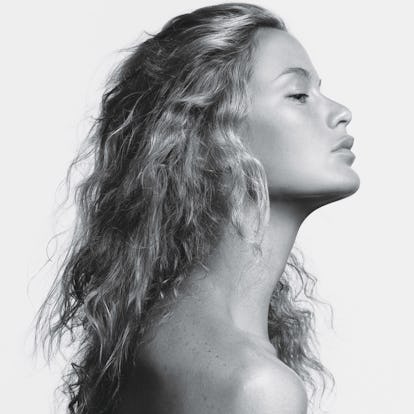 Like most addictions, my dependence on haute hairstylists didn't develop overnight. The initial blow(out) was struck almost 20 years ago, by Brian Devine at Garren New York, who somehow managed to make me look like a Pantene model for my 10-year high-school reunion. A few black-tie events later, I was well on my way to being hooked. A fix every month increased to one a fortnight, and pretty soon, nary a week went by without a couple of trips to the salon.
Things got so bad that I avoided traveling to cities where I didn't have a hair connection. But inevitably, all the pulling, pressing, and crisping took a toll on my tresses—not to mention my bank account. At upwards of $100 a hit, my habit was adding up. It was time for an intervention.
Help came a few months ago, in the form of a friend (an editor at this magazine) who was staying the weekend at my place in the country. One morning, he looked up from his scrambled eggs and asked, with deceptive nonchalance, why there wasn't any shampoo in the house. "I don't wash my own hair, unless I'm at some kind of boot camp or on safari," I replied blithely, thinking that was the end of it.
The following Monday, he offered me a life-changing assignment. "We're calling it 'blow-dry backlash,' " he said. "Stick-straight hair and twice-weekly visits to the salon are so 2007. Didn't you see all the messy, natural hairdos at the fall shows?" (Truth be told, I'd been deliberately ignoring the just-rolled-out-of-bed tress trend since Paul Hanlon did his first undone 'do for Proenza Schouler's spring 2011 runway.) To write the piece, he said, I would have to abstain from dryers, flat irons, hot rollers, and curling irons for three months—the salon-a-holics equivalent of checking into Promises.
I'd rather be sent to Southeast Asia to investigate a new beauty botanical found only in python nests, I told him. Seriously, even my two Bengal cats get regular blowouts. But in the end, I agreed. Why not simultaneously save my split ends and save up for a beach house?
For the next few weeks, I did what many addicts do when faced with the prospect of going cold turkey. I went into denial. I procrastinated. I avoided my editor friend, sneaking blow-dries wherever and whenever I could. My enablers—Rich Malysia and Joe Martino at Orlo salon in downtown Manhattan—smiled indulgently when I told them I wouldn't be seeing them for a while. Some girlfriends openly smirked. No one believed I could do it, which is probably what finally propelled me into action.
My first call was to the hairstylist and consultant (and fellow bleached blonde) Amy Lindwall, whose cult product line, Olja, is aimed at healing and restoring overtaxed hair and scalps. "You need rehab," she decreed, as she peered at my fuzzy strands. "Withdrawal from heat styling is really difficult, though," she warned. "While your hair detoxes, it will go through some stages that definitely aren't pretty."
She wasn't kidding. The first time I lathered up and air-dried, I looked like an extra from Game of Thrones. "You have to learn to accept your real hair texture," counseled Lindwall, who also recommended taking fish oil and vitamin B12 supplements and doing something called scritching, which entails gently scratching the scalp with a natural horn comb in order to stimulate the hair follicles. She added that I should limit shampooing to once a week. "You want to let your sebum coat the hair shaft, so your scalp can rebalance itself." I tried to follow that last part but gave up after a few Spin classes. I draw the line at stinky hair.
Jamie Levine, of the Italian haircare company Davines, gave me an interesting tip. "Wait until your hair air-dries, and take a cab to work with the windows rolled down," she said. "Then, apply a dime-size blob of our Invisible Serum from end to top and you'll get a satiny, slept-in, sexy, piece-y look." I didn't manage sexy or satiny, but I did gain some much needed volume by the time I got downtown.
That said, sometimes a girl doesn't want to look like she's been through a wind tunnel, so I called in the big guns. Orlando Pita, who cuts my hair, created the careless-looking, cool-girl locks on Saint Laurent's fall runway.
"There's definitely a new, younger girl who lets her hair dry naturally and doesn't comb it, which results in a kind of chunky but not dread-y look," he told me. But such laissez-faire locks aren't for everyone, he cautioned. "The best solution for your hair, which is fine and a bit thin on top, is to work in a light nourishing product and scrape it back into a high ponytail, à la Kate Moss."
Mussed-hair maestro Paul Hanlon agreed that Moss is the paradigm of wash-and-go: "Her hair always looks like she hasn't considered it too much, which is very appealing and very now." That's all well and good, I said, but I will never look like Kate Moss in a ponytail. The stylist suggested I deep condition every two weeks with Philip Kingsley's Elasticizer Extreme treatment and add body and texture when the mood strikes with Batiste dry shampoo ("The models always steal it") or Tigi Bedhead After Party ("It looks like a sex toy and produces incredible results").
My once barren bathroom now a test lab, I began experimenting with all manner of shampoo, conditioner, balm, oil, cream, mousse, spray, and serum. Some days I'd whip up a crazy custom product cocktail. On others, I followed a strict one-brand regimen. (L'Oréal Professionnel has two new lines—Volumetry and Pro-Keratin Refill—that make my mane as Gisele Bündchen–esque as it ever will be.) Like a parent, I played favorites. My current golden child: Living Proof, especially Prime Style Extender and PHD (Perfect Hair Day), which magically smooths my unruly strands.
Call it cheating, if you must, but a lot of my research took place in the country, where people don't care if you're perfectly coiffed. There were some mishaps. I was forced to attend an aunt's funeral with a wet-look ponytail (more like a rat tail) after overdosing on Rahua Elixir, an otherwise lovely product. I gouged my cheek with a thumbnail after slipping on some shampoo in the shower. And when an ex-boyfriend I ran into at Indochine didn't recognize me, I vowed never to go au naturel in the city again. I changed my mind moments later, however, after a good-looking guy chatted me up at the bar. Thank you, younger, cooler, more approachable hairdo!
Of course, it could have been my deep berry Tom Ford lipstick that lured him in. I've discovered that softer hair is the perfect foil for stronger makeup. Hence, I'm wearing red lipstick again for the first time in 20 years and loading up on black eyeliner. I've made some hair-related wardrobe changes, too, having found myself drawn to strapless tops and dresses that show off the nonchalant new bend in my ends.
I do, of course, miss my salon "family" from time to time, but I'm convinced that our separation is making my hair stronger and thicker every day. And as I throw back yet another shot of serum and dab some more balm on my tips, it dawns on me that I've simply traded one addiction for another. But that's okay, because I know my bulging cabinet of follicular potions will be there for me when the going gets rough (or frizzy). And, once my three months are up, I can always go back to those biweekly blowouts—not because I have to, but because I want to.
Shop this story: The secret to pulling off the natural look is to not go totally au naturel. These products smooth, polish, and texturize air-dried tresses.
Kate Moss is captured by almost 30 of the leading artists of our time.
Click here to see even more Ms. Moss on W's Kate Moss Mood Board
Photographed by Chuck Close.
Kate Moss
Dark, sultry, and in a wicked fur.
Click here to see even more Ms. Moss on W's Kate Moss Mood Board
Photographed by Craig McDean.
Marion Cotillard (2013)
"I have a crush on Harry Dean Stanton in Paris, Texas. He was my type of guy, especially when I was a kid. I was totally in love with him. I wanted to go anywhere with Harry Dean Stanton: Texas, Paris, whatever, wherever."
March 2011
Chloé's ivory silk dress. Tom Ford bag, David Yurman ring and cuff, Verdura bracelet, David Webb watch.
Beauty Note: L'Oréal Paris EverSleek Frizz Taming Crème Serum makes hair soft, shiny, and smooth.
Jessica Chastain (January 2013)
Greta Gerwig (September 2010)
"I grew up in Sacramento, and it seemed like movies were handed down from gods." Gerwig, who earlier this year starred opposite Ben Stiller in Greenberg, began her acting career as the leading lady of Mumblecore. The movement was born when a group of filmmakers met at the South by Southwest film festival in Austin, Texas, and decided to make movies together. The budgets were minuscule and the films largely improvised, but the acting was fresh and realistic and vibrant in the style of John Cassavetes. "A lot of Mumblecore was about awkwardness, especially with sex," Gerwig says. "I think a lot of sex is very awkward. Instances of awkward lovemaking probably outpace instances of beautiful, seamless lovemaking, at least in my experience."
Saoirse Ronan (May 2011)
Burberry Prorsum's silk satin dress.
Amy Adams (May 2009)
Topshop's black and white cotton jacket, topshop.com; Michael Kors's black and white cotton and silk dress, at Bergdorf Goodman, New York.
Emma Stone (February 2013)
Alexander McQueen silk organza bustier dress.
Chloe Grace Moretz (October 2013)
Prada dress and bracelet; Tiffany & Co. necklace.
Hair by Recine for Rodin; makeup by Diane Kendal for Marc Jacobs Beauty; manicure by Bernadette Thompson for the Bernadette Thompson Nail Collection. Set design by Piers Hanmer. Production by N6.
"By cutting into the hair, you allow it to move more naturally—and I love the way the ends turn out piece-y. The look is softer, fresher, more bohemian." Read more about this trend here.
March 2013
Donna Karan New York linen and viscose jacket and dress. Balenciaga by Nicolas Ghesquière necklace.
Beauty note: Hair gets extra oomph with Bed Head by Tigi Recharge High- Octane Shine Conditioner.
"'I'm always looking for ways to make hair bigger,' says Jimmy Paul.'And I'm always trying to adapt my pro tricks for real life.'" Read more about this beauty trend here.
Raquel Zimmermann (September 2011)
Yves Saint Laurent's gray wool jacket and black wool sweater; Levi's blue cotton denim vest. Zimmermann's own necklace, Abraxas Rex by Paris Kain 18k yellow gold, oxidized silver, and Herkimer diamond crystal necklace and 18k green gold and black diamond necklace (from top); Elizabeth and James sterling silver ring (on right hand); Zimmermann's own ring (on left hand); Elizabeth and James sterling silver bangles.
Lara Stone (April 2011)
Giorgio Armani Privé's embroidered mirror-sequined silk jacket; Dolce & Gabbana's cotton and silk satin bodysuit.
Beauty Note: Giorgio Armani Rouge d'Armani 401 paints lips a sultry coral.
Calvin Klein Collection coat and vest; Maison Martin Margiela dress; Proenza Schouler shoes.
Jamie Bochert (September 2011)
Ann Demeulemeester's black leather jacket; Alexander Wang's black wool hoodie; Junk Food Originals's black cotton T-shirt; Donna Karan New York Casual Luxe's gray polyamide, viscose, and angora dress. Scott Kay sterling silver and onyx necklace; Chrome Hearts sterling silver and black leather bracelet; Loree Rodkin 18k white gold, black rhodium, and diamond ring (on right hand); Loree Rodkin 18k white gold, black rhodium, and diamond ring and Chrome Hearts sterling silver and black diamond ring (on left hand, from left); Longchamp bag.
Giselle (June 2005)
Gucci's crystal-embroidered silk tulle dress, at select Gucci stores, 800.234.8224, gucci.com. Christian Louboutin shoes.
Beauty Note: For no-holds-barred glamour, swipe on Victoria's Secret Pure Reflection Ultra Shine Lipstick in Fire.
Photo: Inez van Lamsweerde and Vinoodh Matadin/Trunkarchive