Diving Into Artist Doug Aitken's Underwater Universe Off the Coast of California
For his newest installation, the ever-ambitious artist created a cluster of sea caves off Catalina Island.
---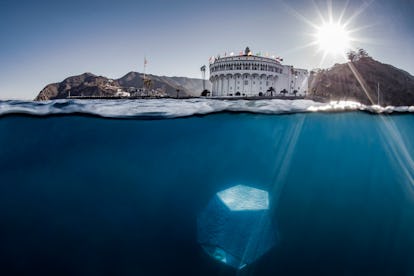 Two years ago, during a visit to the Los Angeles Museum of Contemporary Art, the artist Doug Aitken's mind wandered outside the museum walls. "I was thinking how even outliers like earth art and land art — such as the work of Robert Smithson and Walter de Maria — are no longer part of our generation," Aitken, 48, explained over the phone from his studio in Venice, California.
An artist who has already installed his celebrated video work on a floating barge off the coast of Greece, Aitken went beneath the sea for Underwater Pavilions, an installation consisting of three geometric sculptures-come-pavilions that float in the Pacific off the coast of Catalina Island in Southern California. "The fact that it takes a journey to see it is important," the artist explained. "It's not so easily digestible, which allows you to slow down and take inventory of where you are."
The installation, which opened this week, is accessible via snorkeling or diving, and works in tandem with Aitken's retrospective exhibition currently on view at MOCA. "When one looks out at the ocean they see this blue gray void, that's incredibly mysterious and foreign to us. So making a work that activated that space was a compelling concept to work with," he continued.
A year ago, Aitken set to work on Underwater Pavilions, which was co-produced by Parley For the Oceans, an organization that creates awareness of the rapid depletion of the oceans. "When I saw the Underwater Pavillions, I knew right away these are the symbols, the icons that we need for our movement," said Parley founder Cyril Gutsch.
Aitken is best known for his videos, sculptures, and installations which explore the psychological and physical displacement precipitated by society's obsession with mass media and technology. He is also known to be a bit of a showman, having collaborated with the likes of Tilda Swinton, Chan Marshall, and Chloë Sevigny. But with Underwater Pavilions he eschews starry names for one of his thematic obsessions — a habitual resistance to narrative and temporal coherency. The "sea caves" thrust the viewers into an eerie, timeless world that operates in tandem with an underwater ecosystem, on an underwater clock.
"Under the ocean, everything around you is organic, moving and flowing," said Aitken, a native Californian. "Then you see this minimal shape, which is completely foreign in that landscape, standing out, floating weightlessly with perfect lines and flat planes. Perceptually it activates so many different elements, and everyone walks away from it with a very different encounter. I don't want control, I want something random where chance is a part of the experience."
For the artist, it's a living work, growing and changing with each viewer. It even becomes its own ecosystem as sea life latches onto it. "A project like this creates a door to the ocean. You're invited to step into the space and out of your comfort zone," continued Aitken, who has already dived down multiple times. While the work will be on view in Catalina throughout the rest of the year, Aitken says he hopes to move it to another ocean, where it will continue to live to become an overgrown, artificial reef, teeming with sea life. "Perhaps we'll take it to the Indian Ocean," he said. "Who knows, we're just beginning."