Definitely Not Documenta: Introducing Dogumenta, the First Art Exhibition For, Yep, Dogs
Curated by the art critic Jessica Dawson and her pet Morkie, Rocky.
---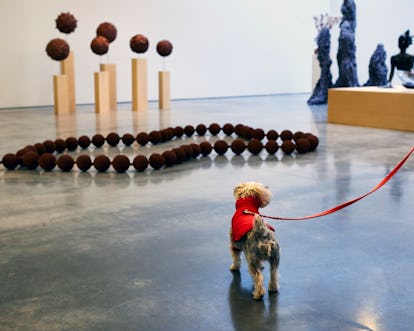 Jason Falchook
In 2013, the former Washington Post art critic Jessica Dawson moved to New York from D.C. and found the sheer scale of gallery openings and art fairs flooding the city daunting. And then she met someone for her strolls among the galleries, a devoted partner who would in fact remain "fearless in the face of a Carl Andre," the sculptor who may or may not have killed his artist wife. That someone was Rocky, a Maltese meets Yorkshire terrier (aka Morkie) whom Dawson first met at a shelter in Soho. In the years since, he's accompanied her consistently on her walkabouts in Chelsea, where the pair live, both developing his own eye unmolested by the attention-seeking voices of loudmouthed critics, and in the process showing his "human," Dawson, a new way of seeing. And now we have arrived at the natural evolution of their relationship: What if Dawson, who has worked in programming at the Hirshhorn Museum, created an art exhibition specifically for dogs?
dOGUMENTA will be, ah, unleashed from August 11 to 13 this summer in New York, overlapping with its namesake, dOCUMENTA, in Kassel, Germany. Dawson has even taken to referring to dOGUMENTA as "sort of a satellite [of it] in our mind."
"Our," of course, refers not just to Dawson's co-organizer Mica Scalin, but to Rocky, who's listed as a curator. He makes studio visits and personally approved each of the 10 new works contributed by 10 New York-based artists, like Merav Ezer and Eric Hibit. Come August, as a part of Arts Brookfield, each will be installed outdoors at Brookfield Place in lower Manhattan between the carefully chosen hours of 8 a.m. to 1 p.m. and 4 p.m. to 8 p.m., "to be respectful of the heat sensitivities of our four-legged friends."
That's not the only thing about it that caters to canines: dOGUMENTA, Dawson is quick to emphasize, is not about dogs or by dogs, but for dogs, meaning artworks are installed at puppy-eye-level, and considerate of their color perception limitations. (Not that the full human color wheel has knocked Rocky off the art scent: he in particular was delighted by a show of works by Dan Flavin, despite being unable to take in much of the artist's typical neon palette.)
As passionate as Dawson is about her new venture, she's also not unaware that it could look like she's chasing her own tail. "People were like, 'What is Jessica doing?'" she recalled of first announcing the plan to her friends. "But even the conversations I have at cocktail parties in the art world are part of the work of dOGUMENTA in a sort of conceptual way," she added, doggedly. "And some people get it right away and see the multiple levels: the humor and satirical quality, but also how it's heartfelt, how I earnestly believe in it."
Others, of course, simply think she's barking up the wrong tree, and that's okay with Dawson, too. "Any really revolutionary new art-world action is going to be met with both this look of 'What are you thinking?' and with a real show of solidarity. That's what happens when you're innovating," she said.
"And I will say we would love one day to bring dOGUMENTA to Kassel," she went on. "The German pups need it, too."
Adam Driver on How He Hates Halloween, But Loves His Dog More than Anything: