Donald Trump Edges Out Hillary Clinton to Take the Presidency
The former secretary of state conceded the presidential race in the early hours of Wednesday morning. Here's what comes next.
---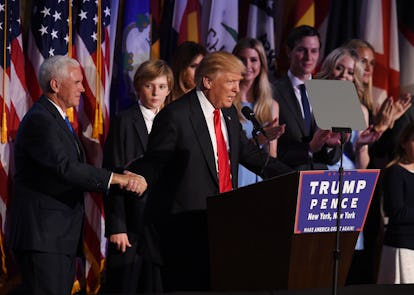 AFP/Getty Images
Around 3 a.m. Wednesday morning, former Secretary of State Hillary Clinton called Donald Trump to concede the presidential race and congratulate him on his election. He swept the midwest and key battleground states like Ohio, Michigan, Wisconsin, and North Carolina, and, at the time of writing, the electoral count placed him just over the edge of the 270-vote majority needed to secure the presidency. Yet Hillary Clinton still edged ahead in the popular vote, by a margin of 146,101 as of 9:05 a.m., which makes her just the fifth candidate to win the popular vote yet lose the election. Trump's win was a turn that few — including, by some whispered reports, those within the Trump camp — anticipated, and yet one that will be felt for a generation as, in addition to his xenophobic rhetoric and isolationist aspirations, a President Trump looks likely to fill at least one and as many as three Supreme Court spots during his tenure. The fashion world has already begun its protest: Lady Gaga was spotted picketing outside Trump Tower, holding up a sign reading "Love Trumps Hate"; she and others have taken to Twitter to express shock, fear, and anger at the election's results.
Yet even in such a somber time, there are moments of levity — or at least a bit of comfort — to be found in fashion, music, and the arts. Here, your fashion highlights for Wednesday, Nov. 9.
Gucci The starter pack has arrived.
Gvasalia, Mariam No relation to Gvasalia, Demna, Mariam is a cult favorite in Georgia and one of the breakout faces of this season's Tbilisi Fashion Week.
Kosmos, Planet Gone are the Thrasher- and goth-inspired type faces of yore; in their place, Raf Simons and Kanye West are both favoring the retro-futuristic face Planet Kosmos.
Margiela, Martin Once the unlikely womenswear designer at Hermès. An exhibition of his work from those years will go on display at Antwerp's MoMu fashion museum in March 2017.
Men, Of Monsters and Nanna Bryndís Hilmarsdóttir, the frontwoman of Reykjavik's foremost pop outfit, took a disposable camera backstage at the Iceland Airwaves music festival. Here's the result.
Moore, Julianne Coming soon to a small screen near you. (With a big, big budget.)
Smith, Anna Deavere Playwright, MacArthur Genius Grant recipient, performer who plays myriad characters in her one-woman show Notes from the Field. "If anything, they give me a voice," she tells the New Yorker. "Anybody can speak for themselves, and they always could."