Jetsetter Donald Trump Is Obsessed with America's "Third World" Airports
The republican presidential nominee Donald Trump criticized America's airports in Monday night's debate with Hillary Clinton, but it wasn't the first time.
---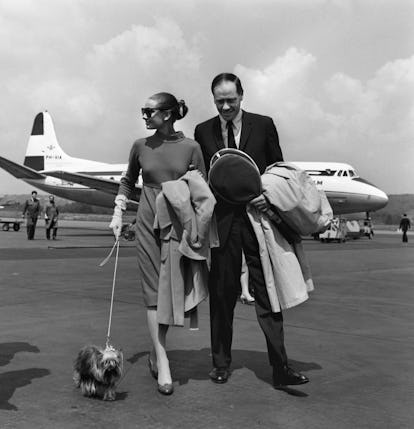 © Corbis. All Rights Reserved.
"Our airports are like from a third world country," Donald Trump said at one point during last night's debate, completely unprompted. Moderator Lester Holt was asking the candidates about their e-mails and tax returns during the segment.
"You land at LaGuardia, you land at Kennedy, you land at LAX, you land at Newark, and you come in from Dubai and Qatar and you see these incredible — you come in from China, you see these incredible airports, and you land — we've become a third world country."
This particular obsession with the level of American airport's poshness, as randomly shoehorned into the debate as it was, is nothing new. Trump actually began attacking America's airports all the way back in July 2015 when he first announced he was running for president. Of course, his insinuation that large amounts of Mexican immigrants are rapists probably overshadowed the comments.
"You come into LaGuardia Airport, it's like we're in a third world country. You look at the patches and the 40-year-old floor. They throw down asphalt," he said during the first speech of his campaign. "You look at these airports, we are like a third world country. And I come in from China and I come in from Qatar and I come in from different places, and they have the most incredible airports in the world."
It's a point he's repeated dozens of times both on the campaign trail and in interviews. Usually with the same words, though reassembled in random order. Here, just for emphasis, is Trump discussing airports in an interview on CNBC in August.
"Our airports are like third world countries," he said. "You go into some of these beautiful airports, you go into Dubai and you go into different places throughout the world and you see airports that are unbelievable. That we've never had in this country. And then you fly into La Guardia or you fly into LAX. Or you fly into Kennedy, any of them. You fly into these airports, it's like a third world country."
LAX, Laguardia, and Kennedy = third world barns.
Dubai, China, and Qatar = the most incredible airports in the world.
Got it?
It's safe to say at this point that the fanciness of American air transit hubs is more than an ongoing theme of Donald Trump's campaign, it's a personal obsession. He's practically positioning himself as the savior of jet-setters everywhere.
Fact-checkers had a field day with Trump's claims last night, but this is one that is, to some degree, true. The Skytrax World Airport Awards ranks Singapore Changi International Airport as the World's best. The United State's best showing on that list is Denver Airport (despite its notoriously creepy artwork), but it only ranks 28th. Just eleven more US airports make the 100-spot list.
As a publication that generally appreciates good design and often concerns itself with the lifestyle of international jetsetters, we, of all people, can't fault Trump for his concern. Even if calling America's airport "third world" may be the ultimate first world complaint, or even a top 10 percent of the first world problem (64 percent of Americans don't even have a passport, and almost 1 in 5 say they've never even flown in a plane).
Yet, perhaps unsurprisingly, Trump actually doesn't even a have concrete plan to spur airport redevelopment. Not even the promise of categorical grants to install gold toilets in every terminal in America. Maybe he doesn't want ISIS to know about his master airport plans for safety reasons.
Though, it's also worth noting that America's public airports are in large part owned and operated by either state, city or county governments, so dissensions are ultimately in the hands of local politicians, many of whom have actually already done the hard work and promised to upgrade America's "third world" facilities.
$5 billion worth of upgrades were approved for LAX earlier this year. Atlanta's Hartfield-Jackson, the busiest airport in America, just started work on a $6 billion upgrade. $4 billion was dedicated last year to rehauling New York City's LaGuardia Airport.
Just last month Orlando International Airport approved plans for a new $1.8 billion international terminal. Miami International Airport is in the midst of a long-term redevelopment plan that will cost billions. Chicago's O'hare International has its own multi-billion dollar plan as well. Other airports also in the midst or set to receive costly facelifts: Tampa, Ft. Lauderdale, Nashville, Cleveland Hopkins, Rochester, and the list goes on and on.
In fact, it's hard to find a major airport in America that isn't planning to spend millions, if not billions and billions, to upgrade themselves. Fear not jet-setters​, we are actually already in a golden age of American airport redevelopment.
Basically, Trump is upset at the sort of thing that only greatly upsets a billionaire (airport fanciness), has no actual plan to address it, and seems oblivious that their are actually plans already underway to fix it.