Donald Trump Won't Be Meeting Queen Elizabeth Anytime Soon
His state visit has been downgraded.
---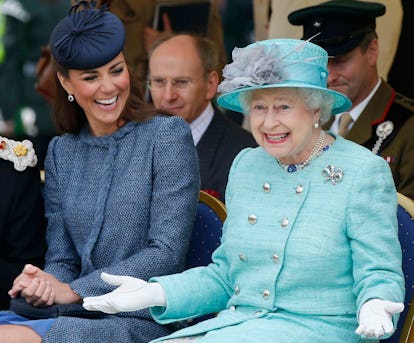 WPA Pool
Queen Elizabeth II has met with almost every sitting United States President since Dwight Eisenhower, but she won't be meeting Donald Trump anytime soon. The President's long-planned 2018 state visit to England has been downgraded to what they call in diplomacy terms a "working visit," a far less formal affair. That means there won't be much pomp and circumstance when Trump visits the United Kingdom next year, and he won't be automatically visiting the Queen, either.
That's according to the London Evening Standard at least, but it's no surprise. U.K. Prime Minister Theresa May's decision to invite Trump for a state visit was met with wide-scale outrage in the country, including protests and threats of boycotts. Speaker of the House of Commons John Bercow even said he wouldn't let Trump address the legislative body. The visit was then postponed amidst the controversy.
A state visit would not have only necessitated a visit between the two country's Heads of State (Trump and the Queen), but also would have come with all sorts of fanfare like 21 gun salutes, state diners, military bands, and all that jazz. The president would also traditionally sleep at Buckingham Palace as the Queen's guest. It would also mean that the British government, as host, would have to pay for it all.
A working visit, in contrast, involves no such fancies, and doesn't even technically require a formal invitation nor the expectation that the host country has to pay for anything. Trump will likely meet with May, and the visit will be part of a trip to many countries in Europe. Though, he may cut the ribbon of the new U.S. embassy in London.
While a working visit wouldn't necessarily preclude a meeting with the Queen, it certainly doesn't require one, and the Evening Standard gives no indication that one is planned.
Though, the Evening Standard adds that an official state visit is still expected to happen at some point. It just hasn't been decided when.
Queen Elizabeth has met with almost every single president—even the single-term ones—since Eisenhower, with the exception of President Lyndon B. Johnson. Of course, Johnson rarely traveled overseas in comparison to most other U.S. presidents. Elizabeth never visited the United States during Johnson's time in office, either.
President Barack Obama and First Lady Michelle first met the queen just months into his term, at a reception ahead of a G20 summit that was held in London. It was the first of Obama's four trips to England over his two terms. While only one was an official state visit, Obama did meet the Queen on all four occasions.
Though, there has been at least one meeting between the House of Windsor and the House of Trump so far. First lady Melania Trump met Prince Harry in Canada last month at the opening of the Invictus Games.
Related: Queen Elizabeth Plots Some Twists For the Next Season of the Royal Family, TV's Longest-Running Soap Opera
The 15 Best-Dressed Royal Kids Around the World: