Queen Elizabeth Plots Some Twists For the Next Season of the Royal Family, TV's Longest-Running Soap Opera
Forget Game of Thrones, the most riveting show on TV right now is the soap opera of the British Royal family, and the queen's advisers have some ideas about spicing up the drama for next season.
---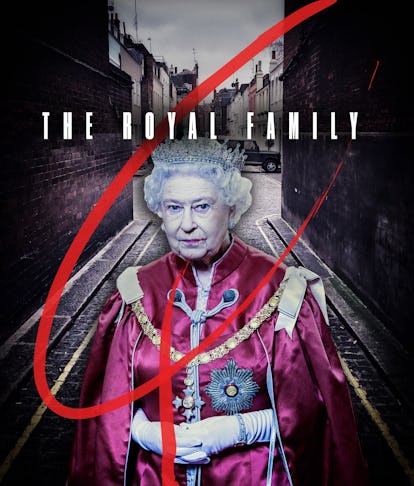 Alexey Shakhov / EyeEm
The locked red box infamously delivered daily to Queen Elizabeth II doesn't just contain classified government memos; it's also where her most trusted advisers have at last delivered their plot pitches for the next season of The Royal Family, the serialized PR drama whose real-life Game of Thrones has gripped the world for centuries. As this purloined memo proves, the heat is on as the masterminds sweat Prince Harry's next move.
Greetings, Your Majesty,
Congratulations on another smashing season of The Royal Family. Drama-wise, nothing may top Season 470, when Henry VIII blew through and buried not one but two wives. But you'll be thrilled to know that William's swing from the romantic hero of Season 945's big wedding to the reluctant heir who takes awkward ski vacays with models, and the subsequent press waffling between "drunken cad" or "nerdy dad," fed both his fans and his foes. And the introduction of Meghan Markle as Harry's divorced (!) American (!!) girlfriend did better than we could have dreamed. (You were correct to write out his ex; "Duchess Cressida" sounds like a varietal of lettuce.) But it's the finale that really sang, thanks to your inspired idea to make Twitter think Prince Philip had died. Summoning the staff from Scotland in the dead of night was ingenious, Ma'am; have you ever considered running Celebrity Big Brother?
Unfortunately, until Prince Harry gets on with it and proposes, this carriage is running on fumes. We need to vamp until we can deliver a satisfying engagement story and morph back into a fairy tale. Herewith, a few suggestions for keeping the buzz alive in season 951 and building to the emotional finale that everyone wants—and that Great Britain deserves, now that Bake-Off is ruined.
Episode One: The Danish royal family did a perfectly fine First Day of School photoshoot recently, but we can do better. Obviously, they're free-view channels and we're premium cable. Let's get George in his uniform, waving, a jaunty hat akimbo, shorts a bit longer this time (public feedback to the hemming situation has not been ideal). And we'll give him a book—no, two books. Literacy is charming. One should be Middlemarch; the other, Curious George, obviously. (Incidentally, please counsel William not to ask other parents if George ate any of the pages. I know he likes to "be relatable" but we don't have to share everything.)
Episode Two: We realize the Duke of Edinburgh is the world's top Fergie hater, Ma'am, but let's lean into it and kick up those rumors that she and Andrew rekindled the flame because they thought he was at death's door. Is there any chance we can get them stuck in a lift at the National Gallery for a few hours? Emotions high, oxygen supply low? Fallback: Kate goes blonde.
Episode Three: Ma'am, we're sorry to report this, but Pippa is good for business. Book her on some—dangerous perhaps?—adventure travel that ends in a fundraising leap off the side of a glacier (she'll be caught, possibly by that husband of hers whose name and face no one actually remembers). Have Pips wear a lot of leggings and look tan, though that's easy enough; it's her baseline state anyway. As a tie-in, get that butler chap of Diana's, Paul Burrell, to yammer about the last time he and Diana ever talked about sunscreen, and what her changing SPF meant about her emotional state. We know he's not your favorite, Ma'am, but those "newly remembered moments" work like gangbusters. Fallback: Kate experiments with mini-skirts.
These Rarely Seen Family Pictures Prove Princess Diana Was the Original Royal Child Style Icon
Diana Spencer with her pet guinea pig during a 1972 pet show in Sandringham. She won first and second prize, both in the "fur and feathers" section, for her pet guinea pig in two different pet shows at Sandringham. She also brought her guinea pig to her first boarding school, Riddlesworth Hall, where she was made head of "Pets' Corner," where the students' pets were housed.

Camera Press/(Spen/AL)
"Diana sits on her suitcases as she prepares to go to boarding school at Riddlesworth Hall in the fall of 1970. Distraught over the separation from her home, she told her father, 'If you love me, you won't leave me here.'"

(Spen/AL)/Camera Press/Redux
"Always poised, even when jumping off a slide into the family's pool at Park House, a youthful Diana shows off her fun side. Her red swimming badges can be seen at the bottom of her bathing suit."

(Spen/AL)/Camera Press/Redux Pictures
"A photo from a private family album dated 1967–69 shows Diana posing cheekily as a young girl. Obviously a natural in front of the camera, she also had a keen sense of fashion from an early age."

(Spen/AL)/Camera Press/Redux
"At Highgrove, Diana rests with her head in her hands. Charles had asked Diana to Highgrove when they were dating, and she would later undertake an interior renovation of the manor house led by designer Dudley Poplak."

Tim Graham/Getty Images
"Diana's pet Shetland pony Soufflé moves in to nuzzle her 14-year-old owner. Diana kept the pony at her mother and stepfather's house on the Isle of Seil, off Scotland's west coast, which she visited during vacations."

Hulton Archive/Getty Images
"Diana attends a gala charity dinner for cancer research at London's Bridgewater House in November 1995, the same day her explosive BBC Panorama interview aired, in which she discussed her infidelity and bulimia."

Tim Graham/Getty Images
"To promote her message on behalf of the charity HALO Trust, Diana walked through an active minefield in Huambo, Angola, in front of the press."

Pool/Tim Graham Picture Library
"The media surrounding Diana could be relentless. After her separation from Charles in 1992, journalists and editors would regularly visit with Diana, who realized the importance of remaining in the hearts of the public as well as shaping the narrative about her marriage. One adviser cautioned her not to have anything to do with the media, a warning that supposedly shocked her. Here, Diana, who was in France for the second International Night of Childhood, waves to the paparazzi from a car."

Patrick Bruchet/Paris Match/Getty Images
"Here, [Diana] dresses in plaid at the Braemar Highland Games in Scotland, September 1982."

Anwar Hussein/Getty Images
Episode Four: Still no engagement? No problem: We'll feed the frenzy by asking Harry to play sports in public with tiny children and at least two animals, followed by a Mary Poppins sing-along with Lin-Manuel Miranda (get the Hamilfans invested, and show we're not offended by the whole George III bit. Two birds!). Meghan can "covertly" walk to Whole Foods holding a copy of Brides. Fallback: Kate looks nauseated and touches her stomach a lot.
Episode Five: We can't ignore Charles, Ma'am. We don't want this production to get cancelled once his seasons start. Can we send him and Camilla…anywhere? Perhaps a tour of Italy, where they're handed a giant commemorative salami? That woman is dynamite with an unconventional prop. Could contrast this with Paul Burrell's exclusive interview with World of Interiors about the last time he and Diana discussed occasional tables, and what it meant about her emotional state. Fallback: Kate adds a third kitchen, a second nanny, and a petting zoo to Kensington Palace.
Episode Six: Fergie replaces Andrew at a major family event, while Bea and Eugenie…go hat shopping? (We know you want them involved, but it's proving very difficult to make them interesting. Could one of them run off with the heir to a moist-towelette fortune, or join the touring cast of Matilda?) A new portrait of Princess Charlotte would go over a treat, too. Use the dog if he has finally stopped resenting her; Twitter loves pets. But no profile shots. Studies show social media reaction to Charlotte's face is in direct correlation to the pinchability of her cheeks. Fallback: Kate cancels the shoot due to "food poisoning."
From Kate Middleton and Prince William to Charles and Diana (and Camilla), a Brief History of British Royal Weddings—And Their Attending Scandals
Original diva Queen Victoria might not have been the first bride to wear white, but she was the one who made a white gown something of a protocol. Victoria commissioned a white lace dress for her 1840 wedding to Prince Albert, intending to support the struggling lace-making industry and best showcase the textile. Further, she destroyed the pattern for her dress so it could not be replicated, and she decreed no one else could wear white to her wedding. After the ceremony, she and Albert—for whom London's Victoria and Albert museum is named—traveled to Windsor Castle for the night; though Albert had hoped to take a two-week honeymoon with his new wife, already the reigning queen, Victoria told him she could not take that much time off from work and they limited their vacation to just a few days.

Heritage Images/Getty Images
On April 26, 1923, Elizabeth Bowes Lyon married George VI, who would go on to become king—and she, the Queen Mother, giving birth to Elizabeth II in 1926. Queen Mary, George's mother, lent her daughter-in-law the lace veil she wore for the occasion. British designer Madame Handley Seymour made the dress—custom dictated it must be a British creation—but its silhouette was based on those of Jeanne Lanvin, then very much in vogue.

Universal History Archive/Getty Images
Between Victoria, which stars Jenna Coleman as the titular monarch, and The Crown, with Claire Foy as Elizabeth II, British royals' romances have been the subject of much pop culture fascination lately. Elizabeth, who was crowned queen in 1953, wore an elaborate dress by Norman Hartnell for her 1947 wedding to Phillip Mountbatten. If she resembles someone out of a Botticelli painting, that's precisely what the designer intended with the delicate floral embroidery and 10,000 seed pearls sewn into the design. It was just two years after the end of World War II, and austerity measures were still in place rationing fabric, buttons, and types of trim, so, reportedly, young women all over England sent their clothing coupons to Princess Elizabeth; with her own savings, plus a 200-coupon bonus from the government, she was able to afford the dress, which took six months to make. (The Crown's reproduction cost a reported $37,000 and took seven weeks.)

Universal History Archive/Getty Images
Elizabeth's younger sister Princess Margaret married the photographer Antony Armstrong-Jones, a contributor to Vogue and Vanity Fair, on May 6, 1960. It was a lavish affair, costing a reported $65,000—not to mention the additional $115,000 of her seagoing honeymoon—that didn't do much to improve her reputation among her subjects. Margaret had previously been embroiled in scandal, engaging in an affair in the early '50s with Captain Peter Townsend, a war hero 15 years her elder, who happened to already be married. Townsend later divorced his wife, but Margaret was nevertheless unable to marry him because her religion—and the royal family's adherence to Catholicism—prohibited her from wedding someone who had previously been married. Still, her subsequent marriage to Armstrong-Jones ended in divorce in 1978.

AFP/Getty Images
When Charles, Prince of Wales, was 24 years old, he met Camilla Parker Bowles. But, according to biographer Sally Bedell Smith, the prince was not yet ready to commit to marriage and gendered double standards of the mid-20th century meant Charles was expected to marry a woman who could plausibly present herself as a virgin. Cue Diana: Though Charles remained enamored of Bowles, he ended up marrying Diana Spencer, a woman 13 years younger whose grandmothers had been ladies-in-waiting to Charles's grandmother, Elizabeth, the queen mother, in 1976. They divorced in 1996, after both had engaged in affairs (Charles, picking up his relationship with Bowles again); Diana died in a car crash in 1997.

Ron Bull/Getty Images
Andrew, Duke of York, the third child of Queen Elizabeth II, and Sarah Ferguson began their relationship in 1985 and married in 1986. They were both 26 years old. Her gown, by the designer Lindka Cierach, featured detailed iconography embroidered throughout, representing Andrew's naval service (anchors, waves), romantic symbols, and images drawn from Ferguson's own family crest. They divorced 10 years later.

Tim Graham/Getty Images
Prince Charles, currently next in line for the throne after his mother, Queen Elizabeth II, married his longtime romantic partner Camilla Parker Bowles in a civil ceremony on April 9, 2005. Bowles, now Duchess of Cornwall, wore a dress by British designer L.K.Bennett with a Phillip Treacy hat for the wedding and a Robinson Valentine ensemble for the service afterwards. The couple opted for a civil service in lieu of a full church wedding, presumably to avoid the controversy that could attend a religious ceremony, given the crown's stance on divorce. (Both Charles and Camilla, at this point, had divorced previous partners.)

ALASTAIR GRANT/Getty Images
In 2011, Prince William, Duke of Cambridge, the eldest son of Charles and Diana and the current second in line for the throne after his father, married longtime girlfriend Kate Middleton, now Catherine, Duchess of Cambridge, on April 29, 2011. (The media circus that surrounded the event just evidences the continued adulation of the British public, though the royal family no longer has any legislative power in the United Kingdom.) Middleton's dress, custom-designed by Sarah Burton for Alexander McQueen with its deep-v neck, long sleeves, high collar, and lace overlay, has inspired countless replicas; among the frontrunners for designers to create the gown were Victoria Beckham and Stella McCartney. Designers Karl Lagerfeld, Oscar de la Renta, and Vera Wang all praised the design, comparing it to royal weddings past like Elizabeth II and Diana. Also at the wedding: Kate's sister Pippa Middleton, whose own wedding is slated for this weekend and who drew headlines of her own with her clingy white dress, also by Alexander McQueen.

Clive Rose/GP/Getty Images
UNITED KINGDOM – JULY 18: The Wedding Of Tim Taylor To Lady Helen Windsor At St Georges Chapel Windsor. Wedding Dress By Catherine Walker (Photo by Tim Graham/Getty Images)

Tim Graham
Episode Seven: Our last before the season finale finale—Ma'am, please call Harry and make sure we'll even have a finale—so let's pack this to the gills: a quote about Meghan's spirituality, from a Facebook friend of her fourth-grade boyfriend; news that Prince Philip runs three online Suits fan communities; word that "power-mad" Camilla is scheming to poison either you or Kate before you can hand the throne straight to William— a classic recurring gag!—and rumors that William will abdicate altogether and make Harry take his place. Fallback: Kate wears a bizarrely baggy dress but also publicly nurses a beer. Keep them guessing!
Episode Eight: This is it. Either Prince Harry gets engaged or they have to break up, because anything else is boring, and boring is bad for the family business. So, we'll build to the Invictus Games in Toronto, either joyously hosted by Harry with his new fiancé by his side, or bravely attended through sheer heartbreak. (We'll put the photogs on notice to get pictures of him wiping any part of his face where a tear might feasibly drop.) This might also be a good spot for Paul Burrell's exclusive interview with OK! about the last time he and Diana discussed rugby, and what that meant about her emotional state. Fallback: Kate gives in and gets pregnant for real, because the only substitute for a royal wedding is a royal baby. If she's not keen on another round of vomiting, remind her that PR is a team sport. There's no "i" in "monarchy," after all!
Looking forward to your thoughts. God save you, etc.
Heather Cocks and Jessica Morgan write the snarky celebrity fashion website Go Fug Yourself, and are the authors of the best-selling novel, The Royal We.
The Definitive Guide to the Most Fashionable Royal Kids, Beyond Princes Louis and George and Princess Charlotte
Prince Jacques and Princess Gabriella of Monaco, now 2-year-olds, are the children of Prince Albert II of Monaco and his wife, Princess Charlene. Although Princess Gabriella is the older twin, her brother, Prince Jacques, is the heir apparent. The twins are pictured here with their parents during the annual Christmas gifts distribution at Monaco Palace last December.

Pascal Le Segretain
Thirteen-year-old Catharina-Amalia, Princess of Orange, is the heir apparent to the Kingdom of the Netherlands' throne. She and her younger sisters, Princess Alexia, age 12, and Princess Ariane, age 10, are the daughters of Queen Máxima of the Netherlands and King Willem-Alexander of the Netherlands. The sisters are pictured here at Kagerplassen in Warmond, Netherlands.

Patrick van Katwijk
Countess Luana and Countess Zaria of Orange-Nassau with their mother, Princess Mabel of Orange-Nassau. The young countesses are the daughter of the late Prince Frisco of Orange-Nassau, a younger brother of King Willem-Alexander of The Netherlands.

Julian Parker
Leonor, Princess of Asturias, is 11 years old and the heir apparent to the Spanish throne. She and her younger sister, 10-year-old Infanta Sofía, are the daughters of King Felipe VI and Queen Letizia of Spain. Here, the sisters attend Princess Sofía's first communion.

Fotonoticias
HRH The Crown Prince of Morocco is 13 years old, and he is the oldest son of King Mohammed VI of Morocco and his wife, Princess Lalla Salma of Morocco. Here the young prince welcomes former French president Francois Hollande to Morocco, a former French colony, in 2013.

AFP
Fifteen-year-old Princess Elizabeth is the heir apparent to the Belgian throne and is the eldest child of King Philippe and Queen Mathilde. The young royal became next in line in succession only after her grandfather, King Albert II, abdicated his throne for health reasons in 2013.

Patrick van Katwijk
Prince Hisahito of Japan, a 10-year-old prince, is a dapper young man and often seen wearing a suit. He is the youngest child and only son of Fumihito, Prince Akishino and Kiko, Princess Akishino. The young royal is third in line to become Emperor, behind his uncle and father. Here, the young prince visits Nagasaki with his family in December of last year.

The Asahi Shimbun
Prince Hisahito's eldest sister, Princess Mako, recently announced her engagement to a commoner, which will result in the young princess losing her royal status. Pre-1947, the decree that forbids women in the royal family to inherit the throne—or even remain a royal—if they marry a commoner did not exist.
Princess Estelle of Sweden, now 5 years old, is the elder child and only daughter of Crown Princess Victoria of Sweden and her husband, Prince Daniel. She is the second in line of succession to the Swedish throne. Here she is attending the 40th birthday of her mother at Solliden Palace in Borgholm, Sweden.

Patrick van Katwijk
One-and-a-half-year-old Prince Oscar, Duke of Skåne, is the youngest child and only son of Crown Princess Victoria of Sweden and her husband, Prince Daniel. He is the third in line of succession, after his mother and sister, to the Swedish throne. Here he is attending the 40th birthday of his mother at Solliden Palace in Borgholm, Sweden.

Andreas Rentz
Prince Carl Philip and Princess Sofia of Sweden welcomed Prince Gabriel into the world just this last August. The baby prince is sixth in line to the Swedish throne, after his older brother, Prince Carl Philip.

photo@royalcourt.se
Prince Carl Philip of Sweden carries his 18-month-old son, Prince Alexander, to the royal palace in Stockholm as they prepared for Crown Princess Victoria's birthday festivities this past July.

Patrick van Katwijk
Prince Christian of Denmark is the eldest child of Crown Prince Frederik and Crown Princess Mary. He is the grandson of Queen Margrethe II and the second in line to the Danish throne, after his father. Here the young prince attends an equestrian event in July in Denmark.

Patrick van Katwijk
Ten-year-old Princess Isabella is the eldest child of Crown Prince Frederik and Crown Princess Mary. She is the granddaughter of Queen Margrethe II and third in line to the Danish throne, after her father and brother. Here the young princess attends her grandmother's 77th birthday celebration in Denmark with her mother.

Patrick van Katwijk
Prince Vincent and Princess Josephine of Denmark are 6-year-old twins. Prince Vincent is the elder of the two, and he is fourth in line to the Danish throne; Princess Josephine is sixth. The twins are pictured last summer at the Grasten Castle in Denmark.

Luca Teuchmann
Prince Nikolai of Denmark, Count of Monpezat, climbs aboard the royal ship Dannebrog for his 18th-birthday celebrations in Copenhagen. He is the first son of Prince Joachim of Denmark and his ex-wife, the Countess of Frederiksborg. Here he is being tailed by step-sister Princess Athena.

Patrick van Katwijk
Prince Philip of Serbia and his wife, Danica Marinkovic, debuted their new son in early March. Prince Stefan is held close by his mother in the Royal Palace of Belgrade, Serbia. Crown Prince of Serbia, Alexander Karadjordjevic, announced the news of his grandson's birth on social media on February 28.

Srdjan Stevanovic
Crown Prince of Haakon of Norway and the Crown Princess Mette Marit of Norway attend the Nordic World Ski Championshop with their two children, heir apparent Prinvess Ingrid Alexander, age 13, and Prince Sverre Magnus, age 11.

Trond Tandberg
Thailand's Prince Dipangkorn Rasmijoti, pictured center, is the son of Maha Vajiralongkorn Bodindradebayavarangkunis, better known as King Rama X, and his third wife, Princess Srirasmi Suwadee. The young heir to the throne is now 12 years old.

AFP
Princess Amalia of Luxembourg is now 3 years old, but here she is the day her parents, Prince Felix of Luxembourg and Princess Claire of Luxembourg, left the hospital and presented her to the world. She is third in line of succession for the crown of Luxembourg and has a younger brother, Prince Liam, born in 2016.

Hannelore Foerster
Princess Madeleine of Sweden and her husband welcomed their third baby, Princess Adrienne Josephine Alice, Princess of Sweden and Duchess of Blekinge, in March. The royal mom Instagrammed this candid shot of Princess Leonore and Prince Nicolas cuddling with their new baby sister, in Stockholm.
The 4-year-old prince is the eldest child of Prince William, Duke of Cambridge, and Catherine, Duchess of Cambridge. He is third in line for the British throne, behind his father and then grandfather, Charles, Prince of Wales. Here he departs the Berlin military office in 2017 after an official tour of Poland and Germany.

Chris Jackson
The 2-year-old princess is the younger child and only daughter of Prince William, Duke of Cambridge, and Catherine, Duchess of Cambridge. She is fourth in line for the British throne, behind her brother, Prince George; her father; and her grandfather, Charles, Prince of Wales. Here she departs the Berlin military office in 2017 after an official tour of Poland and Germany.

Pool/Samir Hussein
Meet Prince Louis Arthur Charles, the third child of the Duke and Duchess of Cambridge. The newborn prince is currently fifth in line for the throne, after his grandfather, Prince Charles; his father; and both his older siblings. Here he is pictured outside the famed Lindo Wing, on his way home for the first time.
Watch: Claire Foy Was Very, Very Pregnant When She Auditioned for The Crown
Claire Foy Was Very, Very Pregnant When She Auditioned for The Crown