Outrage, Boredom, and Turn It Off: How Celebs Reacted to Donald Trump's State of the Union on Twitter
Celebrities, comedians and politicians tweeted their outrage at the president during the State of the Union.
---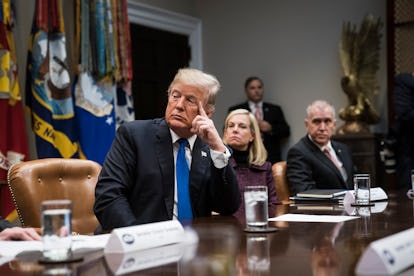 Photo by Jabin Botsford/The Washington Post via Getty Image
On Tuesday night, Donald Trump delivered his first State of the Union speech, and everyone suffered through it together on Twitter. The president hammered the topic of "immigration reform," which only further revealed the division along party lines when it comes to legislation, as he claimed "terrorist attacks in New York were made possible by… chain migration." Not only did Democrats balk at Trump's brazen insinuation, but a few House conservatives did not appear thrilled with the tone of the statement and his vague language concerning policy goals including lowering the prices of prescription drugs (which he'd already promised to do over a year ago, to no effect). On Twitter, the #SOTU response was predictably rife with outrage and skepticism as Trump bragged about economic strength, but also boredom (with more than a few making the joke that the State of the Union was by far the most boring part of Trump's presidency).
But certainly, celebrities, comedians, and politicians also expressed their anger, with Mark Ruffalo tweeting, "We stand with working people, not Wall Street. We need an infrastructure plan to create millions of jobs, not corporate wealth" and co-creator of The Daily Show Lizz Winstead tweeting, "So this entire speech was putting human suffering on display to deflect from the human suffering Trump is causing." Naturally, there were the usual suspects praising the speech, too.
After the president most recently publicly feuded on Twitter with Jay-Z about the levels of black employment after the rapper called him out in an interview on CNN, it is only fitting that the generally negative response from other celebrities and entertainment figures would be widely spread on Twitter as well. According to a CNN poll, the reaction to Trump's State of the Union speech was the least positive in at least two decades.
Some celebrities such as Ashley Judd and Amber Tamblyn decided to share their thoughts on Trump's address using the hashtag #StateOfTheDream, to suggest a positive or more idealistic state of the nation. Others, like Chance the Rapper and Elizabeth Banks simply did not tune in, or turned the State of the Union off after deciding they had suffered enough.
Related: The Women's March Sweeps Las Vegas with the "Power to the Polls" Rally, Setting the Tone for 2018
See W's most popular videos: