Donald Trump Is Time Magazine's Person of the Year
"For better or worse," Time explains of its choice. Well, it's definitely not "for better."
---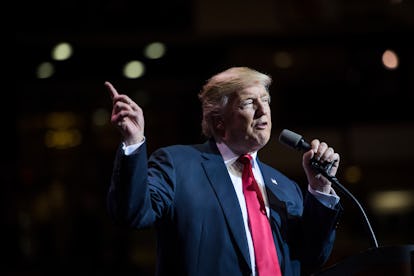 The Washington Post/Getty Images
D'Art, Métiers The Chanel-operated consortium of traditional craftsmen — including Sophie Hallette, who makes the lace used in Kate Middleton's McQueen-designed wedding dress — who show each winter under Karl Lagerfeld's auspices. This year, the Métiers D'Art show took over the newly reopened Ritz Paris, and featured the runway debut of one Lily-Rose Depp.
Gvasalia, Demna and Gurum Conquered fashion this year, from Vetements to Balenciaga, and brought their particular brand of Georgian chic to an international audience.
Kardashian, Khloe Kardashian's Good Denim line did $1 million in business on its launch day alone. Kylie's not the only businesswoman in the family.
Taylor, Teyana The star of Kanye West's "Fade" video, who walked the Yeezy Season 4 runway (and is an accomplished musician, dancer, and reality television star in her own right), is officially a contracted model, signed with The Society management.
Trump, Donald First the Grammys, now Time Magazine's Person of the Year. It's the week of bogus awards. "For better or worse," says Time Magazine, explaining its choice of Person of the Year: Donald Trump. (The internet has been quick to point out that Hitler, too, won this award back in 1938 — the year before he invaded Czechoslovakia and Poland. And let's not forget that Time made a mockery of itself when it elected "You" Person of the Year 2006.) Then: "Better or worse?" the magazine asks. It seems to answer that question for itself, citing Hillary Clinton's popular-vote victory (by a historic margin); noting the lack of trust in Donald Trump, even in his moment of victory in the Electoral College (6 in 10 voters viewed him unfavorably); and concluding by crowning Trump Person of the Year "for reminding America that demagoguery feeds on despair." It's hard to imagine 2016 getting any worse, but Donald Trump's latest line on his resume (or latest tweet on his stream-of-consciousness, hate-mongering feed) is definitely not better.
Watson, Emma The former Harry Potter actress will costar alongside Tom Hanks, most trusted man in America, on a new adaptation of the Dave Eggers novel The Circle. Her evil nemesis this time around? Silicon Valley.
Year, Album of the The Grammys might not be an indicator of much, but they do highlight one thing: In 2016, the album was everything.
See W's most popular videos: