Doug Aitken: The Station to Station Agent
A train—loaded up with a band of creative folk—is traveling across America on an art adventure. Get onboard.
---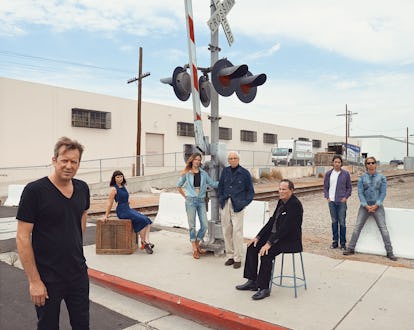 Begin in Kansas City, Missouri, which, being right on the Missouri River and midway between the Mexican and Canadian borders, is the heart of the country; and besides, it's got a great history, and besides that, it's a pleasant, sibilant name to say, and an easy enough place to get to, just a short plane ride from anywhere in the United States.
It looks very much like you'd think Kansas City ought to look. The downtown is full of charming old buildings—it could be 1955, you'd barely notice the difference—dusty clothing stores, plumbing-supply shops, and brick warehouses with faded advertisements painted on the outside walls. The Crossroads neighborhood, down by the railroad tracks, hosts the usual array of artists' studios, hipster bars, and nice restaurants, but it still feels modestly industrial, its design shops sitting quietly on the wide blocks around the train yard.
What's more, the city and its surrounding towns are, like a lot of American cities, well stocked with museums—and not just luxurious temples like the Nelson-Atkins and the Nerman Museum of Contemporary Art. There are handsome displays of local pride (the American Jazz Museum, the ­Negro Leagues Baseball Museum), along with a few even more specialized exhibits (Leila's Hair Museum, which showcases the lost 19th-century art of weaving human hair into flowers, wreaths, and filigrees).
There's no place like Kansas City, and that's much of the point of going; but there are plenty of American cities, large and small, that are equally distinct. Fort Worth, Texas, for example, has three world-class museums, including the Kimbell, with its superb collection of Old Masters housed in a Louis Kahn–designed building. It also has cobblestone streets and the National Cowgirl Museum and Hall of Fame. Cleveland has a symphony; Pittsburgh and Seattle have first-rate ballet companies. And below the waterline of wealth, every city has a living scene: music, certainly, but also fashion, experimental theater, poetry…these things happen everywhere. Half-hidden networks crisscross the nation. Ever seen a step show? You might, if you lived near Atlanta or Cincinnati or any college town with a significant number of black fraternities and sororities; and if you haven't, you're missing some of the best dance performances around.
It's all too easy—and I know, because I do it all the time—to think that if the news doesn't reach you, it isn't news. That's one reason I went to Kansas City. When I left, it was on a train heading west to Los Angeles. The reason for that was Doug Aitken.
Aitken is a 45-year-old artist with a taste for far-reaching and somewhat grand projects. He lives in Venice, California, but his work crosses all sorts of borders, both literally—he's done projects in Namibia; on a Bollywood soundstage; in Jonestown, Guyana—and not so literally. What he makes is best described as video installation, usually on a massive scale, but he can use anything from photographs to live performance to recorded sound. He's collaborated with many artists, from a wide array of disciplines: Ed Ruscha, Jack White, Claire Denis. He has, among other things, a kind of genius for logistics: Much of what he makes seems improbable in the description, and then you see it and think, Oh, well yes, here is the entire circular facade of the Hirshhorn Museum, transformed into an enormous screen upon which a study of the pop song "I Only Have Eyes for You" is being projected. (That was a piece from last year called Song1.)
He spent the past three years lobbying Amtrak to lend him a train (a process not unlike trying to thumbtack cigarette smoke to a wall) and some stations across the country in which to hold events. He has gathered a cast of artists, musicians, filmmakers, foodies, writers, performers: Charlotte Gainsbourg, Jim Jarmusch, Lawrence Weiner, Kenneth Anger, Stephen Shore, along with a lot of people you've probably never heard of, from a Kansas City drill team—part band, part drum line, part dance troupe—called the Marching Cobras to a Napa Valley organic farmer.
All will do whatever they do, some on the train and some in the stations; no one, least of all Aitken, knows how it's going to turn out. The train will leave New York on September 6, en route to Oakland; it'll stop in nine cities along the way. The whole thing is called Station to Station: A Public Art Project Made Possible by Levi's—Aitken cheerfully resists any further description, but it sounds like some ad hoc combination of Merry Pranksters trip, traveling biennial, coast-to-coast game of Exquisite Corpse, and the missing episode of America's Got Talent.
For the Cobras, at least, it's been a high time. The group, currently composed of about 85 kids ages 7 to 18, is by no means unknown—it's been around since 1969 and has performed for three presidents—but it's not on the art-world circuit. Aitken brought the Cobras down to a series of tunnels under Kansas City and spent an afternoon filming their show. "That was the experience of a lifetime," their drill master, Don Daughtry, told me. "The kids are still talking about it. The echo of the drums and the lighting—it was beautiful." How could it not be? "It was just fun."
Aitken has invited everyone in on the fun—friends, objects of his admiration, and a few people he cold-called. Lia Ices, an avant-garde singer-songwriter based in New York and California, will be performing on the tour's last stop, in Oakland. "There is something amazing about Doug," she said. "He's really inspired by artists—why they do what they do where they do it. It's something I'm always obsessed by, too: How much does place influence what you do?"
Liz Glynn, a Los Angeles sculptor and performance artist, will be onboard for the entire trip, fashioning mazelike installations for each stop. "The idea of traveling with the project seemed very magical," Glynn said. For her, the train itself, as idea and metaphor, was a big draw: Her work is based on cosmology and concepts from modern ­physics—as she notes, Albert Einstein's first thought experiments began with the imagining of a train moving at the speed of light. "The fact that people may be coming not for art but for music is really interesting. It feels more like a festival."
Stephen Shore, a canonical color photographer whose work often comes out of road trips, is planning to spend a single day in a city along the route and then screen the results as a slide show in a drive-in movie theater in Barstow, Arizona. "I was trying to think of what a visual artist would do that's performance-like," he explained. "I like people throwing problems at me, so I wind up doing things I might not have done on my own."
To get a feel for the passage, I took my own train trip this past May, on Amtrak's Southwest Chief. It was an exercise in the virtues of monotony, from our 10:45 p.m. departure from Kansas City's Union Station to our arrival in L.A. two days later. The Great Plains begin just west of the city, and they're absurdly long and flat. At night, there are no lights for hours, and to traverse this endless ink at ground level and train speed is like sculling through one of Mark Rothko's "black-form" paintings. You sleep a bit, you wake and stare out the window, nothing has changed, you sleep again. Come daylight, we'd reached the northwest border of New Mexico, where the landscape was rust-colored and more varied, though not by much. The heat was as constant as the view, and it induced a kind of stupor, which then turned into a trance, which eventually became a kind of rapture, bordering on the hallucinatory. At one point I saw a trio of miniature deer, about the size of small dogs, right outside my window. At least, I thought I saw them—they were gone a few seconds later. Maybe I imagined them.
The West is famously wide and wild, but one's experience of its distances distorts one's sense of duration. Time here doesn't alter anything; hours don't change the view, centuries don't change the landscape. Only the settlements seemed to come and go. As we approached the stations, little ramshackle nests would spring up around the tracks: clusters of tract houses and double-wides, the occasional compound, a surprising number of junkyards. The sun went down again. The next morning we pulled into L.A.
Over dinner that night, Aitken explained the reasoning behind Station to Station in a long conversation full of fandom and good cheer. He's a sweet, open man, Aitken, much in the Southern California mold (his standard expression of approval is "Niice"). "Contemporary art exists in galleries and museums," he said. "And it gets to the point where artists make their work to exist in galleries and museums. That happens to musicians too—they play the same kinds of venues over and over—to writers, filmmakers, dance, theater. So I thought that something needed to happen to challenge the system."
Pretty much everyone thinks something needs to happen; almost no one does anything about it. Aitken has rallied a miscellany of artists and performers; the result could be a miracle or a disaster, and it's hard to decide which would be more fun. The next day I stopped by his studio, a mini-compound on a leafy residential street in Venice, to get a look at his preparations. Dead quiet and spotlessly clean, it seemed nothing if not purposeful, with an assistant sitting behind a bank of monitors putting together documentary shorts, to be posted on the Station to Station website as the whole show got rolling—there was a garage band from Santa Fe; there was James Turrell, shot inside one of his light installations; there was a drifter Aitken and his crew picked up somewhere in the desert, and a charming montage of ordinary people who had been asked a single, simple question: "Where are you?" ("I'm sitting on the grass." "I'm at this place in my life where…I have no idea what's going on." "I'm in Las Vegas." "I don't really know how to answer that.") It was a short visit; Aitken was flying off to Kansas City, whence I'd just arrived. But it was enough to convince me that Station to Station, whatever it is, is going to be something.
Stay tuned on wmag.com and follow @wmagazine on Instagram for more updates from the Station to Station train.