Perchance to Dream
I'm not sure I can recall another point in my life when I spent so much time in New York hotels. This is not, I would like to be clear, a product of any unseemly...
---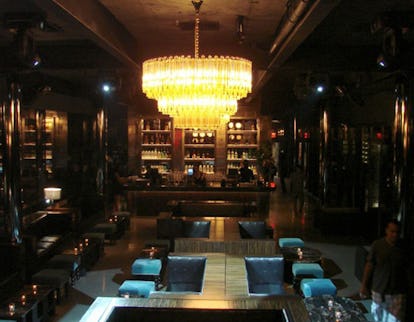 I'm not sure I can recall another point in my life when I spent so much time in New York hotels. This is not, I would like to be clear, a product of any unseemly (or illegal) behavior. Rather, it's that more quintessentially "New York" destinations, say a charming, hole-in-the-wall restaurant or an ageing dive bar have been supplanted on the nocturnal circuit by The Gramercy, The Standard, The Ace, The Bowery and their like. Jerry Seinfeld and Woody Allen could have a field day with this new style of Manhattan partying.
Smack in the middle of this seemingly endless trend is the opening of the Dream Downtown's playground of evening (and daytime) options, whose presence will be celebrated with a blow out fete this Wednesday. Situated next to the Maritime hotel on West 16th Street (if its exterior appears in keeping with its neighbor's façade its because both buildings were originally designed by famed architect Albert Ledner), the Dream Downtown contains no less than a lobby restaurant and bar, a pool bar and café, a beach club, separate screening and party rooms and a rooftop lounge, PH-D, all the product of a partnership between Vikram Chatwal Hotels and Noah Tepperberg and his TAO & Strategic Groups. (There is also a much-hyped neurological-gastronomic restaurant, Romera, for which Tepperberg is not responsible.)
"It's your true one stop shop. You can spend not only a whole night there, but a whole weekend," says Tepperberg, who has done something of a full circle with the opening of Dream—one of his first ventures, Suite 16 ten years ago was just one block away.
On a recent, steamy afternoon, one could imagine the 150-seat lobby restaurant and bar, Marble Lane, hopping with the activity that Tepperberg calls "vibe dining." A huge chandelier of lights encapsulated in glowing beige glass illuminates a café-like space: round tables with graphic black and white back chairs and curved, tufted leather banquettes bookended by globe sconces.
Moving up to the second floor pool, you pass through a lounge of silver, python-embossed leather ottomans, above which portholes in the ceiling provide a glimpse of swimmers doing laps as water lines reflect on the walls (Handel Architects is responsible for the design).
And that pool, a four foot deep turquoise number, is sure to prove quite the hot ticket this summer. For now, only hotel guests and private parties will have access, but that may change depending on demand. Lounge chairs line its perimeter, an adjacent urban sand beach could act as a balm for Hamptons-envy and the connected café, The Beach at Dream Downtown, sports wood slat tables and white canvas folding chairs. A nearby library-cum-screening room can be reserved for just about any activity from birth to middle-aged recreation.
"I think people will rent that for conferences, for baby showers, for private karaoke, to watch award shows, sporting events," says Tepperberg.
The piece de resistance, however, is the 12th floor lounge, PH-D, whose décor is meant to evoke "the ultimate Manhattan penthouse," the most luxurious of apartments (ironic that many of its guests may own just such a private residence, but I digress). Venini glass fixtures from the 1960s light the space (on the day I went, one of the three chandeliers was on its way over from France), which mixes exposed nail head copper-tin walls with marble surfaces. That same marble covers tables, accompanied by black leather banquettes featuring pull out drawers that can be used for storage (of handbags and jackets) or extra seating.
Juxtaposed with this more retro feel is a state-of-the-art speaker system and special lights set into the ceiling that can project anything from movies to images onto the clear film covering the large southern windows.
There northern counterparts offer an unexpected at only twelve stories view of the Empire State building and its more diminutive friends. An outdoor patio of dark wood furniture and planters acts as a relaxed cocktail lounge area. Throughout, there will be beverage service and for events, "cocktail cuisine" or small bites like artichoke parmigiano lollipops, mini lobster salad and spicy pork meatballs.
"I think we'll do everything from product launches to weddings to everybody's birthday party in the city," offers Tepperberg, adding, "We built the space wanting it to be a place that people will got to for the next twenty years."
That is, if they can get in. Tepperberg's other endeavors like Avenue and Marquee aren't exactly known for their "come one, come all" motto.
"Obviously, it's not going to be the easiest door in town; I don't think it will be the toughest door, either," he says.
Fear not: the Dream has such a plethora of possibilities that should your hopes be dashed at the door of PH-D, you can find sanction elsewhere on the premises.
"The good thing is if you don't get into the roof, you can probably get into the pool. And if you can't get into the pool, you can probably get a drink at the bar. And if you can't get into the bar, I'm sure there's another place in the hotel," smiles Tepperberg. "You can always book a room and then you're good."
Sweet dreams.
Photo: Courtesy of Tao Strategic Groups