Dua Lipa's Remix Album Tease is Full of Easter Eggs
Gwen, Missym and Madge are obvious, but might Jamiroquai, Moloko and Charli XCX be involved too?
---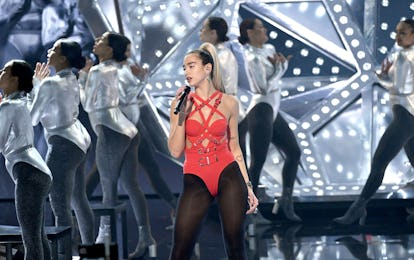 It's almost cruel that Dua Lipa announced a remix of her single "Levitating" featuring none other than Madonna and Missy Elliott alongside house DJ The Blessed Madonna last week, and will make us wait until August 14th to actually hear the song. Though, we guess that leaves plenty of time to drum up anticipation for the project.
While doing her part to promote the collaboration, Madonna posted an image on her Twitter and Instagram yesterday that caused some confusion. The collage not only featured the aforementioned artists, but also inexplicably featured images of Gwen Stefani and producer Mark Ronson as well. Anyone familiar with Madonna's rather quick and loose use of social media could be forgiven if they thought the Queen of Pop made some sort of mistake. Maybe she just found a weird bit of fan art somewhere and posted it without realizing. Maybe she accidentally leaked something. We're still not sure, exactly, what happened, but Lipa's team then quickly confirmed that alongside the "Levitating" remix the singer will release an entire remix album titled Club Future Nostalgia: The Remix Album.
Stefani and Ronson will not be joining the rest on the "Levitating" remix, but instead will feature on a separate remix of the track "Physical." The pattern is clear: Future Nostalgia was inspired by radio and dance hits of the late '90s and the '00s, and now she's circling back to include some of those artists on the remix album. Madonna's music was an obvious touchstone. Lipa worked with frequent Madonna collaborator Stuart Price on the album, and the original cover artwork was a nod to a Steven Meisel-shot Versace campaign in which Madonna starred. Stefani's pop-focused solo work, too, was touted as an inspiration.
But fans have noticed that the teaser artwork may hold some more easter eggs. Let's break them down.
The Jamiroquai Logo
If you look closely at the red sports car, you'll notice Jamiroquai's distinctive, horned logo. While in America, the funk band is best known for their era-defining "Virtual Insanity" video, over in their native Britain, the band has had a far longer and steadier career. Lipa has frequently cited the Jay Kay-led band as a childhood favorite.
The White Horse
This is a bit more cryptic, but some fans have suspected it might be a nod to '00s synth-pop band Goldfrapp. Another band who has had more chart success in England than America, "Ride a White Horse" was the third single off their most successful album Supernature.
Though, other fans are drawing a line between the horse and a similar one that appeares in recent promo photos for Kylie Minogue's new single "Say Something."
House music historians might be holding out hope that the equine statue might be a reference to '80s cocaine club classic "White Horse" by Laid Back, but that might be a stretch.
The White Dog
Earlier this year, we opined about Roisin Murphy's underrated status as both a pop music and fashion innovator; Dua Lipa has also mentioned Murphy's original group Moloko as an inspiration.
So is it an accident that the single artwork for Moloko's biggest hit "Sing It Back" also features a fluffy white dog? Murphy herself announced a new album last week, so we know she's been in the studio.
The Pay Phone
Lipa has also cited recent W cover model Debbie Harry and her band Blondie as a major inspiration—Harry, who has one of the most iconic songs about using a telephone, ever. Perhaps it's a stretch, but "Call Me" definitely fits the bill. Although Lipa could be going deep into the '90s and including a cover of Primitive Radio Gods' "Standing Outside a Broken Phone Booth with Money in My Hand." We just don't know yet.
Not in the Artwork, But…
Just yesterday, Tove Lo posted a photo hanging out with Lipa and Charli XCX and teased that they're forming a "new quarantine band." Is it a hint at an actual collaboration to come?
We'll just have to wait for the album release on August 21st to know for sure.
Related: Dua Lipa's Producer Shares the Story Behind 'Don't Start Now'