Dumplin' Star Danielle Macdonald Explains the Terror of Beauty Pageants, and Singing With Jennifer Aniston and Dolly Parton
Danielle Macdonald on how Dumplin' really hit home for her.
---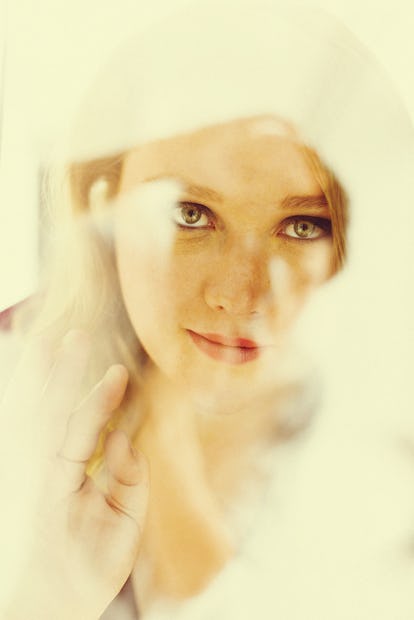 Take the wry, irreverent humor of Little Miss Sunshine, mix it with the vivid color and hyperbole of a John Waters film, sprinkle in some Dolly Parton, and you'll get Dumplin', a YA novel turned feel-good film that wields a stealth amount of emotional depth. The Netflix original is adapted from the Julie Murphy novel of the same name, and was written by Kristin Hahn and directed by Anne Fletcher, a choreographer-turned-filmmaker responsible for some fairly popular mid-aughts romantic comedies, like Step Up, 27 Dresses, and The Proposal.
The film stars Danielle Macdonald as Willowdean Dickson, nicknamed "Dumplin'" by her mother, Clover County's reigning beauty queen Rosie (played by Jennifer Aniston. Partially in honor of her late aunt and partially as an act of protest, Willowdean—or Will, the nickname she is affectionately called by friends and so desperately wishes her mother would use for her—enters the Miss Teen Bluebonnet beauty pageant that Rosie runs every year in Texas. As a plus-sized girl, she wants to make a mockery of the sort of event that requires the judgment and scrutinization of young women's bodies on a grand stage. On top of competing with the town's local beauty queens (like Bekah, who is played by Disney darling Dove Cameron), she's got her eye on a cute boy named Bo, only her insecurities get in the way of true love. Joined by a motley crew of friends, including Odeya Rush's Ellen, and with the help of a few Dolly Parton impersonators (played by Harold Perrineau and Drag Race's Ginger Minj) Willowdean soon realizes she is in over her head in the competition that pits her against more "traditional" (read: thin) pageant participants.
Dumplin' has a little something for everybody—exploration of a tense mother-daughter relationship, nuanced critiques of pageant culture, the relatable agony of being a teenager, and of course, original songs from Dolly Parton. Here, Macdonald explains why the film hit home for her years before she even read the script, and how the project turned out to be so much more nuanced than your average "be yourself" story.
Had you read the book before signing on to the movie?
I had actually read the book before I read the script. I was walking through a bookstore and I saw the cover of the book and I kind of did a double take because I was like, "Why is there a cartoon version of me on the cover of a book?" [Laughs.] I took a photo because I was in a rush that day, and this was right when the book first came out. I was working and the script was coming around, and I was like, "Oh my god this is the book that I really wanted to read!" I read the book in a day, I didn't even go to sleep, and then I got the script after that and loved how they adapted it. It's so hard to adapt a book into a film, you know, you just don't have the time. I felt that they really found their focus. It was just a process of meeting everyone after that and hoping that I'd get it.
When I saw Dumplin', everyone at my screening was in tears by the end, and I think that has something to do with how real and relatable Willowdean and her anxieties felt. Was there any particular aspect of Willowdean that drew you to her?
I think it was because I could really relate to the character a lot more than I usually do. I always find characters where I'm like, "Oh this would be really fun to explore," and it's not something I've experienced before or it's entirely new and a challenge. But with this it was like, "Oh I know this girl because I was this girl when I was in high school." We have differences, but I understood all of the worries she went through, the insecurities she went through. Trying to figure out who she was and growing up, dealing with friendships and relationships. That was so relatable to me and felt like someone had went inside of my head a little bit. That was really refreshing because I didn't find a book like that when I was in high school. There were no books that made me feel like a person perfectly understood me. That's what this did for me, and really, I wanted to do it in a more cathartic way for myself because I wish there had been a book and a movie like this when I was growing up because it would've helped me in a way. I wanted to be a part of making that happen for other kids.
You've played your fair share of characters who don't have the best relationship with their parents, as was the case in Patti Cake$ and your episode of Easy. Jennifer Aniston also said that she found that Rosie and Willowdean's relationship mirrored her own relationship with her late mother. Did you draw from any sort of personal experience to perform as a teenager with a strained mother-daughter relationship in Dumplin'?
No, actually for me it's really funny because I play characters with mommy issues more than anything, and I have a great relationship with my mom! [Laughs.] She's very supportive and encouraging, and so is my dad and my sister. I'm very lucky with my family. They've always been very encouraging, and they never thought that anything would hold me back. I'm very fortunate to have had that. Yes, I have fights with them as everyone does with the people they're closest with, but I didn't have any of that trauma that affected my negatively growing up. The struggle with the mom and the relationship is going to come from an internal place from me, but it's not really drawing from personal experience.
Were you a fan of Friends before you met Aniston?
I was a fan of Friends! I have friends who are fans of Friends in, like, a scary way. Like, "Oh, this episode with this title, at 3 minutes this happens." I have friends that are crazy obsessive about that, but I love staying up and if there's a re-run of Friends on, that's so much fun for me. I like watching with people, I've always watched Friends. I was a big fan of it but not scary obsessive, which a lot of people are for that show, which I think was a really good thing for me! Otherwise it would've been 1- times harder to do what I had to do in that film with Jen! Even though I'm aware she's an icon, and I definitely felt that going to meet her.
What was it like the moment you first met?
The moment I met her, it was like, oh she's just a really cool person. I never once saw her as "Rachel." That didn't even cross my mind, which is a good thing.
Is there anything people would be surprised to learn about Aniston that you learned from working with her?
She's very giving. She's just one of those people that will cram her head up against the camera to make sure that you have an eye-line. She's very giving in that sense. She's always connected with you and gives the same performance to you that she'll give to the camera when it's not on her, which is really amazing and kind. She's just a great scene partner! She loves animals, I'm sure everyone knows that. We would watch dog videos together and stuff like that, which was very entertaining for us. She introduced me to The Dodo, and I was like, "Oh great now I'm going to cry every day."
What was it like recording your song "Push and Pull" with Dolly Parton?
I didn't know I was going to meet her! I had no idea. I was told to come into the studio and that they wanted me to talk in the background of one of the tracks because it was based on the relationship between Jen and I, and she wanted us to both be on it. I informed them that I couldn't sing and they were like, "Don't worry. You'll just be talking in the background." Then I show up at this house and Dolly comes up to me, and I was like, "Oh my god. Nobody told me Dolly was going to be here!" I thought it was going to be a hole-in-the-wall studio with a producer, but sure enough, there was a huge film crew there. Julie Murphy who wrote the book was there. When I met Dolly, someone took a photo that was quite funny because I was just staring at her like, "Ah! I don't know what to do with myself!" She was super cool and lovely. Then they asked me to sing it! I was like, "What… that's not what I was told. No, I don't sing… Do you know how high Dolly Parton sings? I could never hit those notes!" It was really terrifying but Jen was like, "Okay I'll go first," and she does it very quickly, and it was like, now Jennifer Aniston's done it so I have to do it. It was so ballsy and impressive. So I went in the studio and it took me at least 10 times longer than Jen, and Dolly was telling me I'm doing great. They were so supportive, that's the only way I got through it.
Were you a fan of Dolly Parton's music before the film?
I was! I'm a big fan of '80s music, and a lot of her songs that came out in that decade like "9 to 5" and "Jolene." I knew a good dozen of her songs really well and then I got to know even more stuff on the film. We would just sing to Dolly Parton while we were getting hair and makeup done every day in the trailer.
In Patti Cake$, your character has a very strong New Jersey accent, but in Dumplin' the dialect definitely skews southern. Was it hard to nail down the Texas accent?
It's so small town Texas. I have a lot of friends from Texas and their accents aren't super strong, but what we found out with this was that it's a smaller town in Texas and it was stronger. We all had a few sessions with the dialect coach which was really helpful just to get the foundation of it, and she gave me some tapes to listen to. I had to do a Patti Cake$ press tour and would sit on the plane while traveling and would listen to the Texas accent over and over to get familiar with it, and then when we got onto set it improved way more because everyone was speaking in it. When everyone has that twang, you have fun with it.
What was it like working on the pageant scenes towards the end of the movie and trying on a bunch of new personas for the various parts of the pageant? Especially during the big body positivity reveal where Willowdean and Ellen show off their "every body is a swimsuit body" outfits?
The swimsuits were terrifying. Odeya [Rush], who plays Ellen, and I were standing there in front of an audience full of people. It was terrifying walking out in a swimsuit, but we both did it, and it kind of felt amazing because we were up there together. That was so helpful. We were clutching each other and giggling because we didn't know what else to do and we felt like the characters in that moment so much. As for the rest of it, I was really excited to do the pageant week. I thought it would be super fun, like playing dress up. Then we got to pageant week and we were all like, "This is so hard. It takes so long to get ready, fake eyelashes hurt, and my eyes are watering, and heels are giving me blisters." It's not easy! [Laughs.] And there was a corset and I was like, "I can't breathe!" But we definitely had fun, especially in our little Texas dance outfits for the opening number. I have no idea what we were wearing but I will never wear anything like this in my life so this is kind of the moment. This is it for me! So I got lots of photos of the outfit because you will probably never see me in anything like that ever again.
Did you study any pageant movies or old footage of real pageants?
Not really. I've seen a bunch of movies about pageants and I know in general how they work. I've seen pageants live on TV as well. I didn't wanna go too into it because Willowdean stays away from that. That's her whole thing. She's judging them without really knowing what they're about and she doesn't involve herself in it so I didn't want to be fully knowledgeable. I wanted to go on this journey with her and figure it out as I went along, which I found helpful because it was the whole thing of discovering a new layer each day. Like with the swim suit, doing it was actually empowering.
Is there a particular message of empowerment that you think Dumplin' sends to audiences?
I think it's encouraging people who feel different, who don't have the confidence to realize that they can be the star in their own life. You don't have to wait to change to do what you want to do or be who you want to be. It's encouraging you to live your life. It's okay to be you and okay to be who you are, and okay to love and accept yourself. I think this movie really tries to encourage that. I hope it will help kids realize that they're not alone, and everyone goes through this period. Like Dolly says, figure out who you are and do it on purpose.
Related: Jennifer Aniston Explains How the Mother-Daughter Relationship in Dumplin' Mirrored Her Own With Late Mother Nancy Dow