Jennifer Aniston Explains How the Mother-Daughter Relationship in Dumplin' Mirrored Her Own With Late Mother Nancy Dow
She recently opened up about how the film's mother-daughter relationship mirrored her own.
---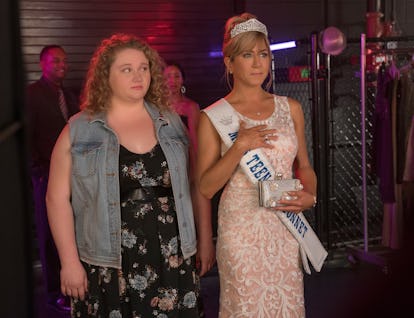 Bob Mahoney/Netflix
In Dumplin', Jennifer Aniston plays a former beauty queen who, in pursuit of the high of her former glory days, prefers to focus all her time and energy on the Texas pageant circuit rather than on her own daughter (Danielle Macdonald), who wants nothing to do with her mom's favorite hobby. Aniston previously said in a statement that she hopes the Netflix film "opens up the dialogue between moms and daughters," and in a new interview with the Sunday Telegraph, she went deeper, explaining how the movie rang especially true to her own complicated relationship with her late mother, The Beverly Hillbillies actress Nancy Dow.
When asked whether she'd experienced anything like Rosie and Dumplin's mother-daughter relationship, Aniston quipped, "Where do we start?" according to People. "[Dow] was a model and she was all about presentation and what she looked like and what I looked like," she said. "I did not come out the model child she'd hoped for and it was something that really resonated with me, this little girl just wanting to be seen and wanting to be loved by a mom who was too occupied with things that didn't quite matter."
Aniston continued, "This movie is so special because it is about stripping away those preconceived notions of beauty, trying to become individuals and not feeling that we have to live up to some unrealistic ideal that society is feeding up to us…My idea of beauty is what makes you feel beautiful, and what makes me feel beautiful is the people around me, the life that I have." She added, "And maybe a good hair day."
The 49-year-old has previously spoken about her strained relationship with Dow: They were estranged for several years after Dow published a tell-all book about her daughter in 1999. "She was critical. She was very critical of me," Aniston told The Hollywood Reporter in 2015. "Because she was a model, she was gorgeous, stunning. I wasn't. I never was. I honestly still don't think of myself in that sort of light, which is fine."
"She had a temper. I can't tolerate that. If I get upset, I will discuss [things]. I will never scream and get hysterical like that. [But] I was never taught that I could scream. One time, I raised my voice to my mother, and I screamed at her, and she looked at me and burst out laughing. She was laughing at me [for] screaming back. And it was like a punch in my stomach," Aniston continued. "She was also very unforgiving. She would hold grudges that I just found so petty."
In the same interview, however, Aniston confirmed that she and Dow, who died in May 2016, had reconciled by then and were "all fine."