How Patti Cake$ Turned Danielle Macdonald Into a Battle-Rapping Underdog Hero—and a Star
Meet the 26-year-old Australian who transformed into an aspiring Jersey emcee in Patti Cake$.
---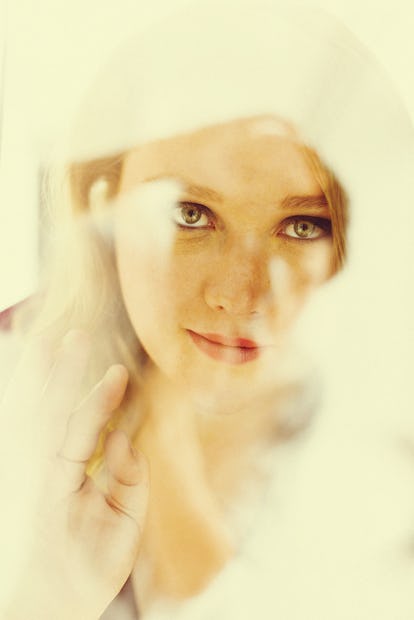 Towards the end of the film Patti Cake$, there's a scene where Patti—Patricia Dombrowski, an unlikely aspiring emcee from suburban New Jersey—takes the stage at an XXL Freshman Show-like concert. Swaddled in furs, her hair pulled into a beehive, Patti, played by breakout star Danielle Macdonald, her hype man, Jheri, and their producer-slash-DJ Bastard proceed to melt the faces of the crowd with their rap-slash-'80s-hair-band crossover act.
But for all the grandeur of this climactic moment, it was a four-second-long scene filmed the previous night in the basement of the same venue that Macdonald loved the most. She had just wrapped a long day of shooting the opening montage, which involved having to "fall a lot" and "walk on hands," she said; meanwhile, their production designer Meredith Lipincott had built a set downstairs. There, Macdonald would play what she described as a "Cleopatra mermaid" lounging in a bathtub—complete with a tail and a Nicki Minaj-esque wig, a scaled tail, and winged eyeliner—in one of Patti's many dream-sequence fantasies of rap stardom.
"I had five people working on me at once to get my hair and makeup done and costume done," Macdonald, 26, told me on a recent afternoon in New York. "We shot it like a music video. Everyone could be as loud as they wanted, so everyone was laughing," she said. The bathtub was flimsy, so two crew members hid behind it, holding it upright so Macdonald could lean back in the tub. The paint had barely dried. She lost a few nails. And "there was champagne everywhere," she added. "At one point, I was like, 'You guys have to stop laughing because I can't keep a straight face.'"
Patti Cake$, the debut feature film by longtime music video director and musician Geremy Jasper, premiered at the Sundance Film Festival earlier this year and quickly became one of the most-talked-about movies in Park City. It follows the ambitions of Patti, a white 23-year-old woman with dreams of hip-hop stardom, but whose critical, sometimes verbally abusive mother—once an aspiring frontwoman of a hair band played by Bridget Everett—acts as a powerful voice of self-doubt. Patti teams up with her best friend Jheri (Siddharth Dhananjay) and an outcast peer who styles himself Bastard (Mamoudou Athie) to make a record, get on the radio, and make it big.
The movie is filled with ridiculous moments, like when Patti's grandmother hops on a track to lay down the hook. But there are also poignant ones—Patti's weight is used as fodder for disses in rap battles and is the genesis of "Dumbo," a particularly cruel nickname. At Sundance, the film sold to Fox Searchlight for $9.5 million, making it the 2017 festival's third-biggest deal after Netflix's $12.5 million for the Dee Rees film Mudbound and Amazon Studios's $12 million acquisition of the Kumail Nanjiani movie The Big Sick.
For Macdonald, Patti Cake$ was a project three years in the making, and something of its own underdog story. For one thing, Macdonald is Australian, a native of Sydney, so Patti's Jersey accent didn't exactly come easy. And maybe more significantly, she could not rap—so when Jasper first approached her about playing Patti for the project's debut at the Sundance Labs incubator just a week before the program started, she said she couldn't do it.
"I was just like, 'What have you seen that makes you think I can do it? Because I really, truly don't think I can,'" Macdonald said. "I'm also really different from this character," she added. (Where Patti is brash, Macdonald is more reticent; where Patti is defiant, Macdonald is, more in her words, "stubborn.")
"I was like, 'This sounds so cool, I want to,'" she recalled. "It was kind of tearing me apart."
Despite her doubts, Jasper coaxed Macdonald into the role, and she attended Labs with Dhananjay and Everett. But after the incubator, they went back to their respective homes. (Macdonald relocated to Los Angeles when she was 18.) They texted occasionally, crossing paths when they were in the same city—and hoping, though not convinced, the film would get made. Then, finally, they were in business.
And in the two years between Sundance Labs and shooting began in mid-2016, Macdonald had schooled herself in hip-hop, trying to find Patti's rap voice and sound by trial and error. "I did Jay Z, Kanye, I did Eminem, I did Big Pun, I did Action Bronson, I did Biggie, I did Nicki, I did Missy, I did Leikeli47, I did, oh man, PTAF. I did a lot," she said, reeling off a list of names. As she mastered different tracks, she sent her own versions to Jasper. Certain songs suited Macdonald, like Notorious B.I.G.'s "10 Crack Commandments" and Eminem and Dr. Dre's "Forgot About Dre." But others, not so much.
"Terrible," she recalled of her attempt at Eminem's verse in the Rihanna duet "Love the Way You Lie." "It was terrible. I didn't even send it." Ditto for Kendrick Lamar's verse on Big Sean's "Control." "I was like, 'You don't breathe. I don't know how you don't breathe,'" she said.
In the film, Patti regularly daydreams scenarios—like the mermaid music video scene—alongside her idol, the rapper and Emerald City Records head honcho O-Z. (Get it?) But there's a moment, about three-quarters of the way through Patti Cake$, when those daydreams turn nightmarish. O-Z tells Patti she's little more than a "culture vulture"—an important catalyst in the film, but one that also stokes Patti's self-doubt. This was something Macdonald, a white woman practicing an art form pioneered and brought to prominence by people of color, was also aware of as she approached the film: "How can you not think about it?" she asked.
While she trained herself in the mold of rap's finest, she also educated herself on hip-hop's origins and history. "You have to respect where it came from," she said. "I think Patti needed to hear that."
Patti Cake$ is out Friday, but when we spoke, Macdonald was already preparing for her next project: Next week, she begins shooting Dumplin' with Jennifer Aniston. It's one movie on a full docket Macdonald has now, including a drop-in in the upcoming Greta Gerwig flick Lady Bird ("It was one day of work and I was like, 'Yeah, I want to work on a Greta Gerwig film, I don't care that I have one line.'") and the "very dark" neo-Nazi drama Skin. In Dumplin', which is based on the YA novel, Macdonald stars as Willowdean, an overweight teen who decides to enter a beauty pageant and "drag queens help her realize her true self," as Macdonald described it. (Apparently, there's plenty of Dolly Parton on the soundtrack.)
Aniston plays Willowdean's mom, a former pageant queen herself. Before production began, Macdonald met with Aniston to discuss the role and feel out their mother-daughter bond.
"One of the cool things about Patti Cake$ is that it is about someone that is against stereotype," Macdonald said. Though Patti's weight receives just cursory treatment in the movie, it is still an element of her underdog status. By contrast, Willowdean's weight—the fact that she doesn't conform to pageant beauty standards—is the crux of the drama of Dumplin'. Macdonald said she didn't feel wary of this emphasis: "This is very different in the sense that it is about dealing with body image and finding who you are through it," she explained. But, she added, "I think it's cool to focus on it to normalize it."
"I would have wanted to see this movie made when I was a teenager growing up," she went on. "That would have been really cathartic."
Edward Enninful reflects on the best of '90s fashion: