Kesha, Patti Cake$, and Everything Else You Need to Watch, Binge and Listen to This August
August may be a "dump month" in industry parlance, but that doesn't mean there aren't entertainment gold mines to uncover.
---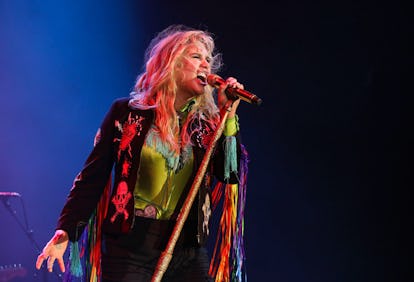 Scott Legato
In this special monthly edition of In & Out, we're looking a full month ahead and sorting through August's cultural calendar for you. Here's our picks for what you'll need to consume to keep up with polite dinner party conversation, what you'll be secretly binging late at night, and what's best to just avoid.
For daily In & Out content subscribe to the newsletter here.
What You Need to Know:
Movies
August's most high profile blockbuster release might be The Dark Tower (Aug. 4th). It stars Idris Elba and Matthew McConaughey and has ambitious plans to kick off an interconnected TV and movie universe based on the works of Stephen King. Critics haven't seen it yet, but it can't be any worse than this summer's other ambitious universe-starting flick The Mummy? In the indie cinemas there's some more potential. On August 11th, Aubrey Plaza and Elizabeth Olsen team up for Ingrid Goes West, a film in which one plays an Instagram star and the other plays their obsessed talker (take a guess which actress plays which). Meanwhile, the actor-turned-filmmaker Taylor Sheridan, who wrote last year's Oscar-nominated Hell or High Water, goes director with Wind River (Aug. 4th), which features Jeremy Renner (as well as another turn by Elizabeth Olsen). The Glass Castle, which stars Brie Larson in a
role originally filled by Jennifer Lawrence
, may also be of interest.
[#video: https://www.youtube.com/embed/QiYcsPQ2tpQ
Television
Both USA and (surprisingly) The Discovery Channel give us star-studded crime thriller miniseries that could serve as the first seasons of recurring anthologies. USA's is Sinner (Aug. 2nd), which features Jessica Biel as a young mother who sets off a puzzling police investigation with a sudden violent act. Discovery, meanwhile, gives us Manhunt: Unabomber (Aug. 1st), obviously about the real life cast, with stars Paul Bettany, Sam Worthington and Jane Lynch. Apple Music meanwhile gives us a stand alone series based on the popular Carpool Karaoke segment from The Late Late Show on August 8th. Viceland gives us the oddity of What Would Diplo Do?, a scripted show that sees James Van Der Beek playing Diplo, on August 3rd.
Music
Formerly Brooklyn-based indie rock baes Grizzly Bear last released an album in 2012, and since then have relocated to the West coast, went through some marriages and divorces, explored other musical projects, and even learned the joys of occasional Vogue.com bylines, but finally the group back together with a new album, Painted Ruins, on August 18th. First official single "Neighbors" proves they haven't changed too much sonically, though. Noisy South Dakota-born rocker EMA returns on August 25th with Exile in the Outer Ring, in case you need some cool goth girl rock in your life. Politically-minded garage punkers The Downtown Boys (which, incidentally, is not made up completely of boys) offer up Cost of Living on August 11th. First single "A Wall" aims to tear down Donald Trump's favorite policy goal.
What You'll Actually Enjoy
Movies
Detroit is certainly this month's headliner. Kathryn Bigelow's first film since Zero Dark Thirty goes into wide release on August 4th, and focuses on an infamous police raid in 1960s that lead to a multi-day riot. Good Time, the film that nearly won Robert Pattinson Best Actor at the Cannes Film Festival and likely will win him the respect of more people outside of the Twilight universe hits on August 11th. The gritty, but stylish sprint of a movie finds Pattinson as a common criminal racing against time trying to get his brother out of jail. August 18th marks the return of formerly "retired" director Steven Soderbergh's return to film with Logan Lucky, a sort of Ocean's 11 for the Nascar dad set. It features an impressive cast that includes Channing Tatum, Adam Driver, Katie Holmes, Hillary Swank, and, in his first major film role since the last Bond, Daniel Craig. For less star-studded fare, there's Sundance hit Patti Cake$ (Aug. 18th). That concerns a poor white girl from New Jersey who decides to find fame as a rap superstar. Your brain might not accept this description, but try and think of it as Napoleon Dynamite meets 8 Mile. Fellow Sundance hit Beach Rats (Aug. 25) centers on a Brooklyn teenager who aimlessly hooks up with older men while developing feelings for a girl his own age. If you don't actually see either of the two films, you'll be hearing a lot about their breakout stars, Danielle Macdonald and Harris Dickinson.
Television
Both Showtime and HBO have some interesting arts section documentaries on tap. The former premieres the much talked about music bio-doc Whitney: Can I Be Me on August 25th that purports to shed new light on Whitney Houston's romantic relationship with a female friend. The latter has Brillo Box (3¢ Off), which tracks an Andy Warhol piece from rejection to winding up in a family's living room to a record-breaking auction. IFC meanwhile imports a sorely needed all-female comedy sketch show from Canada in the form of The Baroness Von Sketch Show. Luckily you can already view sketches from the first, previously Canadian-only season online. Meanwhile, the trailer for Netflix's new dark comedy Atypical, about a boy on the autism spectrum entering adulthood, made us cry more than it made us laugh, but in any event it made us feel more things than most TV show trailers.
Music
Mostly though this month belongs to Kesha. Her long awaited comeback album Rainbow arrives August 11th after a series of tragic setbacks. Every single she's released so far has been absolute fire and finds the former popper fully coming into her own as an artist, and we expect nothing less of the full album. Fifth Harmony, meanwhile, sets its first album since being downgraded to a four piece on August 25th, but still chose to call it simply (and shadily) Fifth Harmony. Feminist indie poppers The Mynabirds offer up Be Here Now on August 25th. Luckily, we debuted the video for single "Shouting at the Dark" last week.
What You Can Skip
Movies
Mainstream Hollywood considers August a classic "dump month," meaning it has a tendency to dump all the movies it couldn't justify putting elsewhere on the calendar here. Gone are most of the big summer-defining blockbusters, so say hello to the leftovers. That includes films like the Wesley Snipes vehicle Armed Response (Aug. 4th). On August 11th, there's animated sequel Nut Job 2, which we suppose they couldn't help but subtitle Nutty By Nature. Orlando Bloom-starrer Unlocked also drops on August 18th after an unsatisfying run in the U.K. earlier in the year.
Television
Shhhh! We know this section should be reserved for the worst of the worst, but this month we're giving it over to the "so bad it's probably good" shows of the world, because boy are there a lot of potential guilty pleasures this month. Kylie Jenner's solo show Life of Kylie hits E! On August 6th. On August 15th Lifetime, presents Growing Up Supermodel, a show the realizes that children of celebrities are the fashion world's favorite models at the moment and tries to craft a realty series of it. Though, please note, that the most notable participants may be Ricky Schroeder's daughters. Though, if we had to chose one show as the month's stand-out "so bad it must be good" it would be MTV Undressed, which is not, as it turns out, a reboot of the channel's seminal late '90s sexy anthology series, but rather a dumb dating show in which people get naked. Eh, we'll still probably end up guilty-pleasure watching it and/or hate-watching it anyway.
Music
Brett Eldredge is a country music star, who while researching this we discovered has a Snapchat-famous dog, but that still doesn't make us very curious about his self-titled album on August 4th.
Related: Elizabeth Olsen and Aubrey Plaza Wore Identical Dresses to the Premiere of Their Movie Ingrid Goes West
See What's Trending in W Video: