Exclusive Music Video Premiere: The Mynabirds Embrace Their Inner Jane Fonda in "Shouting at the Dark"
A dance aerobics track to get your Trump resistance going.
---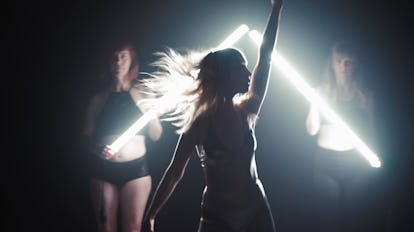 Shortly before the inauguration of Donald Trump, Laura Burhenn, the singer and songwriter behind the indie-rock outfit the Mynabirds, had booked a flight to Nashville to begin recording her fourth record, Be Here Now, out August 25. Then, the Women's March happened.
"I'm from D.C. originally, and I thought about going back there," she said recently. But it wasn't the right time, so she went to the Los Angeles sister march, which turned out to be the largest demonstration in the United States. "To go downtown and be among all those incredible women and men," she said, "It felt really safe and empowered. I've felt like, since the election, those kinds of spaces have become more and more common."
Burhenn recorded chants and songs she heard at the march and brought the recordings to Nashville, hoping to "take that energy with me," she said. Politics infuses the record, which was recorded in the two weeks just after the Trump inauguration—there are songs invigorated by the Standing Rock protests and the travel ban. There are also two songs, the title track "Be Here Now" and "Shouting at the Dark," that were the direct and specific result of the Women's March itself.
When Burhenn went into the studio to begin recording "Shouting at the Dark," she was already starting to put moves to the song—which are now premiering exclusively here on W. A year and a half ago, she began attending Pony Sweat, a Los Angeles-based dance aerobics class. Burhenn and her instructor Emilia Richeson became friends, teaming up to release a full-length aerobics video last month like modern-day, body-positive Jane Fondas. And, naturally, when it came time to make a video, the moves were very Pony Sweat—Burhenn told director Jason Lester she wanted to make a "dance video that feels desperate and urgent and visceral."
In the video, Burhenn, clad in a silver leotard worthy of the ladies of GLOW (which, she confessed, she hasn't seen—yet) dances across a neon-lit studio surrounded by women in tight black looks, many of them Pony Sweat-ers. The video has the soft, slightly grainy feel of a vintage VHS tape, with the '80s-inspired moves and makeup to match, but its themes transcend the decade.
"This song is about resiliency," she said. "What do you do in the face of trauma? Do you lay down and give up or do you say, I'm going to fight, I'm gonna fight, I'm gonna fight?"
Shortly after Donald Trump let loose a string of tweets announcing a ban on transgender individuals serving in the military this week, Burhenn emerged from a Pony Sweat class taught by her friend Caleb, a transgender woman who also appears in "Shouting at the Dark." Coming out of that class, where Caleb had encouraged solidarity and self-acceptance, Burhenn said that she felt releasing the video now was "especially powerful."
"I am so honored to dance side by side with my trans and queer friends in this video," she said. "It becomes a rallying cry for resistance, for protection, a call to the most vulnerable people among us to know that they are loved and accepted, and that we've got their backs." So if you need Burhenn, she can be found "shouting at the dark till I die," she said. "I wouldn't want to be any other way."
Your favorite celebrities pick their favorite Spice Girls: