Exclusive Music Video Premiere: Springtime Carnivore's "Face in the Moon"
A shimmering desert dream of a video for a shimmering desert dream of a song.
---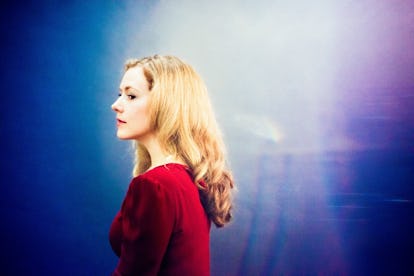 © Julia Brokaw
In May, a day before she departed for Joshua Tree to shoot her new video for "Face in the Moon," (which W is premiering here), the singer Greta Morgan still had nothing to wear. She had options, sure, and even a concept mapped out, but "nothing felt right," she recalled over the phone in early September. She had just arrived at her studio when we connected, amid rehearsals for a fall of intense touring — first, alongside Jenny Lewis and Jessica Pratt, and then for her own tour under the moniker Springtime Carnivore in October (her sophomore album, "Midnight Room," out October 7).
Mynabirds frontwoman Laura Burhenn, a close friend who has also played with the Postal Service and Bright Eyes, came to the rescue. Perusing Burhenn's closet, Morgan found a white jumpsuit and cape. Combined with Morgan's Mars Attacks! beehive, it was the perfect, retro-futuristic ensemble for "Face in the Moon." In the video, which she filmed in a striking Airbnb rental on a shoestring budget, Morgan plays a woman living in isolation, preoccupied by alien visitors. A split screen interposes images of swirling galaxies, stars rising and setting, while Morgan's character traipses down the highway wielding a sign that reads, "Welcome Space Comrades" — a direct reference to the Unarius Academy of Science, a not-so-secret society-cum-cult founded in the 50's that believed gentle, technologically-advanced alien invaders were coming to enlighten society. Their signs read "Welcome Space Brothers."
"It's just so whimsical and outlandish," Morgan said. The story of the cult, relayed to her by the video's director Jason Lester, dovetails with her long-held love for The Twilight Zone, a fixation that came to a head when writing this latest song. She had just gone through a bad breakup, she said, and was enduring a string of restless nights. To calm her anxiety, she turned to the Twilight Zone and Bruce Springsteen's Nebraska, influences that filter down into the dreamy, retro aesthetic of both the song and video.
Moments after the shoot wrapped, a gust of wind swept through the set, tipping Morgan's teetering hairstyle off the top of her head. Then, they were done.