Cheers to Dustin Yellin
The artist debuts his latest commission for Ruinart Champagne.
---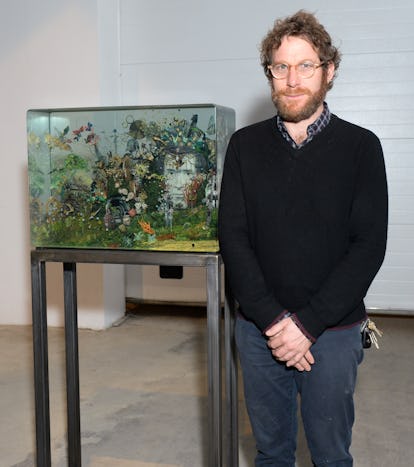 In celebration of artist Dustin Yellin's new commission for champagne brand Ruinart, a chic crowd that included Alexandra Richards, Catherine Martin, Pari Ehsan, Carly Cushnie, and Michelle Ochs traveled to Red Hook Tuesday night to dine at the artist's studio and Pioneer Works foundation. The highlight of the evening: viewing Yellin's piece, a portrait commemorating the journey of Edmond Ruinart, who brought the brand to the United States in 1831. "We needed somebody who would give a very contemporary eye to a man who was very—you know, it was 1831—very formal and not very lively," explained Ruinart President Frederic Dufour, of the collaboration with Yellin. "We wanted somebody who supports art as much as we try to do everyday, and we wanted a character."
Yellin certainly played the part, bouncing around his studio throughout the evening and showing off his comedic timing. "You know when an artist gets a commission, it's the last thing he wants to do…" he announced to the table, who roared with laughter right on cue. "But they didn't say I had to do anything; they said you can do anything you want to do! So I was like, that's cool, alright!" The evening wrapped up with a performance written by Baz Luhrmann and Catherine Martin and performed by Brandon Dirden, plenty of Ruinart's finest, and more of Yellin's playful wit. "Do you have Intercourse?" he could be heard asking guests later (referring to Pioneer Works's print publication, of course).
Dustin Yellin's commission for Ruinart is on view at The Salon Art + Design from November 12th through the 16th.
Photos: Cheers to Dustin Yellin
Dustin Yellin with his new piece for Ruinart. Photo by Joe Schildhorn / BFA
Carly Cushnie, Natalie Joos, and Michelle Ochs. Photo by Joe Schildhorn / BFA
Paul Longo and Alexandra Richards. Photo by Joe Schildhorn / BFA
Catherine Martin. Photo by Joe Schildhorn / BFA
Wes Gordon and Paul Arnhold. Photo by Joe Schildhorn / BFA
Claiborne Swanson Frank. Photo by Joe Schildhorn / BFA
Pari Ehsan. Photo by Joe Schildhorn / BFA
Dinner inside Yellin's studio. Photo by Joe Schildhorn / BFA
Le Call. Photo by Joe Schildhorn / BFA
Brandon Dirden and Frederic Dufour. Photo by Joe Schildhorn / BFA
JiaJia Fei. Photo by Joe Schildhorn / BFA