Clothes Call
Their runway shows may border on performance art, but the designers of Eckhaus Latta err on the side of fashion.
---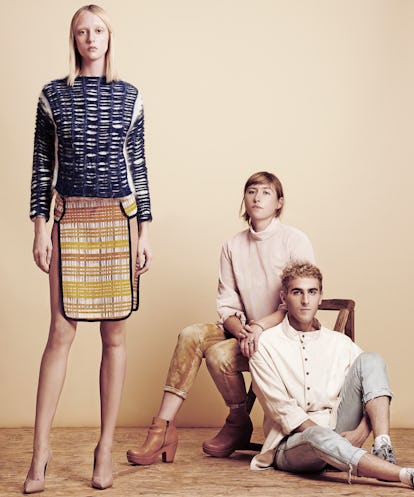 It would surprise no one that Zoe Latta and Mike Eckhaus, who started their buzzed-about label three years ago, have fine arts degrees from Rhode Island School of Design (Eckhaus studied sculpture; Latta, textiles) but no formal fashion training. Take their spring show: An eclectic cast of models, including the indie actress India Menuez and the designer Susan Cianciolo, dressed in shorts cut from bath towels and rusty deadstock denim jackets that had been hand-dyed on a Chinatown rooftop. Tube socks were painted onto legs, platform shoes were made from two pairs of vintage sneakers piled on top of each other, and the runway was covered with lettuce shreds courtesy of the artist Alex Da Corte. It was odd, yes, but also intriguing in a way fashion can sometimes be when it's approached from a fresh angle (see Hood by Air, Telfar—or Imitation of Christ and Bernadette Corporation before them). "In terms of our creative process, that critical dialogue you develop in a studio arts program is still quintessential to how we work," says Latta, whose textile company, Prince Ruth, has supplied fabric to Calvin Klein and Proenza Schouler. "But we see ourselves as fashion designers, just because we're in the business of selling clothes." Of course, reconciling creativity and commerce hasn't been easy for the duo, who, in the beginning, bristled at the suggestion of making something as basic as a T-shirt. "We've slowly learned that in designing clothes that partially immobilize the wearer, you relegate yourself to the world of art," says Eckhaus, exaggerating a bit on the extremity of the clothes. "Much more challenging to us now is creating pieces that can be incorporated into people's lives but retain a little crazy."
Hair: Edward Lampley for R+Co at D+V Management; Makeup: Susie Sobol. Model: Frances Coombe at Muse NYC. Set design: Whitney Hellesen. Photography assistants: andrew smith, Calvin Laszakovits for B2Pro. Fashion assistant: Cody Pan.