NEW YORK FASHION WEEK FALL 2017
Eckhaus Latta Doubles Down in the Face of the Post-Election Unknown
Mike Eckhaus and Zoe Latta added some empowerment—and tailoring—to their Fall 2017 collection.
---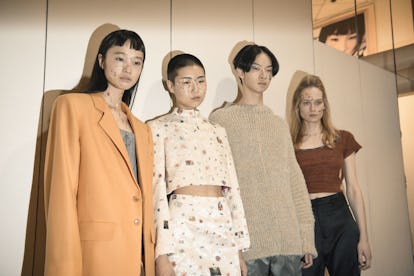 The designers Mike Eckhaus and Zoe Latta have never been ones to operate in a conventional way when it comes to their fashion label—instead of design, the pair studied sculpture and textiles, after all, at art school—but for Fall 2017, they pared back their sartorial inspirations even further, right down to the elemental level.
"Why do we make clothes, and why do our lives center around these things?" Eckhaus said of the starting point for the Eckhaus Latta collection he and Latta had just shown, which they started working on earlier last fall.
The sudden nihilism did not come out of nowhere. "The election put a weird thump in our lives and kind of sidetracked us for a moment and really made us question things," Eckhaus continued. "I remember being in the studio and then crying and going to a protest and being like, 'Okay, how do we deal with this?' And then coming out of that and being like, 'Well, we love what we do, it feels important to us'… and it's important to be doing these things that feel so counter to where our government seems to be going at the moment, and really sink into that excitement."
So, after a brief, mostly downcast hiatus, the pair plunged back into things in full, turning their melancholy into self-empowerment that made its way into the collection, from their protective garments, like their first real stabs at outerwear, to tight, tailored looks like hip-hugging sweater dresses, sleeveless corsets, and form-fitting knit crop tops. "We were thinking about the push and pull of one's personal space," Eckhaus said. "How you get away from being melancholic to more joyful and self-empowered."
As it turned out, though, their hiatus was hardly much of a hiatus at all: the pair actually spent those two months "off" producing their first ever pre-fall collection, which they showed to stores but won't unveil until later this spring. No wonder, then, that they were tired, camped out on the carpeted upstairs floor that served as the "backstage" of their fall 2017 show, in a former women's workwear store somehow still in all its '90s glory on 34th Street. Their shows, both Latta and Eckhaus stressed, are "so important" to them that they didn't want to "run dry" by orchestrating what they just had on Monday night for mid-season collections as well.
Indeed, Eckhaus Latta's shows always feel like something of a homecoming, thanks to a recurring cast of friends-turned-runway-stalwarts like India Salvor Menuez, Alexandra Marzella, Camilla Deterre, and Michael Bailey Gates, plus "gorgeous old moms," as Latta called them, like the artist Susan Cianciolo. She was joined this time around by the photographer Collier Schorr, whose partner Holli Smith styled the models' hair, and who bragged to Eckhaus and Latta backstage that she didn't once crack a smile on the runway, even when the stylist Alastair McKimm kept calling her name. (Also walking were artists Julian Klincewicz and Hayden Dunham, whereas Bjarne Melgaard and Nate Lowman opted to take it all in from the front row.)
A Post-Election Eckhaus Latta Turns Melancholy Into Action for Fall 2017
Collier Schorr at Eckhaus Latta Fall 2017 in New York

Photo by Alex Hodor-Lee
But despite the typical art-world showing, and their election-induced misgivings, Eckhaus and Latta are still as committed as ever to the industry—as long as it's on their own terms. "I think it's illegal to fire someone based on their voting preference, but…" Latta said, trailing off as Eckhaus stopped her to add, "I don't think I know anyone who has an opposite voting preference, which is a scary thing but also a real thing."
For now, though, it looks like they're sticking with that bubble. "You gotta start somewhere—and I'm not saying with buying designer clothes," Latta said.
"Yeah," Eckhaus added with a laugh. "We're aware that the system we work in is not that democratic at the end of the day."
See W's most popular videos: