Novelist Edmund White Loves Bach, Brahms, and Batman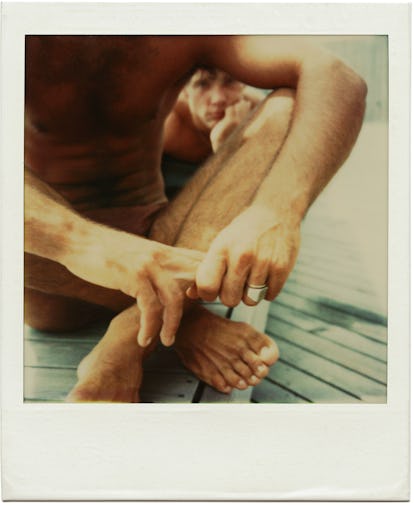 Like the French male model who acts as the Dorian Gray-like protagonist of his new novel, "Our Young Man," Edmund White never seems to age. Now in his seventies, the elegant White, who wrote a trio of autobiographical novels that have come to define modern gay culture, is alarmingly on top of his email and, as always, game to talk about hooking up. Here, the lauded biographer of the French icons Genet, Proust, and Rimbaud reveals his culture diet. It turns out he may be the only extant fan of Batman v. Superman.
First thing you read in the morning: My emails!
Books on your bedside table right now: Rebecca West's novel The Fountain Overflows; J. D. McClatchy's Sweet Theft: A Poet's Commonplace Book; and Greg Jackson's collection, Prodigals.
The TV show that's been keeping you up at night: Rachel Maddow.
Last movie you saw in theaters: Hi, My Name Is Doris, directed and written by one of my former students, Michael Showalter.
Last thing you saw at the theater: Most of my time in the last couple years of going out has been social, so dinners, etc. But I'm reading Max Posner's wonderful play, Judy.
Last piece of art you bought, or ogled: My friend Lincoln Perry did a wonderful double portrait of my husband Michael Carroll and me in his studio in Maine.
Last museum exhibition you loved: The permanent collection at the new Whitney.
Release you're most eagerly anticipating: Batman v. Superman.
Song you currently have on repeat: Igor Levit's Bach Partitas.
Last concert you saw live: Tomorrow night I'm going to hear the all-Brahms program at Carnegie Hall.
How you get your news: MSNBC.
Favorite account to follow: Andrew Young's Instagram. Everything from the fashion industry he works in to friends to the books he's reading.
Last thing you check you check on the internet before bed: My emails!
Photos: Novelist Edmund White Loves Bach, Brahms, and Batman
"Untitled, 833" by Tom Bianchi. Fire Island Pines Polaroid, 1975-1983.
"Our Young Man" by Edmund White, published by Bloomsbury.
Edmund White in New York, 2000. Photo by David Corio/Michael Ochs Archive via Getty Images.
Edmund White in Paris, 1986. Photo by Ulf Andersen via Getty Images.