Inside Ichimura, the New Tribeca Sushi Spot That's $300 Per Person
Chef Eiji Ichimura's new namesake restaurant charges $300 per person for what can best be described as a "bespoke" sushi experience, with plates tailored to each customer's palette.
---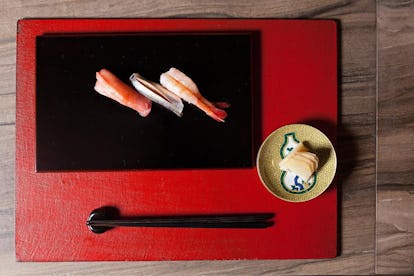 © Damien Lafargue
Eiji Ichimura began his forty-year long career as a dishwasher in a sushi bar in Tokyo, closely observing the chefs during the day so he could practice their movements at night. It was all in anticipation of the day he could prove himself in the kitchen, which he did helming David Bouley's Brushstroke restaurant for the past four years. Last month, the man sometimes referred to as "the sushi astronaut," took the big step and opened his namesake sushi eatery in the heart of Tribeca.
The restaurant is the brainchild of Ichimura and financier Idan Elkon, one of the chef's longtime clients who would sit bar-side at Brushstroke, urging him to open his own haunt. Last fall, Ichimura made the move, Elkon signed on as his partner, and the duo worked for five months to perfect it.
"We felt that a sushi bar that emphasized sushi was missing from New York City," Ichimura said of his goal to reinvigorate the legacy and authenticity of the art of sushi rather than the fare in trendy chain restaurants that favors commercial viability over craft. "I wanted to have my own place that would evoke the sushi bars I grew up with in Tokyo, that emphasized the sushi over everything else," Ichimura continued, citing high-end additions such as truffles, caviar, and wagyu beef as superfluous ingredients that detract from a classic meal.
It is a culinary experience like no other. The restaurant offers two sittings a night, and serves an omakase menu which changes daily depending on the freshness of the fish that is imported weekly from Tokyo. With his highly trained eye, Ichimura inspects each piece of fish, returning any he deems unsuitable for his customers. To start the meal, Ichimura serves a zensai (hors d'oeuvres) course to gauge how the customer reacts to various flavors, and then tailors their meal accordingly.
Many courses feature his unique process of aging fish, which he does by alternating between different temperatures and salting the fish to extract maximum flavor. The menu is accompanied by 25 hot and cold sakes, over 40 types of beer and wine, and 9 Japanese whiskeys.
Design wise, the duo melds Japanese simplicity with a modern urban aesthetic, eschewing the traditional wooden sushi bar for a wood-colored Brazillian quartz. Customers are seated on customary wooden chairs around the bare-boned bar. "We are not trying to be many things to many people," Ichimura said. "I want us to attract diners who want to experience the best fish possible, expertly prepared in an environment where they can focus on each course in front of them. No distractions."
Calling Card A white oak door tucked away on Leonard Street.
The Scene The clientele is a mix of Ichimura's long-time local and international customers, who fly in from Asia and South America just to sit at his bar.
The Eats You will start your 10 course meal with a zensai, followed by a chawanmushi (egg custard), and then the chef's choice of the freshest omakase and then a tomago (Japanese omelette). Make sure to give him feed back on the zensai course so he can tailor your meal appropriately.
The Basics 69 Leonard St, New York, NY 10013. For reservations, call (212) 404-4600. $300 per person, including gratuity. Open six days a week, Monday through Saturday, from 6 p.m. until 12 a.m. www.sushiichimuranyc.com.
What Back to School Looks Like For the Parents of Lower Manhattan
Cindy Crawford's Perfect Birthday is a Baked Potato with Caviar
Cindy Crawford's Perfect Birthday is a Baked Potato with Caviar