Elisabeth Moss, Queen of Prestige TV, Will Soon Play Typhoid Mary
For her latest smallscreen role Elisabeth Moss will play Typhoid Mary. She developed the project with BBC America and Annapurna Television.
---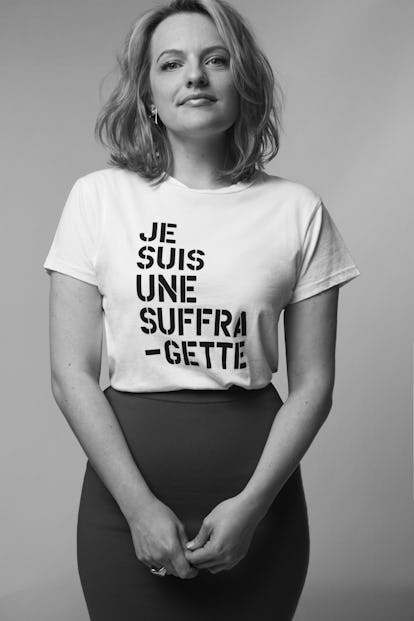 Photo by Victoria Stevens, Visual Editor: Biel Parklee. Photography Assistants: Denny Henry, Christine Szczepaniak. Special thanks to The Beekman Hotel.
If there was any question that Elisabeth Moss is the queen of prestige television at the moment then the fact she's just signed on to yet another television series should lay any doubts to rest. Despite the fact she has a ongoing engagement with Hulu's The Handmaid's Tale and that the second season of her Top of the Lake just premiered at Cannes (with its actual television debut set for this summer), Moss is now set to lead another series. She's just partnered with BBC America to both produce and star in Fever, a limited series about the early 20th century New York City woman who will forever be known in the history books as "Typhoid Mary."
Known in actuality as Mary Mallon, "Typhoid Mary" was the first identified carrier of Typhoid fever in the United States despite never developing symptoms herself. It's believed she infected twenty-two people throughout her life and triggered several outbreaks of the then little understood and frequently fatal disease. She was locked up twice in her life for simply carrying the disease, and ended up spending the last thirty years of her life in isolated quarantine.
"I look forward to telling this story about one of the most infamous women in America, 'Typhoid Mary,' a woman whose true tale has never been told," Moss said in a statement according to The Hollywood Reporter. "She was an immigrant in turn of the century New York, a time of huge change and progress in America. She was incredibly unique, stubborn, ambitious and in fierce denial of any wrongdoing until her death, where she lived out her days imprisoned on an island just off of the Bronx in New York. She is incredibly complicated, something I seem to enjoy playing."
Of course, it's easy to call Moss the queen of prestige TV, but she's right in pointing out that she doesn't often play very regal roles (and it's not like TV is lacking any between all the queens on shows like Game of Thrones and The Crown). The closest she came was playing first daughter Zoey Bartlett on The West Wing. Since then she's mostly specialized in playing oppressed, put upon women, or in the case of her Top of the Lake character, one who gets to the bottom of the crimes against such women.
According to The Hollywood Reporter, Moss was completely in the driver's seat when it came to development of the project. She acquired the film fights to Mary Beth Keane's 2013 novel of the same name, and then got director Phil Morrison, perhaps best known for 2005's Junebug, involved. Annapurna Television, the relatively new small screen offshoot of ascendent indie movie production powerhouse Annapurna, will handle production. (They're also behind the Coen brothers' upcoming series.)
And though Moss may be killing it on the small screen, it's not exactly like she can't get work in film. She has parts in _Mad to the Bone a_nd The Seagull, both out this year, and is currently filming director David Lowrey's Old Man and the Gun, which pairs her with Casey Affleck, Robert Redford and Sissy Spacek.
Related: Margaret Atwood, Elisabeth Moss, and the Women Behind the Disquietingly Vital The Handmaid's Tale
See What's Tending in W Video: