Elisabeth Moss Just Unveiled the Perfect Subtle Hair Color for Summer
Perfect inspiration for anyone afraid of something drastic.
---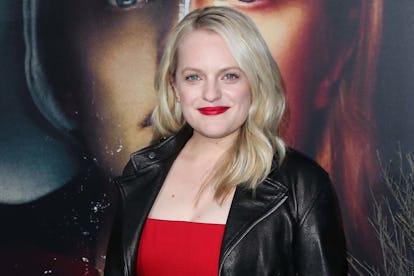 Paul Archuleta/Getty Images
Elisabeth Moss is ready for the summer, ready for a new film, and apparently ready for a bit of a hair update. had The Mad Men album showed up to a Handmaid's Tale event in Beverly Hills with a new hair color that's a little more Joan Holloway than it is Peggy Olsen. She had opted for a striking strawberry blonde makeover.
Turns out, though, it wasn't just a matter of personally preference. The actress actually debuted the look back on Instagram on May 30th, and revealed it was for a new role. Smiling for a photo in front of a trailer on set, she simply wrote "Summer in the city on set ? ☀️? #TheKitchen," drawing absolutely no attention to the fact that her hair is a totally new hue.
There's no word yet on who the stylist for the look is or what exactly inspired the change, but the hair has something to do with her new project called The Kitchen, as she mentioned in her own Instagram caption. According to The Hollywood Reporter, The Kitchen is a comedic comic book adaptation set in 1970s New York and "follows the wives of Irish mobsters who end up taking over and running the business after the FBI does a sweep of the mafia and several men are arrested." Melissa McCarthy and Tiffany Haddish will star alongside Elisabeth. Perhaps we shouldn't jump to any conclusions, but it doesn't seem out of the question that the subtly red look could have something to do with getting into character as one of these Irish crime wives.
The Handmaid's Tale star showed off the whole red carpet look — she paired the new hair with a knee-length sequined dress — again on her Instagram later in the evening, writing, "I always look like this at the airport. I did NOT change into sweats immediately after taking this photo. Sure didn't. Nope."