Eliza Dushku Privately Married Her Real Estate Magnate Beau at the Boston Public Library
Eliza Dushku shared details of her low-key wedding to Peter Palandjian on Instagram this weekend.
---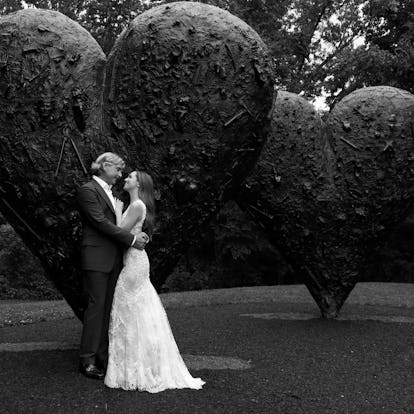 Photo by @elizadushku.
With just a few days left of summer, Eliza Dushku is here to remind you that she, too, participated in the low-key celebrity wedding trend of the season. Following in the footsteps of Robin Wright, who quietly married her French boyfriend on an early August evening, and Hilary Swank, who married Philip Schneider in the Redwoods in August, Eliza Dushku and her now-husband, Peter Palandjian, announced their wedding to one another on Instagram this weekend, though the two have been married for a few weeks.
The Buffy, the Vampire Slayer and Bring It On star wed Palandjian on August 18, according to the Instagram snap commemorating the private event, which took place at the Boston Public Library. On Dushku's Instagram, more photos of the wedding were taken at DeCordova Sculpture Park and Museum in Massachusetts, not far from the actress's hometown. The two appeared to be joined by a small group of friends and family at the intimate event.
Dushku has been previously linked to former basketball player Rick Fox, whom she dated from 2009 to 2014, before becoming engaged to Palandjian, the CEO of Intercontential Real Estate Corporation, in June 2017. Before jumping into the real estate business, Palandjian was a professional tennis player in the late 1980s, and even won against Pat McEnroe (John McEnroe's youngest brother) at the NCAA Championships in 1986.
In the midst of all of the wedding hullabaloo, Dushku has spent the past few years working hard to produce Mapplethorpe, the biopic about the late photographer Robert Mapplethorpe starring The Crown's Matt Smith in the titular role. The film premiered earlier this year at Tribeca Film Festival, after a 15-year-long struggle for Dushku and her brother to finally get the film made and seen.
Related: Hilary Swank and Philip Schneider's Wedding in the Redwoods Was an Ode to Burning Man