Elizabeth Olsen Is Really Over Those Rumors She'd Join Fuller House
The actress was asked about whether or not she'd step in for her sisters.
---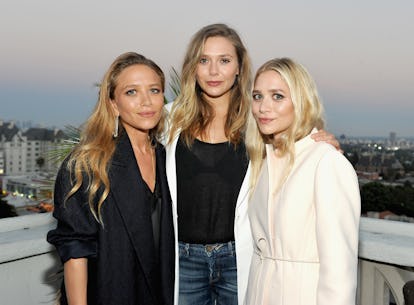 Donato Sardella/Getty Images
By now, it's become absolutely clear that Mary-Kate and Ashley Olsen would rather just be fully excluded from the Fuller House narrative. But, what about their sister, Elizabeth Olsen? As presumptuous as that question is, the Ingrid Goes West star has actually been asked it before.
Olsen, whose next film on deck is Marvel's eagerly awaited Avengers: Infinity War, opened up about the awkwardness of being asked to step in for her twin sisters as a grown-up Michelle Tanner, and her response couldn't be more relatable. "That was weird, because it was also like, 'Leave me out of this. This has nothing to do with me'…and then I had to answer questions about it immediately after," she said on the podcast Everything Iconic with Danny Pellegrino. "I was doing press, and I was like, 'I don't know what anyone's talking about. Stop talking to me about this.'"
It's bizarre that anyone would assume Olsen, who's forged her own path as an indie film darling before taking on greater fame as The Scarlet Witch in the Marvel Cinematic Universe, would be down to take her sister's undesired leftovers. While at least Ashley Olsen has maintained a relationship with her TV dad Bob Saget over the years, most recently attending one of his events, the Olsens have made their stance on the Full House reunion known even without addressing it publicly. "Personally, I've given up asking them," Full House creator Jeff Franklin said last year. "The door is open, but I'm not going to be calling them anymore to invite them. They just don't seem interested in coming. It's been three years of invitations, so they know the door is open. It's up to them to decide if they want to come play or not."
It's bold of anyone to even ask Elisabeth Olsen about Mary-Kate and Ashley at this point, as the actress has talked about not wanting to speak on their behalf before. "I was not caring what I was saying [in interviews] because I'd assumed no one would read it," she said last summer. "That's when we'd have conversations. [Mary-Kate and Ashley] would say, 'You know, even if you don't think anyone's going to read this article, someone might pull the quote later for [something else].' It's all part of how you hope someone interprets you, and how they frame who you are and the work you do. They're very tight-lipped—notoriously so."
Still, Olsen did say of growing up with two famous sisters, "It was just normal. It was never weird," she told Pellegrino. "They're brilliant and I love them. If I didn't feel that way, maybe it would be annoying [to answer questions about them], but it's really not that annoying." She also revealed her favorites of their kid films: "Sleepover Party, and then so is The Mystery Agencies or however that goes. And for their detective ones, I would say the Haunted Mansion because I'm in it."
Related: Aubrey Plaza and Elizabeth Olsen Sound Off on Hollywood, Dark Humor and the Pitfalls of Instagram
Ashley and Mary-Kate Olsen at the Met Gala: See the Pair's Red Carpet Looks
Ashley and Mary Kate Olsen, in Oscar de la Renta and a vintage dress, arrive to the Metropolitan Museum of Art Costume Institute Gala, celebrating The House of Chanel, held at the Metropolitan Museum of Art on May 2nd, 2005.

Getty Images
Ashley and Mary Kate Olsen, in Oscar de la Renta and a vintage dress, arrive to the Metropolitan Museum of Art Costume Institute Gala, celebrating The House of Chanel, held at the Metropolitan Museum of Art on May 2nd, 2005.

Getty Images
Ashley Olsen arrives to the Metropolitan Museum of Art Costume Institute Gala, AngloMania, held at the Metropolitan Museum of Art on May 1st, 2006.

Getty
Ashley Olsen arrives to the Metropolitan Museum of Art Costume Institute Gala, AngloMania, held at the Metropolitan Museum of Art on May 1st, 2006.

Getty
Mary Kate Olsen arrives to the Metropolitan Museum of Art Costume Institute Gala, AngloMania, held at the Metropolitan Museum of Art on May 1st, 2006.

Getty Images
Mary Kate Olsen arrives to the Metropolitan Museum of Art Costume Institute Gala, AngloMania, held at the Metropolitan Museum of Art on May 1st, 2006.

Getty Images
Ashley Olsen arrives to the Metropolitan Museum of Art Costume Institute Gala, Poiret: King of Fashion, held at the Metropolitan Museum of Art on May 8th, 2007.

Getty
Ashley Olsen arrives to the Metropolitan Museum of Art Costume Institute Gala, Poiret: King of Fashion, held at the Metropolitan Museum of Art on May 8th, 2007.

Getty Images
Mary Kate Olsen arrives to the Metropolitan Museum of Art Costume Institute Gala, Poiret: King of Fashion, held at the Metropolitan Museum of Art on May 8th, 2007.

Patrick McMullan
Mary Kate Olsen arrives to the Metropolitan Museum of Art Costume Institute Gala, Poiret: King of Fashion, held at the Metropolitan Museum of Art on May 8th, 2007.

Getty
Ashley and Mary Kate Olsen , with Christian Louboutin, arrive to the Metropolitan Museum of Art Costume Institute Gala, Superheroes: Fashion and Fantasy, held at the Metropolitan Museum of Art on May 2nd, 2005.

Getty
Ashley and Mary Kate Olsen arrive to the Metropolitan Museum of Art Costume Institute Gala, Superheroes: Fashion and Fantasy, held at the Metropolitan Museum of Art on May 2nd, 2005.

Getty
Ashley Olsen, in Dolce & Gabbana, arrives to the Metropolitan Museum of Art Costume Institute Gala, The Model as Muse, held at the Metropolitan Museum of Art on May 4th, 2009.

Getty
Ashley Olsen, in Dolce & Gabbana, arrives to the Metropolitan Museum of Art Costume Institute Gala, The Model as Muse, held at the Metropolitan Museum of Art on May 4th, 2009.

Getty
Mary Kate Olsen arrives to the Metropolitan Museum of Art Costume Institute Gala, The Model as Muse, held at the Metropolitan Museum of Art on May 4th, 2009.

Getty
Mary Kate Olsen arrives to the Metropolitan Museum of Art Costume Institute Gala, The Model as Muse, held at the Metropolitan Museum of Art on May 4th, 2009.

Getty
Ashley Olsen, in Christian Dior, arrives to the Metropolitan Museum of Art Costume Institute Gala, The Model as Muse, held at the Metropolitan Museum of Art on May 2nd, 2011.

Getty
Ashley Olsen, in Christian Dior, arrives to the Metropolitan Museum of Art Costume Institute Gala, The Model as Muse, held at the Metropolitan Museum of Art on May 2nd, 2011.

Getty
Mary Kate Olsen arrives to the Metropolitan Museum of Art Costume Institute Gala, The Model as Muse, held at the Metropolitan Museum of Art on May 2nd, 2011.

Getty
Mary Kate Olsen arrives to the Metropolitan Museum of Art Costume Institute Gala, The Model as Muse, held at the Metropolitan Museum of Art on May 2nd, 2011.

Getty
Mary Kate Olsen arrives to the Metropolitan Museum of Art Costume Institute Gala, Schiaparelli and Prada: Impossible conversations, held at the Metropolitan Museum of Art on May 7th, 2012.

Getty Images
Mary Kate Olsen arrives to the Metropolitan Museum of Art Costume Institute Gala, Schiaparelli and Prada: Impossible conversations, held at the Metropolitan Museum of Art on May 7th, 2012.

Getty Images
Ashley Olsen arrives to the Metropolitan Museum of Art Costume Institute Gala, PUNK: Chaos to Couture, held at the Metropolitan Museum of Art on May 6th, 2013.

Getty
Ashley Olsen arrives to the Metropolitan Museum of Art Costume Institute Gala, PUNK: Chaos to Couture, held at the Metropolitan Museum of Art on May 6th, 2013.

Getty
Mary Kate Olsen arrives to the Metropolitan Museum of Art Costume Institute Gala, PUNK: Chaos to Couture, held at the Metropolitan Museum of Art on May 6th, 2013.

Getty
Mary Kate Olsen arrives to the Metropolitan Museum of Art Costume Institute Gala, PUNK: Chaos to Couture, held at the Metropolitan Museum of Art on May 6th, 2013.

Getty
Ashley and Mary Kate Olsen arrive to the Metropolitan Museum of Art Costume Institute Gala, Charles James: Beyond Fashion, held at the Metropolitan Museum of Art on May 5th, 2014.

WireImage
Mary-Kate and Ashley Olsen attend "Manus x Machina: Fashion in an Age of Technology", the 2016 Costume Institute Gala at the Metropolitan Museum of Art on May 02, 2016

Getty
NEW YORK, NY – MAY 02: Ashley Olsen (L) and Mary-Kate Olsen attend the "Manus x Machina: Fashion In An Age Of Technology" Costume Institute Gala at Metropolitan Museum of Art on May 2, 2016 in New York City. (Photo by Larry Busacca/Getty Images)

Larry Busacca