Watch Elizabeth Olsen Confront Grief Head-On in the Sorry for Your Loss Trailer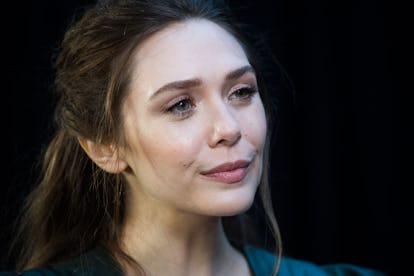 Gareth Cattermole/Getty Images
There really is no right way to handle the loss of a loved one, a lesson Elizabeth Olsen's character, Leigh, grapples with in the brand new trailer for her upcoming series Sorry for Your Loss. The half-hour drama, which was created by playwright Kit Steinkellner and airs this month on Facebook Watch (yes, that's a thing), chronicles Leigh's emotional journey following the death of her husband.
As the trailer suggests, part of that journey means signing up for grief counseling, reading the appropriate books, and seeking familial comfort by moving in with her mother, played by Janet McTeer. "I hate how in the beginning, everyone wants to send you flowers," Leigh says in the clip. "And then they stop calling and writing and doing nice things for you, because they're over it, and they expect you to be over it."
Despite the show's attachment to one of the more nascent streaming services, it still boasts an impressive Hollywood pedigree. Olsen is, of course, one of Hollywood's most magnetic movie stars, while co-star Kelly Marie Tran—who plays Leigh's addict sister Jules—had a breakout year thanks to her star-making turn in Star Wars: The Last Jedi. They'll be joined by Jovan Adepo, Mamoudou Athie, and the aforementioned McTeer.
The half-hour drama also boasts the considerable skills of director James Ponsoldt, who cut his teeth making beloved indies like The Spectacular Now and The End of the Tour. Ponsoldt helmed multiple episodes of the series, which, per the the official description, is "simultaneously devastating and uplifting," featuring "grounded, flawed characters desperate to find humor anywhere they can." In other words, you'll cry, you'll laugh, and then you'll cry some more when Sorry for Your Loss premieres, on Tuesday, September 18, on Facebook Watch.
Check out the full Sorry for Your Loss trailer below.