From Diamonds to Caftans: Christie's Previews the Elizabeth Taylor Collection
Looking to get a head start on your Christmas shopping? I know a few ladies who could send you their wish lists right now, and they'd be pretty concise, too: Elizabeth Taylor. Not the Hollywood...
---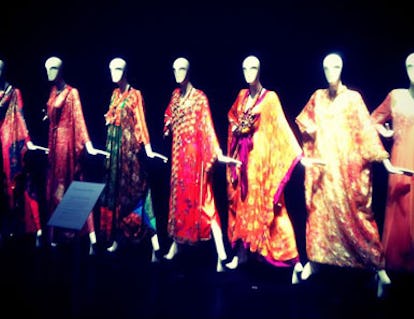 Looking to get a head start on your Christmas shopping? I know a few ladies who could send you their wish lists right now, and they'd be pretty concise, too: Elizabeth Taylor. Not the Hollywood star, of course—that would be morbid. Rather, just about anything from the Elizabeth Taylor collection being auctioned off at Christie's later this month.
The series of sales officially begins on December 13th, but the likes of Bettina Zilkha, Lesley Schulhof, Patty Smyth McEnroe, Nathalie Kaplan, and Claudia Overstrom could declare their gift-wrapped hopes in advance thanks to a luncheon preview they were treated to Thursday afternoon, hosted by Swiss jewelry designer and owner of the OC Concept store, Orianne Collins (yes, she was once married to Phil Collins).
All ladies present were able to view the full array of goods, spread across three floors of galleries, before the rooms are opened to the public on Saturday. Heavens, were there things to see. For starters, the names Cartier, Lorraine Schwartz, JAR, Van Cleef & Arpels, Bulgari, and David Webb filled Taylor's jewelry collection, much as the names Gap and Lululemon fill an average woman's closet.
In one room was a Bulgari sapphire duo, a gift from Richard Burton (another name that appears with much frequency). A diamond and colored-diamond line bracelet, a gift from Michael Jackson, was estimated at $40,000-$60,000. Rather charmingly, there was a paper jewelry suite (yes, paper), a present from Malcolm Forbes, that was estimated at $200-300. Someone had a sense of humor.
The piece de resistance for most, of course, was the Elizabeth Taylor diamond, a 30 carat stunner with a $2.5-$3.5 million tag.
"I just have to stare at it for, like, a minute," said one man, gazing at it adoringly like a long-lost lover.
Jewelry wasn't the only visual delight, however. Taylor's wedding dresses from both her first and second marriages to Burton were interspersed with the bling. The first dress, an unattributed yellow chiffon number, was listed at $40,000-$60,000; the second, a printed Gina Fratini creation from 1975, was priced at a lower $10,000-$12,000. Call it the romantic depreciation index.
Upstairs, there were even more garments to ogle—turns out Taylor not only had a fashionista's tastes, but she also kept absolutely everything. Gianfranco Ferre, Chanel, Christian Dior (some pieces by John Galliano), and Halston were duly represented. And she certainly did love a caftan, as demonstrated by a whole tableau, including some lovely Thea Porter versions.
In a corner on the way out was a triptych of bedazzled and beaded Gianni Versace-designed evening boleros, including one bearing Taylor's likeness on its back. "That's not bad, it's what you'd pay for a Balmain," mused one guest, before adding, "But do you really want to walk around with Elizabeth Taylor on your back?" There are probably worse mugs to flaunt.
At lunch afterward, Christie's jewelry expert Rahul Kadakia remarked on the range of pieces Taylor amassed, despite the fact that she was known mainly for her more extravagant purchases. Meredith Etherington-Smith, who curated the fashion portion of the sales, commented slyly, "She styled herself and signed her own checks."
Well, some of her friends and seven husbands probably helped add to her collection, but in the clothing department, yes, this woman was not a borrower.
As it happens, the luncheon's host—doubtfully a borrower herself—had a connection to Taylor. Collins' grandfather, a pilot for Swiss Air, used to fly Taylor and Burton back and forth from Switzerland (they flew commercial, not first class). She was mum, though, on whether she'd be bidding on any of the lots, the famed diamond included. "That has to come from someone who really loves you," she smiled demurely.