If Elle Fanning and Kirsten Dunst Starred in a Sofia Coppola-Directed 1860s Episode of Girls Gone Wild
The Beguiled cast teams up.
---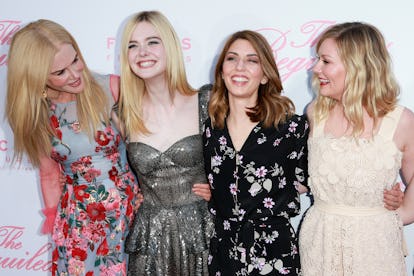 Rich Fury
Have you ever wondered what Girls Gone Wild would look like if it took place in the 1860s? Well, thanks to Elle Fanning, Kirsten Dunst, and Sofia Coppola, now you know.
According to The Cut, the Virgin Suicides director Sofia Coppola hung out at The Late Late show With James Corden to discuss her latest project, The Beguiled, and things got a little…wild. The Civil War–era film features an all-star female cast including Dunst, Fanning, and Kidman. The period piece is about an injured confederate soldier (played by Colin Farrell) who's taken in by an all-girls boarding school. Not surprisingly, his presence wreaks hormonal havoc, inciting chaos, which, based on the trailer, really does look straight out of an 1860s episode of Girls Gone Wild.
Coppola says things got even frattier when the cameras stopped rolling. "We were all together in this house shooting every day, and the girls in corsets. One day at lunch, Kirsten and Elle were having water in Solo cups, which reminded us of Girls Gone Wild," she explained.
In true director fashion, Coppola put a few scenes together and shot them on her phone. She never did anything with the footage, but sent it to The Late Late Show to let Corden's team work its magic. Needless to say, the results were…historic.
The video features Fanning and Dunst running through a field in their period garb, engaging in risqué activities like showing off their ankles, winking over their bare shoulders, and twirling while expressing themselves with the classic GGW "woo-hoo" sound. The most scandalous moment comes when Fanning (gasp) licks some frosting off her finger. Honestly, though, it's some pretty raunchy stuff by 1800s standards.
Take a look at the "exclusive clip of an 1860s episode of Girls Gone Wild, directed by Sofia Coppola" below.
The Best Advice Sofia Coppola Received From Her Dad, Francis Ford Coppola: "Don't Wait for Permission"