How Elle Fanning, the Red Carpet's Most Delightful Young Star, Has Cultivated Her Own Fashion Fairytale
The talented teen, and Sofia Coppola favorite, is making the most of her rising-star status with countless memorable red carpet moments.
---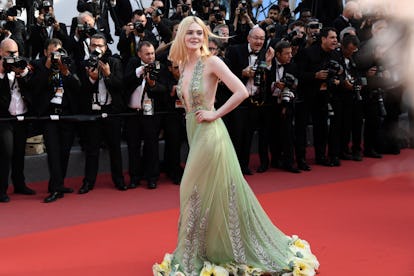 ANNE-CHRISTINE POUJOULAT/Getty Images
Though actress Dakota Fanning made her Cannes Film Festival debut first, lately, it's been her porcelain doll-like little sister Elle, 19, who has captured the spotlight at the festival. It's no small feat to ascend as the younger sibling of a bona fide star—see any of the Hemsworths, the Hadids, or, by extension, any of the myriad scions looking to step out from behind a famous parent's shadow. It can be a boon in some regards, but so too does it draw inevitable parallels. Elle Fanning, for her part, made an auspicious debut alongside her sister, voicing Dakota's sister in My Neighbor Totoro and appearing as Dakota's younger self in I Am Sam before she started forging her own path; at last year's Cannes Film Festival, with Nicolas Winding Refn's endorsement casting her as the lead of his controversial fashion-horror flick The Neon Demon, she ascended to proper superstardom. She returned this year with two more wins—the John Cameron Mitchell-directed adaptation of Neil Gaiman's How to Talk to Girls at Parties and the Sofia Coppola-helmed The Beguiled, both also starring Nicole Kidman. And at both Cannes premieres, Fanning's wardrobe has been just as spot-on as that of Kidman: First, she selected a mint green Gucci gown with a silver floral scroll along its plunging neckline, and then, a lilac Rodarte confection of floor-length tulle.
Elle Fanning is indebted to no one brand—at Cannes, she's worn Alexander McQueen, Gucci, Dior couture, Rodarte, Vivienne Westwood, and Prada. (To draw further parallel, Kidman, for her part, has worn Chanel, Michael Kors, Alexander McQueen, Calvin Klein by Appointment, Dior, and Rodarte, a dizzying list that confirms her place as Hollywood's great disappearing act.) If there's any unifying trend, it's that Fanning loves a princess dress. Her wardrobe contains the kinds of fairytale designs that many young people might salivate over, like the painstakingly embellished Dior couture gown she wore this week, covered in thousands of tiny feathers intended to convey the same impression as Vincent Van Gogh's "Jardin Fleuris" or the aforementioned Rodarte and Gucci. While her looks are invariably quite classically feminine, delicate gowns of pastels with floral details and glittering embellishments, they're also inevitably very fashion, the look of a young woman who seems to enjoy the game of it all.
Fanning cuts such a delightful figure on the red carpet precisely because she looks to be having a ball, mugging for the camera, giggling with her cast-mates, and twirling in her ethereal gowns.
Her daytime looks are no less playful, ranging from a muumuu-like floral Miu Miu look she wore on a recent stroll around Cannes or the pink Prada minidress with a '60s movie poster splashed across the front she selected for the How to Talk to Girls at Parties photo-call. (Fanning and the rest of the film's cast, as well as director Mitchell, channeled the spirited goths-in-space theme of the film in real life, too, at the film's afterparty.)
Exclusive: See How Elle Fanning's Cannes Gown Was Made
It neither trivializes nor infantilizes Fanning's work to say that she's playing dress-up with a couture costume box. "Rodarte and Miu Miu are like characters in a film," she told Vogue in a recent profile. Fashion is meant to be transformative, transportive, and that's exactly the spirit in which Fanning has interpreted her role on the red carpet. Her seeming joy underlines her real understanding of and appreciation for fashion, the art. Like Kidman, she uses her wardrobe as an extension of character; unlike Kidman, she knows precisely the role she intends to inhabit. Elle Fanning is our real-life red carpet dauphine, a princess minus the pea.
At Elle Fanning's Chuck E. Cheese's birthday party, she had so much fun she got up to dance with the mouse: