Elle Fanning Could See Timothée Chalamet Playing Her in a Movie
Fanning, who stars in the upcoming Hulu drama "The Great," said Lucas Hedges and Chalamet could "switch off" playing her in a biographical film.
---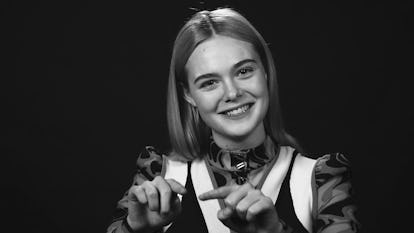 When asked which actor would play the role of Elle Fanning in the filmic story of her life—a question movie stars and laypeople alike have considered—Fanning had an unusual answer.
"Lucas Hedges and Timothée Chalamet can both," she told Lynn Hirschberg on the latest episode of W magazine's "Five Firsts" series. "They can switch in and out of playing me."
The 21-year-old actress, who stars in the upcoming Hulu drama The Great, said she, strangely, could absolutely see Chalamet getting in character.
"He looks nothing like me," she admitted, but then also conceded that they both "do a lot of gestures."
"I guess personality-wise, he's probably the most spot-on," she said. "Call up the agents."
In her interview, Fanning also discussed her first obsessions—for which she had a few equally as curious examples on deck: Marilyn Monroe was the first, then bubblegum wrappers, and lastly, wishbones.
"I loved gum. Double Bubble wrappers are exciting. Bazooka wrappers are exciting," she said. "I would get those and I would save all the wrappers in shoeboxes under my bed. Like, thousands. And then I would write letters and I would use the wrappers as like stamps and like tape them on to decorate. And whenever we had chicken, I loved like playing the wishbone game."
"If I ever won, I would keep them in my purse. I think they're in the bottom of purses," Fanning added. "I would say that they're here. They give me good luck, I guess."
Related: Brad Pitt Talks His Early Days as an Extra, What He Wore to Prom—and His First Kiss