Fresh Page
Actress Ellen Page is young, talented and unimpressed by Hollywood hoopla.
---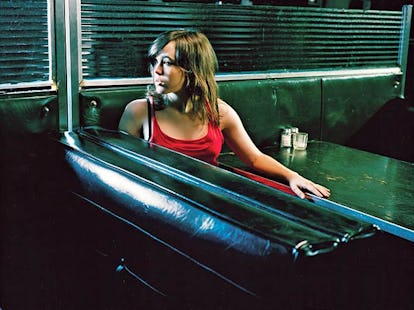 Ellen Page is 20, but the actress—a tomboy pixie dressed in jeans and a hoodie—looks like the kind of 16-year-old you'd see smoking outside a 7-Eleven. And like a lot of smart, bored kids, Page likes to give the impression that everything is No Big Deal, even her breakout role two years ago as a psychopathic teen who lures and tortures a suspected pedophile in the indie film Hard Candy. "It's just what I do, you know?" she says, downing a shot of espresso in a midtown restaurant. "It's no big deal, that's kind of my attitude."
Despite the fact that Page's next star turn, in Juno, is being called one of the smartest, brightest performances of the year, the wispy Canadian exudes none of the cheery, I'm-so-blessed vibes of a star on the rise. Instead, she seems intent on proving she's untouched by any of the Hollywood baloney. Fashion, for instance, doesn't move her. "I go to these photo shoots and they're talking to me about designers, but this is how I like to dress," she says, tugging at her flannel shirt. What about promoting last year's X-Men: The Last Stand, her first taste of big-budget filmmaking? Shrug. "We did the junket; we went to Cannes."
In Juno, opening in December and directed by Jason Reitman (Thank You for Smoking), Page plays Juno MacGuff, a sarcastic, punk rock–loving Minnesota teenager who finds herself pregnant after a fling with her bandmate (Superbad star Michael Cera). She decides to have the baby and give it to a yuppie couple (Jason Bateman and Jennifer Garner) who are looking to adopt. A far cry from the typical teen screen caricatures—the jock, the mean girl, the nerd—Juno is remarkably nuanced: self-confident but not bitchy; quirky but not a social outcast. And unlike most ugly ducklings, who are, by movie's end, transformed into stylish swans, Juno starts out not so cute and only gets fatter and less fashionable (she's pregnant, after all). "I would have loved to see a character in a film like that when I was in junior high school," says Page, whose mother is a first-grade teacher and father is a graphic designer. "Juno likes to rock out as herself, and I respect that."
Page got her big break at age 10, when a casting director came to her elementary school in Halifax, Nova Scotia, seeking fresh talent for a CBC television movie. She worked steadily through her teens, mainly in Canadian films and TV, before landing the part as the baby-faced aggressor in Hard Candy. She's stayed mostly on the thorny path of hard-to-watch films ever since. In Mouth to Mouth (2006) she shaves her head and joins a cult. In this year's The Tracey Fragments she's a disturbed teen wandering the streets. And in the upcoming Showtime docudrama An American Crime she plays Sylvia Likens, a teenager who in 1965 was locked in a basement and tortured to death.
"She's a spectacular actress, incapable of having a false moment," says Reitman.
Bateman agrees that Page is the real deal. "She's not wondering if she's a job away from the pot of gold or whether she's finally getting access to the best dresses for the Academy Awards," he says. "She's genuinely not impressed with those things."
It probably helps that the actress still lives in her hometown, where one of her best friends is a dog trainer and another works in a pizza place. Moving to L.A. or, say, partying with the cast of The Hills is just not her style. "I think if I moved there and did that," she says without a trace of a smile, "I would get really depressed and I might die."
Yigal Azrouel tank top. Hair by Rheann White for Cutler NYC/Redken at See Management; Makeup by Eric Polito for Dior Beauty at magnetny.com. location: Hi-Life Bar & Grill, New York.