Ellen Page Writes in a Powerful Facebook Post That X-Men Director Brett Ratner Forcibly Outed Her
She called for Hollywood to "wake up and start taking some responsibility."
---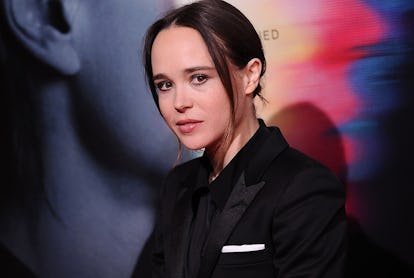 Jason LaVeris/FilmMagic/Getty Images
In a powerful Facebook post calling out abuse in Hollywood, Ellen Page has accused director Brett Ratner of sexually harassing and outing her on the set of X-Men: The Last Stand.
"'You should f— her to make her realize she's gay,'" she wrote. "[Ratner] said this about me during a cast and crew 'meet and greet' before we began filming, X Men: The Last Stand. I was eighteen years old. He looked at a woman standing next to me, ten years my senior, pointed to me and said: 'You should f— her to make her realize she's gay.'"
Page wrote that no one, including herself, said anything at the time. But the alleged outing, she wrote, has left her "with long standing feelings of shame, one of the most destructive results of homophobia." "Making someone feel ashamed of who they are is a cruel manipulation, designed to oppress and repress," she wrote. "I was robbed of more than autonomy over my ability to define myself. Ratner's comment replayed in my mind many times over the years as I encountered homophobia and coped with feelings of reluctance and uncertainty about the industry and my future in it."
The alleged incident took place toward the beginning of Page's career. But now that she has considerably more fame and influence, Page said she intends to take a stand against such behavior. "The difference is that I can now assert myself and use my voice to to fight back against the insidious queer and transphobic attitude in Hollywood and beyond," she continued. "Hopefully having the position I have, I can help people who may be struggling to be accepted and allowed to be who they are –to thrive. Vulnerable young people without my advantages are so often diminished and made to feel they have no options for living the life they were meant to joyously lead."
In the post, Page revealed more details of Ratner's alleged abuse of power, including "saying degrading things to women" and trying to intimidate her when she refused to wear a T-shirt that said "Team Ratner." She also shared alleged experiences of sexual harassment and assault by others in the industry. When she was 16, she says she was sexually assaulted by a grip, fondled on her leg by a director, and then asked by a director to sleep with a man in his 20s and "tell them" about the experience, which she says she refused to do.
Page used the rest of the post to call out the insidiousness and ubiquity of sexual abuse in both Hollywood and society, before reminding us that low-income, trans, queer, and/or indigenous women, as well as women of color, are disproportionally victimized. She also credited these women with leading the fight against systemic violence against women, naming Marsha P. Johnson, Sylvia Rivera, Winona LaDuke, Miss Major, Audre Lorde, bell hooks, and Misty Upham.
As more victims of sexual harassment and assault speak out, Page writes she hopes abusers will face consequences and societal changes will be made to keep them from hurting people further. "I want to see these men have to face what they have done," she wrote. "I want them to not have power anymore. I want them to sit and think about who they are without their lawyers, their millions, their fancy cars, houses upon houses, their 'playboy' status and swagger."
"What I want the most, is for this to result in healing for the victims," she continued. "For Hollywood to wake up and start taking some responsibility for how we all have played a role in this. I want us to reflect on this endemic issue and how this power dynamic of abuse leads to an enormous amount of suffering."
Page concluded the post by reminding the world not to let the amount of victims speaking out to "numb" us to the issue. "Don't allow this behavior to be normalized. Don't compare wrongs or criminal acts by their degrees of severity. Don't allow yourselves to be numb to the voices of victims coming forward," she said. "Don't stop demanding our civil rights. I am grateful to anyone and everyone who speaks out against abuse and trauma they have suffered. You are breaking the silence. You are revolution."
Updated: Page's X-Men co-star Anna Paquin has confirmed her account of Ratner's comments.
Related: Joan Rivers, Kristen Wiig, Ellen Page, Kiernan Shipka, and Naomi Campbell Are The New Royals
11 Fierce Actresses Who Have Dominated Action Movies: