Ellie Goulding Is Reportedly Engaged to Boyfriend Caspar Jopling
They've been dating for almost a year and a half.
---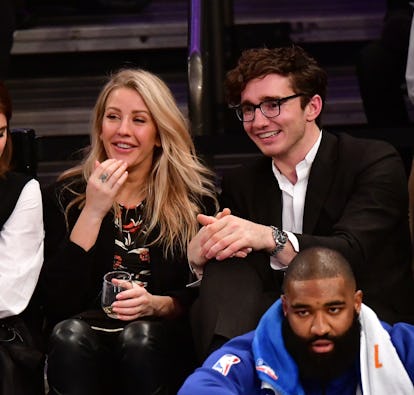 James Devaney/Getty Images
The summer of love (and unexpected engagements) continues: Ellie Goulding and Caspar Jopling, her boyfriend of a little over a year, are reportedly engaged now. The couple took the traditional route in announcing Jopling's proposal, forgoing a heartfelt Instagram post in favor of a formal printed announcement in the Tuesday, August 7 edition of U.K. newspaper The Times, according to the Daily Mail. "The engagement is announced between Caspar, son of The Hon. Nicholas Jopling of Yorkshire and Mrs. Jayne Warde-Aldam of Yorkshire, and Elena, daughter of Mr. Arthur Goulding of Hertfordshire and Mrs. Tracey Sumner of West Midlands," the announcement reportedly reads.
Goulding and Jopling were first rumored to be dating in March 2017, when The Sun reported that the singer had brought Jopling along on a karaoke night with her friends, but that the pair were keeping things "very casual." Fastforward almost a year and a half later, and Goulding has reportedly moved in with Jopling, said yes to his proposal, and, just last month, shared that she was "very happy" in her relationship. "We're really, really happy together. I'm loving my life at the moment," she told the Evening Standard in early July.
In April, Goulding spoke to The Observer about how taking a break from touring had allowed her to focus on building a life with Jopling. "I thought for a long time that I could never really take the time to nurture a relationship because I'm never around. I haven't been touring for the past year, so I think this is the first time I've realized what it's like to be in a relationship and learn to be with someone," she said at the time, per the Daily Mail. "It also helps when you find someone who is very special and understands your job."
According to his LinkedIn page, Jopling, a Harvard graduate, is based in New York City and works in corporate development and strategy at renowned art dealer Sotheby's. Goulding, meanwhile, is a Grammy-nominated singer who revealed in that July interview with the Evening Standard that her next album is currently in the works. Basically, expect their wedding to feature tasteful, classy décor and a killer playlist. The only question is whether Goulding will pick up the mic to belt out at a tune at her own wedding, as she did at Prince William and Kate Middleton's nuptials in 2011.