Elsie Fisher on Eighth Grade, Her First Red Carpet, and Why She Was Never a Disney Kid
The 15-year-old star has bigger ambitions.
---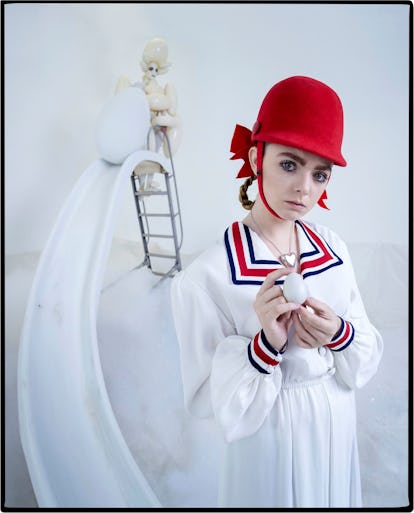 Photograph by Tim Walker; Styled by Sara Moonves.
Elsie Fisher is a veteran. At 15, the actor has already been working solidly for a decade; she capped her 10th year with a star-making turn in the coming-of-age film Eighth Grade. She made her mark with Kayla, a newly-minted teen with a week left of middle school and the arduous task of navigating social mores in the time of social media. Elsie could relate to some of Kayla's struggles; she's been open about her experiences with anxiety, though she isn't letting it stop her from learning the ins and outs of award shows and red carpets. For W's annual Best Performances package to reminisce on her first audition with Eighth Grade writer/director Bo Burnham, her first movie role, and her favorite Halloween costume yet.
What was the audition process like for Eighth Grade?
The audition process was very fun, actually. I'm pretty used to auditions not being the greatest, and Bo Burnham, the director and writer of the film, was just very kind. I remember I walked into the room and I was super nervous about it, and I sat down and I had the script in my lap, and I started doing the scene, and I knocked it off my lap, and it was so embarrassing but he was great about it.
When you read the part, did you recognize yourself in it?
I was very excited for the movie for a plethora of reasons, but one of the top reasons was, I really identified with the way that Kayla spoke, because that's how I speak, as you can see right now.
We have to talk about the pool party scene. So many women of all ages probably watched that scene and felt like they were living with you, and have experienced that exact moment. Was that a hard scene to shoot for you? Did you pick your own bathing suit?
[For Kayla,] going to a pool party is very anxiety-inducing. I did not pick my own bathing suit; that was pre-planned. They wanted a lime-green one so she would stick out. I still have the bathing suit, though, I love it.
You wear it?
Yeah! I mean, I don't go to the pool that much, but that's my bathing suit now.
Where did you grow up?
I grew up in the mountains above Palm Springs. I live in Thousand Oaks now, though.
Did you have to evacuate?
Yeah. We're all good now, though. We went down to our cousin's house, so it wasn't terribly far, but we had to pack our two dogs in the car and we have a cat too, and my brother and me and my dad. So it was very cramped. We also had to evacuate another fire back in… however many years ago, when we were living in Palm Springs, so I'm like "I know the drill."
How old were you when you started realizing you wanted to be an actress?
I have been acting since I was about five, so I've always enjoyed doing it but it wasn't necessarily a conscious start for me. The first job I ever had when I was younger was Despicable Me, I did a voice in those movies. I played the youngest daughter Agnes, with the big ol' ponytail on the top.
Do you have a minion of your own?
I do not have my own minion anymore. I used to have a minion. I used to have a ton of the stuffed toys; they were very generous and gave me a lot of that stuff.
Did you have a favorite toy growing up?
Yes. There's this brand of toys called Littlest Pet Shop, and I got one after I did every audition as like, incentive to keep going to auditions. But I had this one bat one that was really cute called Batty and I don't know where it is now. I'm really sad about that, but it was and is my favorite toy.
And what was your audition outfit? Did you have a set outfit you wore?
I didn't; it was more just like, my parents picked out some thing that looked presentable. I refused to wear dresses or skirts, so I was mostly nicer jeans and a short sleeve button-up and my hair in bunny-buns, as they called them.
Do you love buns?
I don't actually. I hated them, and I still do. I don't usually like having my hair up, except for now, it's very fun. No, yeah, I like to let my hair down and let it free, because buns are painful, too. My parents thought they were cute, and I guess they were but…
What was your favorite birthday? Not year, but event on your birthday.
For my 9th birthday, I believe, I didn't want any presents. I had gotten a Nintendo DS, and I'm like "This is good enough!" So I had all the people who came over to my party buy dog food and cat food, and we donated it to the local pet shelter. Then afterwards we got pizza, and that was really fun.
What was your first red carpet outfit?
My first red carpet outfit was for Despicable Me. I don't remember the outfit fully. I know I was wearing like, a dark button-up shirt and some flip-flops or something, and I had my hair pulled into these wild buns. But I remember it was super bright out, so my agent was really nice, and she gave me these sunglasses, but I ended up looking like a total diva, and it's so funny to look back on the photos. I was probably closer to seven at the time, cause it takes a while to produce animated stuff.
What was your favorite Halloween costume that you've had?
I'm actually very proud of last year's costume. I didn't want to seem too pretentious or whatever, so I didn't really wear it out. I went trick-or-treating but I only used half the costume, because half of the costume was just a bee onesie, which was fine, and then I made my own Oscar out cardboard and glitter glue, and I was "Oscar buzz." I'm pretty proud of that one.
But you left the Oscar at home?
I did. I just went as a bumblebee.
What was your first email address? Or maybe it's still your email address.
Thankfully it's not anymore. I used to play Minecraft a lot. I was a gamer kid, I still am. I remember being really anxious to make my first Gmail, I'm like "This is what adulthood feels like!" So my first email address was my username at the time for Minecraft, and then it was luvs, spelled L-U-V-S, and then, in all caps, budder, but B-U-D-D-E-R, @gmail.com. It was so weird and I'm very embarrassed of it now.
When you were growing up, did you have a favorite TV show?
Yeah, when I was growing up I really liked Hannah Montana and a lot of the older Disney shows, like Wizards of Waverly Place. Although it was weird, I was also a fan of The Office at the time. I still am, but some of my childhood shows aside from Disney were The Office, and South Park. I was very starstruck when I knew Steve Carell was gonna be my dad in Despicable Me. I was like, "I've made it, I've made it. This is what fame feels like."
You clearly went a different route than the Disney route. Did you also audition for that world? Or did you just decide not to be a Disney kid?
It was never a conscious decision on my part to just not be a Disney kid, but I wasn't really auditioning for that type of stuff. I don't think I was ever the right look or the right attitude. I got acne pretty early on, and I don't think a lot of Disney shows want acne. I don't know, I was also always just more interested in serious projects, and right now, when I'm in a position to pick my stuff somewhat, I just want to go for genuine characters.
Best Performances: Featuring Nicole Kidman, Claire Foy, Rami Malek, and 29 of Hollywood's Biggest Stars
Claire Foy wears a Burberry top, corset dress, socks, and shoes; Charvet scarf. Emily Blunt wears a Burberry dress, shirt, socks, and shoes; stylist's own top.

Photograph by Tim Walker; Styled by Sara Moonves.
Kiki Layne wears a Prada top and headband; Tiffany & Co. earrings. Jonah Hill wears The Row jacket, shirt, and tie.

Photograph by Tim Walker; Styled by Sara Moonves.
Margot Robbie wears a Chanel cardigan and skirt; stylist's own top. Michael B. Jordan wears a Calvin Klein 205W39NYC cardigan and vest; Brioni trousers.

Photograph by Tim Walker; Styled by Sara Moonves.
Nicole Kidman wears an Armani Privé dress; Cartier earrings; Cornelia James gloves; stylist's own veil.

Photograph by Tim Walker; Styled by Sara Moonves.
Mahershala Ali wears a Prada suit; his own top and bracelet. Amy Adams wears a Givenchy dress and belt.

Photograph by Tim Walker; Styled by Sara Moonves.
Eddie Redmayne wears a Givenchy shirt and pants. Rami Malek wears a Saint Laurent by Anthony Vaccarello shirt.

Photograph by Tim Walker; Styled by Sara Moonves.
Saoirse Ronan wears a Celine by Hedi Slimane dress.

Photograph by Tim Walker; Styled by Sara Moonves. Hair by Malcolm Edwards at Art Partner; Makeup by Lucy Bridge for MAC Cosmetics at Streeters London; Manicures by Michelle Saunders for Essie at Forward Artists. Set design by Gary Card at Streeters London. Men's wear editor: Sam Walker. Hair for King: Angela A. Perrantes; Grooming for Jordan: Carola Gonzalez for Malin & Goetz at Forward Artists; Hair for Jordan: Jove Edmond; Hair for Layne: Larry Sims for flawless at Forward Artists. Produced by Jeffrey Delich at Padbury Production; Production Manager: Lauren Sakioka at Padbury Production; Local Producer: Meghan Gallagher at Connect the Dots; Local Production Coordinator: Jane Oh at Connect the Dots; Photography Assistants: Sarah Lloyd, Tony Ivanov, Kyle Holmquist, Keith Coleman, Scott Froschauer; Retouching by Graeme Bulcraig at Touch Digital; Production Assistants: Michael Osborn, Nikki Patrlja, Dan Fleming; Fashion Assistants: Allia Alliata di Montereale, Nadia Beeman, Sharon Chitrit, Megan King, Brejon Golden, Jonnie Atkinson, Lindsey Hartman, Rosa Schorr; Set Assistants: Nicole McBride, Collin Lebrasseauer, Seth Powsner, Olivia Giles; Ballet Dancers: Morgan Quinn, Jaclyn Hamric, Corey O'Brien, Dominic Eustes; Tailors: Isa Kriegeskotte, Karla Yvette Miranda, Nastassia Bauta; Special thanks to Quixote Studios, Heirloom LA, Kitchen Mouse, Electric Avenue, Cast Partner.
Photograph by Tim Walker; Styled by Sara Moonves.
Nicole Kidman in Boy Erased and Destroyer

"In Destroyer, I play a cop who's been through a lot—she's very American, very angry, distressed, and disturbed. I wasn't the first choice for that role—it went to somebody else and she didn't want to do it. I read the script and put my hand up and said, 'What about me?' " Did the wardrobe contribute to the character? We took so long to find the leather jacket that I wear in pretty much every frame of the film. I became so obsessed with that jacket, I would wear it at home. I put it on first thing in the morning. My kids visited the set and were shocked at the way I looked. You know, I've been working as an actor since I was 14 years old. It's a choice, but it's also a calling. Sometimes, I kind of try to move away, but it always pulls me back.

Comme des Garçons coat, T-shirt, skirt, tights, and boots; headpiece by hairstylist Malcolm Edwards. Inflatable latex costumes by artist Sasha Frolova (throughout).

Photograph by Tim Walker; Styled by Sara Moonves.
Amy Adams in Vice

"My role in Vice is Lynne Cheney, Dick Cheney's wife. It's a huge responsibility to play a living person. I didn't meet Lynne, and that's interesting too—playing somebody who's alive but whom you've never met. Plus, I age from 20 to 70 in the film, so that was another challenge." Did her conservative politics affect your performance? I really just absorbed her point of view. Whether I agree with it or not doesn't really matter. To get into character, I would have long debates about policy and politics as Lynne Cheney with our director, Adam McKay. I called him many names. I teased him about wearing shorts on set and how that was disrespectful. But I didn't swear, because Lynne wouldn't swear.

Valentino gown; Valentino Garavani earrings; Marc Jacobs boots.

Photograph by Tim Walker; Styled by Sara Moonves.
Saoirse Ronan in Mary Queen of Scots and On Chesil Beach

"This is the first time I've played any queen or monarch. Mary had to hold herself in a certain way when she was presenting herself at court, but when she was on her own, in her intimate quarters, she was quite different. I began to feel like a bit of a boss. A boss queen!" Did you learn any royal skills? Yes, I learned to ride. My horse in the film was also Wonder Woman's horse—his name is Prince, and he is the biggest diva I've ever met. Prince doesn't do anything for anyone, especially me, and had a nervous cough that you'd hear right before we'd do a take. Everything I did was for that horse, just to get his approval.

Balenciaga dress and shoes.

Photograph by Tim Walker; Styled by Sara Moonves.
Lakeith Stanfield in Sorry to Bother You

"The director of the film, Boots Riley, had been following me for quite a while before I finally met him. He handed me the script for Sorry to Bother You literally put it in my hands. I was like, Who is this strange person? When I read the script, I realized I had no idea how deeply strange he is. But his strangeness revealed itself to be another form of beauty." Growing up, who was your cinematic crush? Jennifer Love Hewitt. I loved her. I couldn't comprehend anything, except that she was beautiful. What's your favorite Halloween costume? I'm always the Joker. Every year. Soon there will be a black Joker movie, and it will be me.

Maison Margiela Artisanal Men's Designed by John Galliano suit; Tiffany & Co. earrings; John Hardy cross necklace; Chrome Hearts thick chain; Hoorsenbuhs long chain; Stanfield's own rings.

Photograph by Tim Walker; Styled by Sara Moonves.
Margot Robbie in Mary Queen of Scots

What was your first red-carpet outfit? I was 18. The Australian equivalent of the Emmys is called the Logies, and I was nominated. It was my big moment, the biggest thing that had happened to me. So I went all out on the dress: It was very short at the front, long at the back, lots of layers, bright colors, and shiny fabric. It was, like, orange, black, orange, black—with a big bow at the back. I had stipple-looking hair, and I was very tan. It was…a look. I don't regret it, because I was 18 and having fun. I can dress boring for the rest of my life.

Staud coat; Giu Giu turtleneck; Vex Clothing tights; Urstadt Swan gloves; Manolo Blahnik shoes; stylist's own veil.

Photograph by Tim Walker; Styled by Sara Moonves.
Timothée Chalamet in Beautiful Boy

"Beautiful Boy [which is about a father and his son, who is addicted to drugs] was a script they'd been trying to get made for 10 years. Every guy actor my age had gone up for it. I've been lucky, but a lot of the bigger Hollywood movies like Spider-Man, things like that, I didn't get. So, for Beautiful Boy, I did a lot of research and read about drugs, and I brought the books to my first meeting with the director. I could see in his eyes that he was thinking, This kid is nuts. But I felt this movie—the subject of drug addiction—was so important. I wanted to make an anti-glorification-of-drugs movie. And I think we did." Did you meet Nic Sheff, whom you play in the film? Yes. I met him a week before we started shooting. And there was nothing about Nic that fit my stereotype of an addict. That was the learning grace of this movie: Nic is alive and well, but the reality is, it's a day at a time. You never really beat it. You lost so much weight. Was your mom worried about you? My mom was worried! I lost 18 pounds. First, I'm in a movie where I was having sex with a peach, and then it was like, "I got another movie!" She said, "Great!" And then I had to tell her what it was about.

Charvet shirt.

Photograph by Tim Walker; Styled by Sara Moonves.
Claire Foy in First Man

Growing up, what was your favorite toy? I had a disgusting pillow until I was about 21. Shamefully, I took it to university. Do you get nervous before filming? Oh, yes, I get nervous. It's a gradual process of trying to work yourself up to being brave enough to be on set. You always worry that everyone's going to say, "Ooh, we've made a terrible, terrible mistake." What was the name of your first pet? Thumper. And the first street that you lived on? I don't know. So you're a one-name sensation: Thumper is your porno name. Thumper it is.

Burberry cape; Falconiere bonnet.

Photograph by Tim Walker; Styled by Sara Moonves.
Eddie Redmayne in Fantastic Beasts: The Crimes of Grindelwald

What was the first record you bought? Bon Jovi. "Livin' on a Prayer" is such a good song. I love a good emotional ballad. The greatest YouTube hole to go down is Leona Lewis when she was on The X Factor. Every week, she just came and delivered. Occasionally she'd take her shoes off. Do you watch other reality shows? I'm quite excited because The Hills, which is my original reality-TV guilty pleasure, is coming back. I had a bit of a love-hate relationship with Heidi Montag. Do you have a secret skill? Yes. I'm incredibly good at being early. I'm always the person who gets to the airport four hours early. I drive everyone crazy.

Dior Men jacket and pants; Urstadt Swan gloves; Givenchy boots.

Photograph by Tim Walker; Styled by Sara Moonves.
Michael B. Jordan in Black Panther

Do you have a favorite movie villain? For me, it's a tie between Heath Ledger as the Joker and Michael Fassbender as Magneto. Villains, like Erik Killmonger in Black Panther, are the most interesting characters. They are the ones you can empathize with—they want you to not like them, but you can still understand their motivation.Even though you're the villain in Black Panther, do people on the street still say "Wakanda forever" to you? They don't immediately realize that my character is not exactly pro-Wakanda. Midway through saying something, it registers: Oh, he wasn't really with Wakanda. But by then they've already committed.

Is it difficult to act when you're basically naked? I'm always naked. So, no.

Hermès sweater.

Photograph by Tim Walker; Styled by Sara Moonves.
Joanna Kulig in Cold War

"The director, Pawel Pawlikowski, wrote the part of Zula for me. I knew that the inspiration for the character came from his mother. Zula is her real name, and, like me, she was blonde. I saw her photo." Was that the hardest part about portraying the character? No. The hardest part was the dancing. In general, I have a problem with coordination. I spent six months in a Polish folk ensemble learning how to dance. We partied together, we drank together, and we'd dance for six hours during a concert. It was like a family, and I started to build the character of Zula. Soon, I had her thoughts and personality. And I finally learned how to dance!

Chloé dress; Louis Vuitton hat.

Photograph by Tim Walker; Styled by Sara Moonves.
Elizabeth Debicki in Widows

"I was a dancer for many, many years, and I thought I was going to be a ballerina. When I was about 12, I went to a summer school for the Australian ballet and I was already taller than my teacher. So I remember saying to myself, I'm going to have to rethink this plan." Did you audition for Widows? Yes, I put myself on tape in my friend's garage. How glamorous! I remember wearing a lot of eyeliner. I picked out some hoop earrings. And, funnily enough, in the finished film, she ended up looking a lot like she did in my test.

Marc Jacobs coat; Noel Stewart headpiece; Cornelia James gloves; Falke tights; Vivienne Westwood shoes.

Photograph by Tim Walker; Styled by Sara Moonves.
Regina King in If Beale Street Could Talk

"I took a break from making films. My son, Ian, was getting to the age, around sixth grade, when kids are starting to spread their wings, and everything that was being offered to me was outside of Los Angeles, except for TV. I didn't want to travel to make films. So I like to say I was one of the first movie actors who made the leap into television." Do they call Beale Street your comeback film? I like to use the LL Cool J song: "Don't call it comeback. I been here for years."

Givenchy dress; Graham Tyler hat; Linda Farrow sunglasses.

Photograph by Tim Walker; Styled by Sara Moonves.
Willem Dafoe in At Eternity's Gate

"I painted in a movie called To Live and Die in L.A., but it wasn't about painting—it was more about counterfeiting and killing people. In playing Vincent van Gogh, painting was the key to the character. I had to know what I was doing. The director, Julian Schnabel, would say, 'Hold the brush like a sword' and 'There's no such thing as a bad mark.' I began to think that painting is about making an accumulation of marks. Acting is the same: You create a character scene by scene. It's a series of marks that start a rhythm, and that rhythm sends you where you need to go." Who is your cinematic crush? Warren Oates. When I saw him perform, I thought, That's not an actor, that's a man. It kind of broke my heart to find out he was actually a trained actor.

Balenciaga coat.

Photograph by Tim Walker; Styled by Sara Moonves.
Thomasin Harcourt McKenzie in Leave No Trace

"I play a girl who is with her father in the wild, far away from civilization. Since I live in New Zealand and couldn't fly to America, I auditioned on tape. We had a lot of props: a bucket, a toothbrush, a sleeping bag, and a rabbit named Coco. I also ran through the New Zealand bush with a GoPro in my mouth and sent that off as well. I didn't meet the director in person. Six months later, on Christmas, I found out that I had gotten the part."

Moschino Couture dress; Capezio tights; Sergio Rossi shoes.

Photograph by Tim Walker; Styled by Sara Moonves.
Steven Yeun in Burning

"I like filming death scenes. When I was on The Walking Dead, I had known for some time about my character's death. I was really excited for that day—I was looking forward to getting my skull bashed in. In Burning, my death scene was really fun. That was the only time it snowed, which was unexpected, and it added some magic to the moment. Everybody fantasizes about what it would be like to die. If I could make a career out of being killed, it would be okay." Do you have a secret skill? Yes. I'm really good at getting parking spots. I'm so confident that the spot is going to be there, that it's always there. Right in front.

Gucci jacket, shirt, pants, hat, and shoes; Charvet tie.

Photograph by Tim Walker; Styled by Sara Moonves.
Elsie Fisher in Eighth Grade

"I have been acting since I was 5. My first job was doing the voice of Agnes, the youngest daughter, with the big ponytail on top of her head, in Despicable Me. I was in the sequel, but I was too old for Despicable Me 3, because I can't do my 5-year-old voice anymore." In Eighth Grade, there is a pool-party scene that is nerve-wracking. You wear a very awkward green bathing suit. Yes, it is anxiety inducing. I did not pick the bathing suit. They wanted a lime green one so my character would stick out. I still have it. I mean, I don't go to the pool that much, but that's my bathing suit now. I love it.

Gucci dress; Eugenia Kim hat; Sophie Buhai necklace.

Photograph by Tim Walker; Styled by Sara Moonves.
Jonah Hill in Don't Worry, He Won't Get Far on Foot

In the film, your character, Donny, has a fantastic fashion sense. One of the things that inspired me was a photograph of Yves Saint Laurent in Morocco in the '70s. I looked at it and was like, Oh, level-10 Marrakech! So Donny wears a lot of caftans and Moroccan stuff in the movie—kind of our Tom Petty and Yves Saint Laurent level-10 Marrakech. He also has a very calm, Zen outlook on life. Donny had conquered a lot of the things that were dark and demonic about himself, and he was able to be peaceful and calm. That was a joy to play. I miss being Donny— even his long blond hair. What was your most memorable birthday? My mom once sent a mariachi band to play my favorite song, "Feliz Navidad." It was winter in New York and eight mariachis played my song. I was like, "Am I hallucinating right now?"

Raf Simons coat; the Row T-shirt and jeans; Paul Smith boots.

Photograph by Tim Walker; Styled by Sara Moonves.
Kiki Layne in If Beale Street Could Talk

How did you find out you had the part in Beale Street? It was nine in the morning and Barry Jenkins, the director, called and woke me up. He just got to talking and didn't introduce himself. Finally, he said, "Girl, do you even know who you're talking to?" He went on to tell me that they were giving me the role! I was trying to rush him off the phone so I could really go crazy and cry and call my mama. What is your go-to karaoke song? "Drunk in Love," by Beyoncé. Especially if you've got somebody that'll hold down Jay Z's part. That's definitely the move. I feel like you have mood hair: Sometimes it's long, sometimes it's short—up, down. Oh, yeah, we gotta switch it up. You never really know how it's gonna be: Will it be curly? Straight? And watch out when those colors start coming in!

Saint Laurent by Anthony Vaccarello dress and boots; Prada headband; Tiffany & Co. earrings.

Photograph by Tim Walker; Styled by Sara Moonves.
Carey Mulligan in Wildlife

"Paul Dano, who cowrote and directed Wildlife, called me and said he was going to send me the script. I was kind of flattered that he thought I could play Jeanette." She's a tormented character. Did you have trouble shaking her off at the end of the day? No. When you've got kids, they expect you to come home and be Mom, not some weird drunk woman. At the end of the day, I take off that hat, leave that person at work, and come home and watch the Food Network. I love Chopped. They make disgusting things, but I do like Bobby Flay. Chopped and Bobby Flay are the perfect antidote to films like Wildlife.

Michael Kors Collection dress; vintage hat from New York Vintage, New York; Tiffany & Co. earrings; Carolina Amato gloves; Capezio tights; Jimmy Choo shoes.

Photograph by Tim Walker; Styled by Sara Moonves.
Yalitza Aparicio (far left) in Roma

"The shoot for Roma lasted six months. We shot in chronological order. It was a very long process for me. I had not seen any of Alfonso Cuarón's films. I actually didn't know who he was. Alfonso asked me not to watch any of his films until we were done with the filming. He didn't want me poisoning my mind with any images or ideas."

Marina de Tavira in Roma

"I was the only actor in Roma with any previous experience. It was really challenging. First-time actors—and many of them were children—have a completely different way of working. Alfonso Cuarón would play tricks on us—make things happen that we were not expecting. That way, he made real life appear on set."

From left: Valentino gown. The Row gown; Tiffany & Co. earrings.

Photograph by Tim Walker; Styled by Sara Moonves.
Emily Blunt in Mary Poppins Returns

"The hardest thing about playing Mary Poppins was learning how to dance. One day, you're handed a hat and a cane, and I was like, Oh, my God. And, also, the initial idea of taking on a character that iconic was daunting. But once I got over my fears, it was deliciously fun." What was your first red-carpet outfit? It was for My Summer of Love, and I was far too tanned. I was wearing a very bright yellow dress. I always laugh at how sweaty I looked. Horrible. Who is your girl crush? Rihanna. I mean, come on. She's smoking.

Louis Vuitton coat; Eugenia Kim hat; Manokhi gloves.

Photograph by Tim Walker; Styled by Sara Moonves.
Rami Malek in Bohemian Rhapsody

"The first thing I auditioned for I almost wasn't allowed to audition for. I got a call from a casting director, and she asked to speak to the agent representing Rami Malek. I said, 'Uh, speaking.' She kind of laughed and said, 'Call me when you have an agent.' I go, 'You're already laughing—give me a shot.' It was three lines in Gilmore Girls. I convinced her to let me read, and I got the part." Besides in the film, have you ever sung any Queen songs in public? In Japan, with our version of the band, we dressed up in animal onesies and did "Bohemian Rhapsody," like the original video. It was filmed, and I'm sure someone will get drunk and throw it out there into the ether.

Officine Générale pants; Atsuko Kudo Couture Latex Design gloves.

Photograph by Tim Walker; Styled by Sara Moonves.