Best Performances: Featuring Nicole Kidman, Claire Foy, Rami Malek, and 29 of Hollywood's Biggest Stars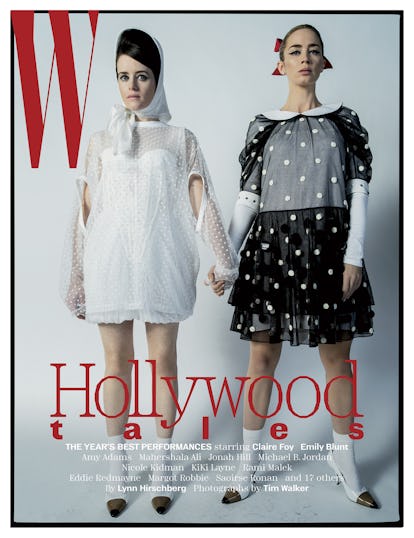 Photograph by Tim Walker; Styled by Sara Moonves.
At the movies, 2018 was truly the year of the woman. In the past, that claim has been made optimistically, but this time around weighty female-centric films abounded. Actresses have, thankfully, moved beyond the sexy girlfriend or loyal helpmate clichés. Standout roles included brilliant, conniving ladies in waiting in The Favourite; a housekeeper at the heart of a fractured family in Roma; the hidden power broker behind the presidency of the United States in Vice; and an avenging cop in Destroyer.
Along with these much-needed female points of view, there was also more racial diversity—and irrefutable proof that audiences are clamoring for new kinds of stories, featuring communities that have been previously ignored. The terrific superhero film Black Panther made $1.35 billion worldwide; Crazy Rich Asians, $238 million. The crowd-pleasing Green Book, which tells the true story of an unlikely interracial friendship in the 1960s, and If Beale Street Could Talk, based on James Baldwin's classic novel set in Harlem in the early '70s, were both period pieces that reminded audiences how things have—or haven't—changed when it comes to race relations in America. Similarly, Boy Erased, about gay-conversion therapy, shined a light on a horrible practice that, disturbingly, is still around today.
This portfolio portrays the leading Hollywood stars of 2018 in an eccentric universe created by the photographer Tim Walker. In fantastical scenarios featuring mysterious egg people and a giant bouncy castle, established actresses including Nicole Kidman, ­Saoirse Ronan, Amy Adams, and Margot Robbie rule alongside up-and-comers like KiKi Layne, Elsie Fisher, Yalitza Aparicio, and ­Elizabeth Debicki. Actors such as Michael B. Jordan, Timothée Chalamet, ­Willem Dafoe, and Mahershala Ali join in on the festivities, helping us celebrate the fact that there are finally big changes happening on the big screen. And there is no going back.