Beyond Tomorrow: Cao Fei
Beyond Tomorrow: Coming soon to a biennial near you, five up-and-coming artists attracting international attention.
---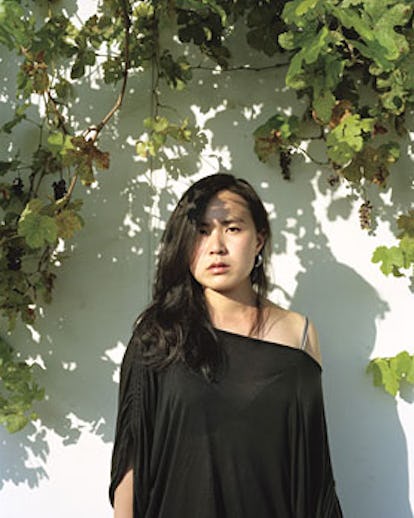 Artist Cao Fei, though only 29, is nothing if not confident in her artistic vision. "A lot of my friends have an idol, and when they start out, their films look a lot like their idols'. It isn't until later that they find their own place," says Cao, on the phone from Istanbul, where she's participating in that city's 10th International Biennial. "My thinking is, why not find your place from the get-go and do what you want to do?"
For Cao, a native of Guangzhou, the manufacturing boomtown in southeast China, that means creating short films and video installations that juxtapose escapist fantasies with the workaday realities of life in modern China. Her "COSPlayers," a 2004 DVD and photo series, for example, depicts teenagers dressed in the vibrant colors of Japanese anime characters—gold body armor, purple tunics—striking poses against the gritty backdrop of Guangzhou's sprawling skyline. Her 2006 video installation Whose Utopia follows a similar theme: Actual workers at a Siemens lightbulb factory play out their hidden dreams—jamming on guitar, performing ballet—amid heavy machinery on the assembly line.
Cao, who now lives in Beijing, made her first film, Imbalance 257, in 1999, while a student at Guangzhou Academy of Fine Arts, where she studied decoration and design because the school had no formal video program. In the years since, she's seen her star rise on the international art circuit, participating in more than 100 biennials and exhibitions, including over a half dozen solo shows. "Her work cuts across the spectrum of documentary to fiction and fantasy," says Doryun Chong, curator of the "Brave New Worlds" show at the Walker Art Center in Minneapolis, which features Whose Utopia and runs through February. "The subjects she works with can really shape themselves into fantastical characters."
For her latest project, Cao indulged in some fantasizing of her own. China Tracy, a film that made its debut at this year's Venice Biennale, was created entirely in Second Life, the online program in which users make digital versions of themselves, called avatars, that can interact with avatars of other users. The piece revolves around Cao's Second Life persona, China Tracy, who develops a deeply emotional, quasi-amorous relationship with another avatar. "My own work is a form of escape," she says. "It's impossible for us to live entirely in reality."
Read about other emerging artists: Adel Abdessemed David Altmejd Carol Bove Yang Fudong